BELIZE CITY, Thurs. Apr. 19, 2018– City Administrator, Candice Miller, who was suspended for one month with full salary by the incoming PUP Belize City Council, led by Belize City Mayor, Bernard Wagner, has decided to take the matter of her suspension to court.
Today reporters caught up with Mayor Wagner at a function at City Hall and asked him to comment on a letter Miller's attorney had sent him.
"We have received the letter and have forwarded it to our attorneys, and will leave it at that for the appropriate moment to speak about this matter," Mayor Wagner said.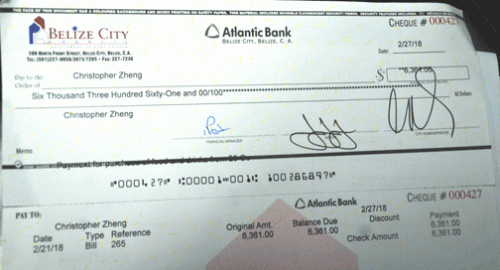 It was suggested to Mayor Wagner that the matter concerning Miller's suspension is now on its way to court. The Mayor was asked if the council is prepared for that.
"The letter is in the hands of our attorneys, and we will take it from there," Mayor Wagner replied.
Last week, attorney Magali Perdomo, acting on behalf of Miller, wrote Mayor Wagner a letter, informing His Worship that the suspension did not follow the proper procedure, and that her client has been denied natural justice.
Perdomo's letter said that the Mayor's suspension letter did not specify the act of misconduct or neglect for which her client was suspended.
The letter says that Miller "denies authorizing any payment for expenses … incurred by employees not engaged in the business of the council."
That reference is in relation to a check for over $6,000 jointly signed by Miller and outgoing Mayor Darrell Bradley to cover an unitemized food and drinks bill racked up at a Chinese establishment just across the street from City Hall, in the name of Christopher Zheng. The debt was incurred by Joseph "Joe" Bradley, Mayor Bradley's father, a mouthpiece of the governing United Democratic Party who was employed in dual roles as a Wave Radio and TV talk show host as well as a public relations officer at the Belize City Council. He reportedly did not have authority to incur expenses on the Council's behalf.
Mayor Wagner suspended Miller on the ground that she was delinquent in her fiduciary duties to the Belize City Council, meaning that she had not been a good steward of the council's financial resources. Last week we also reported on a City Council bar tab incurred by Miller at the Biltmore Bistro for over $1,000 — a substantial portion of which covered the purchase of expensive wines, namely, Menage a Trois. The story further disclosed that Miller included a tip for $100, all paid from City Council funds.
Perdomo's letter states: "We demand that you retract the unlawful suspension and allow our client to return to her lawful employment … if we do not hear from you by Monday, 16th April, 2018, we are instructed by our client to take legal action on her behalf."