Headline
— 02 June 2015
— by Adele Ramos
SARSTOON ISLAND, Toledo District, Mon. June 1, 2015–Foreign Affairs Minister Wilfred Elrington told Amandala that on Thursday, May 7, he had had "a long conversation" with Lt. Commander Elton Bennett of the Belize Coast Guard, after the Coast Guard official heard Elrington's comments, broadcast on radio, claiming uncertainty over where Belize's territorial waters end. That conversation, we understand, lasted over an hour, but Commander Bennett was clear, that there is no question in his mind over where Belize's territorial waters are located.
That position was also clear in the minds of a contingent of 10 Belize Coast Guard personnel—who were scouting Belize's southern border with Guatemala for a good location to erect a forward operation base (FOB), for surveillance at the Sarstoon—when they were approached by 9 Guatemalan naval officers, who had invaded Belizean waters with their weapons drawn, to order the security officers to vacate Sarstoon Island.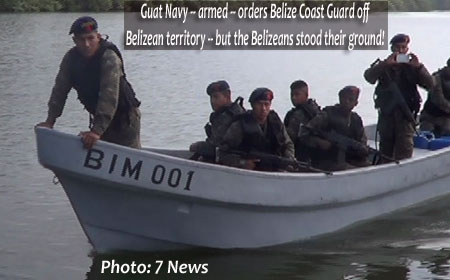 Sarstoon Island is clearly inside Belize's territorial waters, and the Coast Guard officials defiantly and valiantly stood their ground when that incident unfolded around 10:00 a.m. on Thursday, May 28, 2015.
Commandant of the Belize Coast Guard, Admiral John Borland, contacted Ret'd Colonel George Lovell, Chief Executive Officer in the Ministry of National Security, to alert him of the situation.
"They were asked to leave by the Guatemalan naval patrol, and our Coast Guard commander said, 'No way! We are not going to leave until we are finished,'" said Lovell, who insisted that the Guatemalans were clearly inside Belizean territory.
Instead, the Guatemalans were told that they were the ones who should leave, because they were in Belizean territory.
Shortly thereafter, the Guatemalan naval officers left, but returned with double the amount of personnel and a Guatemalan captain of senior rank, to again try to pressure the Belize Coast Guard officers off Sarstoon Island.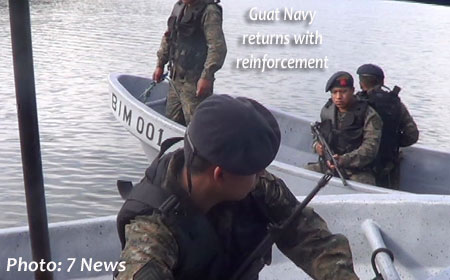 "They brought more people. They were insisting that our people should leave," Lovell recounted.
On this second encounter, which occurred at around 4:45 that afternoon, Lovell was again contacted, and he immediately contacted personnel of the Ministry of Foreign Affairs, who, in turn, launched a protest with their Guatemalan counterparts.
The Belize Coast Guard contingent (Whose leader Lovell declined to identify) had insisted that they would by no means leave the island until they had completed their mission, and they camped overnight on the island. Meanwhile, both naval vessels remained a few hundred meters away, in plain view of the Belize security officers.
"The two boats were still out there the following morning when daylight cleared," Lovell said.
In October 2007, Guatemalan Armed Forces (GAF) personnel attempted to stop a group from the Sarstoon Temash Institute of Indigenous Management (SATIIM) from making their way to Graham Creek, even while the group was inside Belizean waters making their way to the location well inside Belize.
In March 2010, GAF members stopped a Belize Defence Force patrol which was on the southern channel, but inside Belizean territory, and ordered the Belizeans to use the northern channel, north of the Sarstoon Island. At the time, then Ambassador for Belize to Guatemala, the late Alfredo Martinez, told our newspaper that in advance of the territorial differendum expected to be heard at the International Court of Justice (ICJ), Belize could expect to see more incidences like these, in which Guatemala tries to reassert its sovereignty over Belizean territory.
Martinez had suggested that, "…it's just like when you have a piece of land, a squatter, you send that person a notice constantly: 'Hey, come out of my land!'"
Just three days prior to the recent Sarstoon face-off between the Belize Coast Guard and GAF, Belize and Guatemala signed a protocol to amend the ICJ special agreement, to permit Guatemala to proceed ahead of Belize to hold its national referendum on whether its unfounded claim to half of Belize, spanning from the Sarstoon River to the Belize River, should be heard at the ICJ.
Was this move by the Guatemalan naval officers triggered by this unfounded claim over Belizean territory?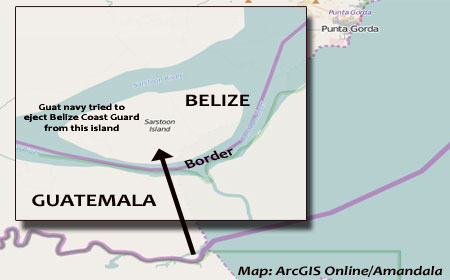 "They seem to be claiming [the island]," Lovell agreed.
He said that if the Guatemalans were asking our Coast Guard to leave, the only basis on which they could have done that would be the belief on their part that the Belizeans were in Guatemalan territory.
However, Lovell affirms that the border that separates Belize and Guatemala, as depicted on international maps, and which can be clearly seen on a Google Earth search, runs south of that island where the Coast Guard were conducting their reconnaissance.
We tried today to find out how the Guatemala officials have responded to the protest launched by the Belize Ministry of Foreign Affairs, but we were unable to get an update. Lovell said that at the time of the Sarstoon incident, Elrington and his Chief Executive Officer, Lawrence Sylvestre, were in Guatemala on separate engagements.
"Our people are looking at how best we move forward with this particular issue," Lovell added.
We understand that the Belize Ministry of Foreign Affairs has expressed concerns over the timing of the Coast Guard patrol, and the fact that there was no prior information to "forewarn" their Guatemalan counterparts. However, we understand that National Security officials have never had a practice of informing Foreign Affairs officials before they embark on their missions on the Sarstoon.
In fact, we were told that on a weekly or biweekly basis, there are patrols along the Sarstoon to Cadenas, where Belize security personnel maintain an observation post manned by Belize military officers, and this means that they traverse the length of the Belize-Guatemala border on the Sarstoon each time there is a changeover of personnel for the Cadenas post, which lies at Belize's south-west border with Guatemala.
Lovell told us that while they do not wish to, in any way, have any adverse effect on diplomatic processes, they will do whatever they need to do, in terms of military efforts, and they will continue to do what they have to do to find a suitable location for the much-needed forward operating base at the Sarstoon.
Lovell said that the purpose of the base is "…for our troops to have a location from which they can operate and do whatever monitoring of Belize side of the river…" and he affirmed that they will proceed with their plans to build the base, which will be fully funded by the Government of Belize.
The CEO also maintained that along the Sarstoon, there is absolutely no question where Belize's territory lies and particularly in this instance, there was not even the need to reference a GPS location, since the Sarstoon Island is located squarely inside Belize.
The Belize Territorial Volunteers—which the Guatemalan Armed Forces tried to eject from Sarstoon Island in September 2013, when the group went to hoist Belize flags on the island—visited the area over the weekend and found evidence of illegal fishing activities, one of the persistent problems faced in the south and one which has proven difficult to police.
Related Articles
Share
About Author
(0) Readers Comments