BELMOPAN, Wed. Nov. 22, 2017–The Football Federation of Belize (FFB) would like to thank all those who made CONCACAF Women's Football Day in Belize a success. We had participants from the districts, with a total of thirty-six girls. The girls participated in a festival and in a match, 11 vs 11.
The following girls were selected to be a part of the National U-15 Team: Jada Zuniga, Geidy Andrades, Ruzelia Parham, Alahnie Bainton, Evania Sarceño, Margarita Coh, Georgelli Acosta, Babee Lopez, Tanya Teul, Aaliyah Herbert, Theresita Cucul, Carlene Tillett, Tanya Garbutt,
Rinelva Ico, Elisa Coy, Tiana Rowley, Shemeria Orellano, Davan Nelson, Jazanni Rodriguez, Gabriela Mendoza, Ahniyah Cocom.
Technical Staff selection: Mr. Alex Norales, Ms. Iris Centeno, Mr. Paul Casimiro. The Federation would like to give thanks to all the parents, coaches, volunteers and chaperons who came with the girls to make their day special.
– press release-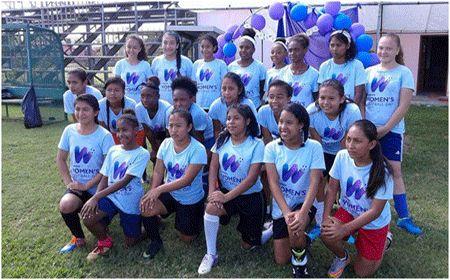 Related Articles
Share
About Author
(0) Readers Comments