CARACOL, Cayo, Thurs. July 23, 2015–Since Special Constable Danny Conorquie was heartlessly gunned down last September at the prestigious Caracol site in Cayo, Western Belize, the Government of Belize has beefed up security presence in the area—long targeted by Guatemalan looters and illegal loggers who have virtually been having a free-for-all, because there was not enough security presence to stave off the unrelenting incursions.
Tomorrow, the Institute of Archaeology (IA), under the National Institute of Culture and History (NICH), will unveil a $100,000 conservation post, complete with 12 rooms, a bathroom, a kitchen, communication towers, and other facilities, to serve as a permanent base for 12 Belize Defence Force (BDF) officers who have been deployed to the area since Conorquie's broad daylight murder.
The Caracol Conservation Post will be the largest in the area, according to Dr. John Morris, IA's Director.
"We have to ensure we don't let Danny die in vain. Something positive has come out of it," Morris told us in an interview today.
Before Conorquie's death, the closest military camp was 15 miles away from Caracol. Indeed, IA has been lobbying for stepped-up security presence in the area long before Danny's killing; but the circumstances under which Danny's life was taken underscored the vital need for urgent action to ensure proper security at the popular tourist site, which also holds great historical and archaeological value for the country of Belize.
"It's a harsh lesson," said Morris, who nonetheless expressed his gratitude for the establishment of the new conservation post.
He said that he is thankful for the efforts of Tourism Minister Manuel Heredia, Jr., and NICH president, Diane Haylock, as well as the support of National Security Minister John Saldivar, whose lobbying at the level of Cabinet was instrumental to secure funding from the Ministry of Finance for the initiative.
Morris said that the loss of Danny Conorquie underscores that there are mistakes that must never be repeated.
He told us that he has worked in the Caracol area for the past 30 years, and they have always had issues with Guatemalans encroaching onto Belizean land – looting, shooting birds and animals, taking Belize's resources; and there had always been constant agitation for more security.
Morris said that when the British did training in the area, the incursions were not such a big problem, but since operations have ceased, the last 10 years have seen an escalation in illegal incursions. Since security was beefed up after Conorquie's death, they have noticed a significant reduction in illegal activities, and even the noise of the chainsaws in the jungle, sounding an alarm about illegal logging, have quelled.
"We cleared around 1,000 square acres [around the new conservation post at Caracol], all around so the military can have a good view of anyone coming in the area," Morris said.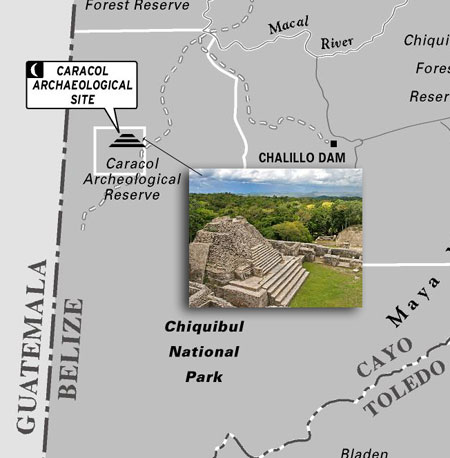 He said that they had also built additional quarters for the 6 tourism police officers stationed there; but with the new conservation post, BDF soldiers will be on-site around-the-clock, with rotations of staff every few months. A police officer is also attached to the BDF team, he said.
"We have learnt our lesson," said Morris, adding that it is unfortunate that we lost Conorquie. He emphasized that, "We can't afford to make those mistakes any more…"
So, there will now be beefed-up patrols in the reserve area which spans roughly 10,000 acres of land with at least 5 dozen major archaeological sites which have been constantly looted by Guatemalans, Morris told us.
"For us, it's a relief. In the jungle, anything can happen," he said, noting that more constant military presence over the past 10 months or so has already yielded tangible results.
"Guatemalans used to come and harass our rangers. That has ceased," he said.
In early 2014, they established another conservation post at Xunantunich, very close to the border, because there was an urgent need to fight problematic incursions in that area and there was constant robbing of tourists by Guatemalans who were coming freely across the border.
The next conservation post is to be established at El Pilar, which straddles the Belize-Guatemala border near Bullet Tree, Cayo. Morris said the design for the post there is complete, and if the weather permits, they will push to have it completed before year-end.
Conorquie's death triggered a security review of the various archaeological sites within a few miles of the border.
Morris said that this review revealed that, "They were very, very lacking and so [authorities] decided to work with National Security and figure out the best way to deal with this issue."
Morris noted that two more conservation posts, to be manned by BDF, will be established in Chiquibul, at Cebada and Caballo, and IA will assist with building them.
Rafael Manzanero, Executive Director of Friends for Conservation and Development (FCD), which co-manages the Chiquibul National Park, told Amandala today they have now found a good location for the conservation post at South Cebada, north of the Rio Blanco Conservation Post, which they hope to build by the end of the year, but they still have to find a location for the Caballo site.
Manzanero said that since the inauguration of the conservation post at Valentin some months ago—which Guatemalans attempted to torch while under construction—they have noticed a significant drop in illegal logging activities. He said that efforts by CONAP (the Spanish acronym for the National Council of Protected Areas of Guatemala), as well as the presence of more FCD rangers on the ground could have also contributed to the fall in illegal logging in the national park.
He noted, however, that the FAO, which has provided funding for surveillance and enforcement activities there, has warned that they should remain on the alert, since there could be a resurgence in illegal activities.
Manzanero told us that whereas illegal logging has declined, there is still a problem with illegal gold panning. He said that the Guatemalans have shifted their operations to more remote parts of the Ceibo Chico, and there is no indication how much gold is being stolen from Belize.
Whereas the economic losses caused by these activities can be significant, Manzanero is also concerned about the environmental and health hazards that could stem from gold panning in the area, which feeds other water systems in the country.
There is also the problem of illegal milpa farming by Guatemalans on the Belize side of the border, even inside the protected area zone. Manzanero said that within the next two weeks, they plan to conduct a surveillance exercise to determine to what extent the 92 clearings burned by Guatemalans for milpa farming on the Belize side of the border earlier this year have been cultivated.