Headline
— 10 June 2017
— by Rowland A. Parks
BELIZE CITY, Thurs. June 8, 2017–Firearms examiner and the country's leading ballistics expert, Orlando Vera, who is also the second in command at the Belize Forensic Science Service, was sentenced to serve two years in prison after being convicted last week on a charge of abetment to pervert the course of justice.
At his sentencing hearing this morning before Chief Magistrate Ann Marie Smith, three character witnesses spoke glowingly about Vera's leadership abilities and his ability to inspire positivity in those with whom he came in contact.
The first to address the court was Cardinal Lopez, who told the court that he has known Vera, 41, since, around, 1988, when he was a police constable (he is now a civilian). "Mr. Vera has always been a person who inspires me. He has displayed a lot of fortitude. He was like a soldier," Lopez, who works at the Belize Forensic Science Services, said about his colleague, who rose from humble beginnings to earn a Master's Degree.
Similar sentiments were expressed by scenes of crime technician Hiro Sosa, who said, "I would like to tell the court that this gentleman has been an inspiration to me. He was the first ballistics expert and has mastered his field over the years."
Vera's sister, Daisy Vera, a counselor at the Belize Agricultural Health Authority (BAHA), described living with her older brother who she said, "was more than a brother. He was like a father to me and assisted me with my school work when I was studying for my Bachelor's degree at the University of Belize. He has been a role model to me."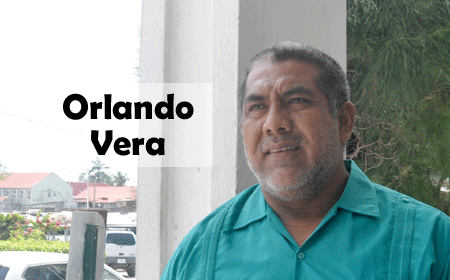 Orlando Vera addressed the court after his character witnesses had spoken. Vera opened his remarks, saying that he has committed some wrongs, "some stuff that that were not right in my life." Vera cited poor judgment for the wrong things he had done.
"It was bad in the judgment for having the conversation. I know it was not right, and for that I humbly apologize to this honorable court. I am sorry. We all make mistakes," Vera said.
"This will no doubt cause a dent in my career as a professional that I have worked hard and built over the past 25 years," Vera added.
Vera then apologized to his wife and his two children and also "to the people who served and worked with me."
Vera asked the court to have mercy on him.
His attorney, Antony Sylvestre, asked, "Your Ladyship to temper justice with mercy, and I ask the court not to impose a custodial sentence."
Sylvestre also cited the recent case of Aaron "Fake Cop" Wilson, who was recently convicted in the Supreme Court of Justice Adolph Lucas on two counts of false pretense of being an officer, and who was given a fine instead of a prison sentence.
Sylvestre also cited a British case in which a man who was convicted of an offense similar to Vera's was sentenced to do community service.
Director of Public Prosecutions, Cheryl-Lynn Vidal, who led the Crown's evidence against Vera, addressed the court saying, "the offense for which Vera was convicted is a serious offense."
DPP Vidal went on to explain to the court that "Orlando Vera was not brought to court because of a conversation he had with someone. He was brought before the court because he offered a defendant to manipulate evidence, with his scientific knowledge. That is a very serious matter."
DPP Vidal said that the legislators set a limit of 5 years in prison upon summary conviction for the offense, and that is the upper limit of the sentence.
Before imposing her sentence, Chef Magistrate Smith said that Vera was placed in a position of trust, and that this is a high level of corruption, and she went on to comment, "in my view, corruption is what is eating out the core of this country and in my view, it seems to taint all elements of the society."
Chief Magistrate Smith said, "Now, looking at his remorse I agree with what Mrs. Vidal said.
This is a very serious matter. And although Mr. Vera appears to be remorseful he tried to minimize the role he played in the whole sordid and sorry affair. So his remorse is somewhat tainted. I am going to impose a custodial sentence, even though Mr. Vera has no previous conviction. I also looked at the principle of sentencing. Other people need to know that they can't do this kind of thing and walk away and smile. He's going to go to jail for 2 years."
The circumstances leading up to the charge against Vera for abetment to pervert the course of Justice, occurred when sometime in June or July 2015, Vera met with Belmopan businessman
Michael Modiri, who at that time had three firearm-related charges before the court. Vera offered to tamper with the evidence in order to assist Modiri to win his case.
Vera's attorney has filed appeal papers and tomorrow, Friday, he scheduled to appear in the Supreme Court for a bail application hearing.
Related Articles
Share
About Author
(0) Readers Comments