Features
— 24 February 2015
— by Adele Ramos
BELIZE CITY, Fri. Feb. 20, 2015–Belize's tropical forests are home to a variety of plant and animal life, including butterflies that are present in vast array. Belize has several species of butterflies, some of which are seasonal. It may take you hours to seek out the various species in their natural habitats, but several of these species can be seen at a convenient location near Belize's western border with Guatemala.
These butterflies are farmed on the premises of the Tropical Wings Nature Center, located 6 miles west of San Ignacio, Cayo, just east of San José Succotz Village. The largest of the butterflies in the extant collection are the owl butterflies, whose wings are a bright blue on the upper surface, but when they perch atop trees or feed on their favorite fruits, their wings close up to display a dark brown pattern with circles reminiscent of an owl's eyes – which is how this butterfly got its name.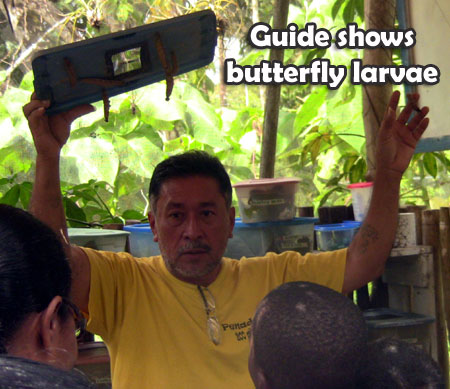 The zebra butterfly, the giant swallowtail, the monarch, the red rim and the postman butterfly are also found in Belize. The morpho butterfly, which can have an impressive wingspan of nearly half a foot, is also reared at the farm.
Inside the butterfly garden at Tropical Wings, a variety of butterfly larvae and pupae are preserved inside a screened and landscaped butterfly house (422 x 602 x 21') and nurtured into adulthood.
The adults live only a few weeks, but give rise to a new generation of beautifully winged insects which add radiance to Belize's tropical landscape.
Related Articles
Share
About Author
(0) Readers Comments