ORANGE WALK–Things have been "hot" in the current sugar dispute for some while now, and an early morning fire that happened today at a house that was being rented by the CEO of the Belize Sugar Cane Farmers Association (BSCFA), Oscar Alonzo, has ignited concerns that the ongoing back-and-forth in the sugar industry may be taking a volatile turn.
At around 1:00 a.m. this morning, fire officials in Orange Walk were called out to the San Lorenzo Housing Site in Orange Walk Town where Alonzo's concrete bungalow house had apparently been set ablaze only two days before a BSCFA general meeting, where 5,000 plus cane farmers will decide whether or not they want to accept the compromise agreement between them and the factory owners for a second time.
Alonzo is currently out of the country on vacation, and some observers believe that the house possibly was torched in an act of arson or burglary to try to intimidate the BSCFA CEO and others from the association who have been strongly opposed to the signing of the new proposed compromise agreement between the BSCFA and Belize Sugar Industries (BSI)/American Sugar Refineries (ASR).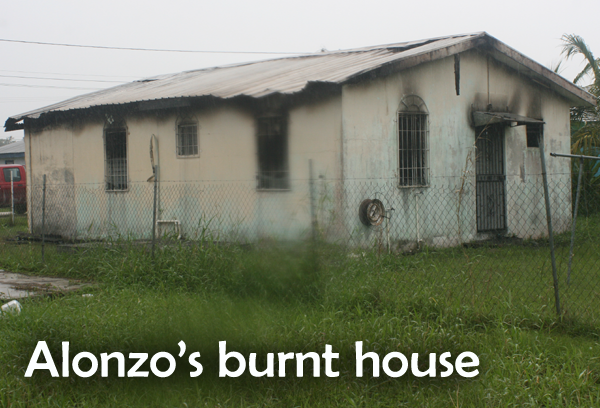 Deputy Officer Commanding Orange Walk Police, ASP Selvin Tillett, told us what they have gathered so far about the incident.
He said, "Acting upon information received this morning, police visited San Lorenzo Housing Site in Orange Walk Town where they saw that firefighters had already extinguished a fire to a concrete bungalow house measuring some 25 by 30 feet. It appears that all items inside were destroyed by both water and fire. We know it belongs to Erlene Pelayo, but was rented to one Oscar Alonzo, who is out of the country, so we cannot determine if anything was stolen or whatever. At this moment we are looking at either arson or burglary."
When we met the Chairman of BSCFA´s Committee of Management (CoM), Ezequiel Cansino, in front of the incinerated house, he informed us that he would not speculate about whether it was arson or not before getting the official police report.
"I don't want to speculate and indeed if that is the case, we regret it and I hope this doesn't continue with the properties of the BSCFA, or properties of our cane farmers", he commented.
Former BSCFA CoM chairman, Alfredo Ortega, who was also at the scene, told us that before he found out about the fire this morning, he received an unusual call from someone who was asking about his well-being and his cane field, and that moments later, he received a call from the owner of the house confirming that the property had been destroyed by fire.
He then told us what he observed at the house when he went there.
"We can see that, yes, it's a situation of arson that happened. I don't know if anything was stolen from the place, but we saw that one of the burglar bars had been wrenched off and louvers had been removed where person/s entered the house and almost everything has been burnt from inside — everything that is there. It's only a little corner where some books and some papers have been left that was not burnt, but have received water damage when the fire engine managed to out the fire. But yes, it shows that it was not something that came just as an accident, but was premeditated by someone" said Ortega.
For his part, Ortega was not as circumspect as the current CoM chair, and made it clear that he believes the fire may be related to the present drama within the sugar industry.
The inferno destroyed all belongings inside the home with the exception of some files, which are the property of the BSCFA.
At this time, investigators do not have any estimates of the damage, and there is no inventory of the possessions of the house to determine whether anything was stolen.
Related Articles
Share
About Author
(0) Readers Comments