BELIZE CITY, Fri. June 16, 2017–Five people are homeless after a fire completely destroyed a house (and its contents) in Lake Independence yesterday.
The owner of the house, Katherine Sinclair, and her boyfriend, told Amandala that they were not at home at the time when the blaze occurred. Sinclair said she was at her mother's house, and her boyfriend was out selling fish when a friend came and informed her that her house had been on fire. She rushed home and found her house completely destroyed.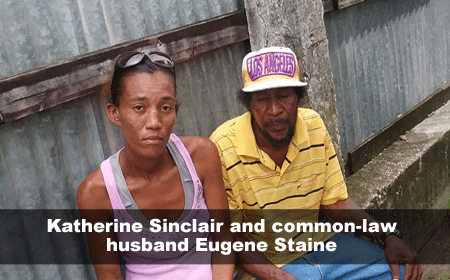 Eugene Staine, Sinclair's boyfriend, said that he was going home with his cart when several persons he met told him that his house had been destroyed by fire. On his arrival at his home, he saw the damage. He said he doesn't know what caused the fire.
Staine said that it took him and Sinclair four years to build the two-bedroom lumber house and acquire their household furniture and appliances. He and his family are seeking public assistance. They need food, clothing, and materials to rebuild their house. They can be contacted at 629-5404 or they can be seen at 4164 Logwood Street, by La Popular Bakery.
According to the couple, the Belize Fire Service has begun an investigation into the fire, but to date, the cause of the fire is not yet known.