Features
— 24 March 2016
— by Adele Ramos
BELIZE CITY, Fri. Mar. 18, 2016–Asuncion Garcia, 57, of San Jose, Petén, Guatemala, was detained earlier this week, while a second illegal farmer escaped after they were found with horses transporting three sacks of corn, harvested from an illegal plantation in the Chiquibul Forest, and inside the "adjacency zone" – which spans a kilometer on either side of the Belize-Guatemala border, and is subject to a special bilateral regime under the auspices of the Organization of American States (OAS).
Friends for Conservation and Development (FCD) reported that on Wednesday, March 16, rangers who were monitoring for illegal farming activities in an area known as Cohune Ridge in the Chiquibul National Park, intercepted two males pulling two saddled horses, loaded with corn.
The farmers were approximately 310 meters from the Belize-Guatemala border, inside a clearing comprised of about 5 acres of corn plantation and another 5 acres of forest which had been freshly slashed and burnt, the FCD reported.
Asuncion Garcia had reported that he was helping to transport corn which is taken to the village of La Esperanza and for which he is paid 15 quetzales (or BZ$4.50) per sack. We understand that the men can do up to two to three trips a day, potentially earning less than $30 a day.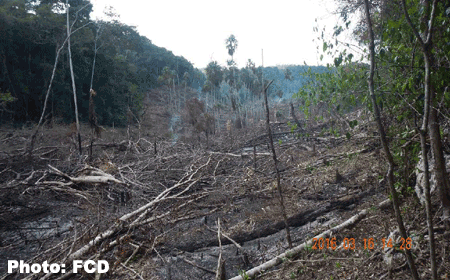 So who planted the corn inside the adjacency zone, where such activities ought not to be occurring? Garcia told FCD rangers that he is not sure who the "owner" of the plantation is.
"Although he was picking corn and transporting it, apparently he could not tell who had planted the corn," FCD reports.
Garcia was handed over to the police at the San Ignacio Police Station on Thursday, March 17, 2016, to face charges of illegal entry into Belize, operating (cultivating and harvesting crops) illegally inside a protected area, and illegal importation of two horses.
FCD says that aerial and ground reconnaissance show that north of Valentin by Caballo Camp and in the south at Cebada are hotspots for illegal farming.
"In some areas, farmers are already harvesting while in other areas Guatemalan farmers have just started to burn the trees and shrubs in preparation for planting. Like other years, FCD has also documented areas that have markers, clearly demarcating plots of land that would have been parceled out to various individuals," the FCD said.
Garcia told FCD rangers that he had been told that they could plant at the location where they were found, inside Belize, but not further east.
FCD highlights growing encroachments, stating that "Despite efforts on the ground, large areas have been cleared demonstrating that the agricultural frontier keeps on expanding in the Chiquibul Forest."
Related Articles
Share
About Author
(0) Readers Comments