BTL bounces back with 80-75 win over Tuff e Nuff, while Dragons embarrasses Bulldogs, 99-66
BELIZE CITY, Wed. July 19, 2017–BTL used a 25-15 fourth-quarter run against Tuff e Nuff to overcome a 60 to 55 five-point third-quarter deficit, ultimately winning the game, 80-75, to secure the big bounce-back win after losing last week to the Kings. BTL shot 41% from the field on 30-of-74 shooting, with most of those points coming inside the paint and in transition. Lennox Bowman continued on his tear, hitting for 25 points in 34 minutes of play. He also contributed 4 rebounds 2 assists and 2 steals. Jason Vasquez also gave good account of himself, as he totaled 24 pts 5 rebs 4 assists and 2 steals. BTL's veteran, Jason Lamb chipped in with 11 pts 2 rebs in the win.
Meanwhile, Tuff e Nuff, who were coming off a 78-58 loss to Central Health, and were obviously looking for better results, unfortunately could not hold on to the ten-point lead they enjoyed early in second quarter play; and so, despite a 25 pts 6 rebs performance by Raul Roches, Tuff e Nuff's losing streak now stands at 2 in a row.
And in case you're still in disbelief or hoping Saturday's result was a nightmare, it wasn't — the Bulldogs took a stunning defeat, 99-66, to the Dragons on Saturday. Eyan Rene led the Dragons with 33 pts 5 rebs 1 assist and 2 steals, and was a big reason why his team extended a 17 point third-quarter lead to a 33 point, 99 to 66 win. Auburn Rivero was no slouch either, hitting for 18 pts, followed by Cordel Gonzalez, Jr. 16 pts, and Akeem Watters 12 pts.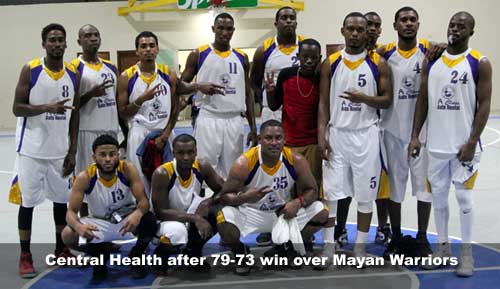 Rodrick Williams led the Bulldogs with 31 pts on 15-of-30 shooting. Aside from him, there was no one else to talk about on the scoresheet.
In other games played over the weekend, it was Infotel, in unsportsmanlike fashion, running up the score on Grace Kings, 114-55. Earl Johnson had 27 points 13 rebounds in the win, followed by Elvis Olivera with 26 pts 8 rebs, and Travis Lennan with 16 pts 7 rebs.
Grace Kings, who essentially is the only true Interoffice basketball team in the league, made up primarily of its employees, must be commended for its stance in ensuring that the make-up of its team is truly representative of its employees. And so, while they have been taking a nightly beating, their position has not gone unnoticed. Jhawn Graham led Grace Kings with 15 pts, followed by Ashton Young with 12 pts.
Central Health got over the Mayan Warriors by the score of 79-73, behind Ryan Samuels 26 pts, Steven Wade 18 pts, and Lonnie Trapp 10 pts. Meanwhile, for the Warriors, it was Winston Pratt leading the way with 18 pts 6 rebs, and Brandon Rogers 10 pts.