BELIZE CITY, Mon. June 19, 2017–Jennifer Louise Smith, 60, a "seenager" who is a survivor of domestic abuse, used the platform of the nation's most prestigious pageant for elderly women to fulfill her lifelong dream of competing in a pageant, while telling her phenomenal survival story through a three-part monologue about how she overcame the most gargantuan struggles in her life.
It was the famous poet Langston Hughes who wrote about what can happen when a dream gets deferred: it can "dry up like a raisin in the sun… fester like a sore [or]…explode?"
"I always wanted to be in a pageant since I was in my 20s, but life did not permit it. I got married, and that's it! That was buried because I started to have children," Smith shared in an interview with Amandala today.
Smith took the stage at the Bliss Centre for the Performing Arts in Belize City on the night of Saturday, June 17, wooing the audience and judges with her charm and talent.
"It's my dream. Win or lose, I always wanted to be on that stage, because I needed to tell people who I am and how I overcame my fears. All my life I lived in fear and I would not want that for anyone," she told us.
The pageant allows competing contestants to present a talent item on stage, and for Smith, this afforded her the perfect opportunity to tell her unique story. The first part of her story focused on growing up without her mother.
Originally of Belize City, Smith grew up in Belmopan with her aunt. Her mother had gone off to London to seek out better opportunities. They were not reunited until she was 13, when she traveled to London to be with her mom.
"As a little girl, I always wanted to be with my mother. I never had my mother and everybody else had a mom. I was raised with my aunt, who did her best but I needed my mom, so that was a big issue in my life, even now," said Smith, adding that today, she and her mom share a good relationship.
After she visited her mom in London, she returned to Belize and later got married. The second segment of her monologue focused on this part of her life, which, she said, "was not good…" since it was marred by 12 years of abuse, which she hid from everyone.
"I hid it from my family because I did not want them to get hurt…" she said, and when the time came when she realized that she had to say something to her family, her worst fears were realized.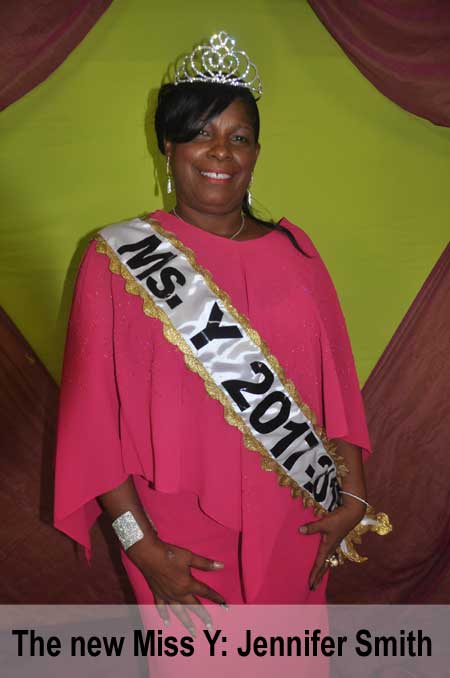 "My ex-husband attacked them and his way of attacking was always with a machete… I decided that if I don't want my children to be raised without a mother, I had to make a decision. I had to sneak away and leave Belize," she told us.
That led to the third phase of her life: migrating to the USA, where she turned a new page in life. Smith resettled in Belize only two years ago, but she says she has returned a stronger person.
"I overcame all this. I am a stronger person. I have God in my life and he helps me to become who I am today," she added.
She told us that she presented her personal story because, "I want to encourage women. Don't give up. So many people are suffering in silence and no one knows…. In order for you to get up and be strong, you've got to trust at least one person…"
Smith was urged to compete in the pageant by her friends in the Senior Steppers group of Belmopan, of which she is a member. They are very active in their community and they also focus a lot of personal wellness.
"When the YWCA pageant came up, they asked me to join in. I said I would think about it, but I already knew the answer was 'yes.' I just wanted to give them a hard time. And then I came back and I said, 'Yes!'" she recounted.
Preparing for the pageant, she said, was exciting. Her sponsor was Yvette Gill, who she said ensured that she had the attire she needed for the pageant. Whatever she needed was provided with the help of merchants in Belmopan, said Smith.
Smith, who won the title of Miss Amity, enjoyed a good relationship with the other 6 women who vied for the crown.
"We were all friends until that night; there was tension… I said, 'This is the night!' Every man was fighting for himself and I said, 'That's alright, because it's a competition and we are all here to win!' We just did our thing until the end," recounted Smith.
The contenders for the crown (appearing left to right in the accompanying photo) were Leolin Humes, Fabiana Scott Rowley, Myrtle McKenzie, Jennifer Smith, Eleanor Bailey, Anna Murillo, and Jean Lucas.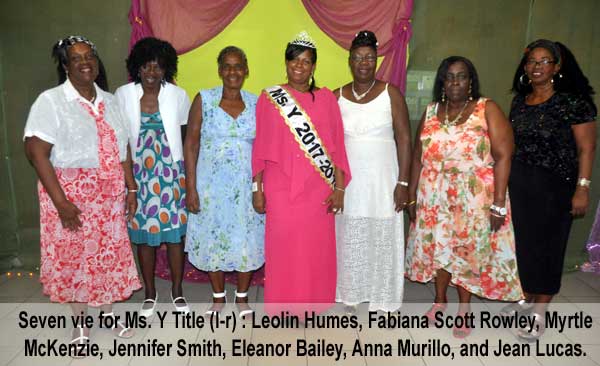 Smith captured the title of Ms. Y 2017-2018, while Lucas placed second and Humes third.
Each of the contestants was sashed with a title, representing her best quality: Lucas was sashed Ms. Vivacious, Humes: Ms. Determination, Bailey: Ms. Graciousness, Scott Rowley: Ms. Perseverance, Murillo: Ms. Courageous, and McKenzie: Ms. Personality.
Emcees for the pageant were Rafael Martinez and Kayla Arnold. The women were serenaded by popular Belizean entertainer, Nello Player.
A press release issued today by the YWCA said, "The pageant was a success and all contestants received an array of wonderful prizes."
Those prizes were presented tonight, Monday, at a special reception held for the contestants and friends at the YWCA compound on St. Thomas Street in Belize City.
Smith won round trip tickets, $500 cash, a necklace with Ms. YWCA engraved on it, spa treatments, gift baskets and other prizes. The second and third place winners also received an assortment of prizes tonight, while the other contenders received special gifts and prizes in appreciation of their contributions to the annual YWCA fundraiser.