BELIZE CITY, Fri. May 5, 2017–St. John's College (SJC) made a bold step today into the digital world, which has for a while now been the domain of at least a generation of Belizean youth, who are connectivity-conscious, and are deeply engaged in cyberspace activities on smart phones, tablets, laptop computers and other on-line tools. Now in its 130th year, SJC, in launching its History Department's Caste War Project this afternoon, seeks to employ digital learning to reclaim the mostly overlooked history of the Caste War of Yucatan 1847-1901, which has had significance influence on the demographics of the northern districts of Orange Walk and Corozal.
The statements made, and the nationalistic sentiments expressed, at the ceremony during the launch of the project reflected a revolutionary acceptance of responsibility for an important part of Belizean history.
SJC Headmaster Gongora said she is a proud Maya, and it is important for those at St. John's College "to recognize where we come from." Gongora added, "We hope St. John's College continues to be the leader in the teaching of Belizean history, Belizeans studies, both for the country and for everyone that surrounds this beautiful nation, Belize."
Carlos Quiroz, a first, third and fourth form teacher, said, "History teaches us, that the first few human attempts to record living activity to record history came through paintings seen on rocks. The ancient Maya accompanied their recorded history on stellae with equally fascinating images. The European Renaissance invoked the visual experience combined with written philosophies…"
Quiroz said images are equally important in telling stories and igniting the imagination in our classrooms. "Today, Belizean history is dead. It remains a nostalgia for the old and an uninteresting archaic past for the young. Thirty-six years after our independence we remain colonial orphans because we never breathe life into our history. Our classrooms remain dungeons of mental colonial torture. As a nation we have failed to capture the imagination of our young generation. We continue to hoard our stories from our children in high-level academic publications," he commented.
Quiroz added, "It is almost 3 decades since the internet transformed the sharing of information, yet our history is still stuck in books on shelves. Why isn't our history packaged to fit our audience, to fit the new generation who are the leaders of tomorrow? Today, our classrooms remain artifacts of the past, while info-graphics dominate society. It is justice to our young generation to make history a visual experience."
Fourth form student Jaylen Young, who is also a member of the SJC History Club, said that history has taught him many lessons and while learning about Belize's road to independence, in second form, he not only learned about Belizean heroes, but he had the opportunity to portray one, namely Evan X Hyde.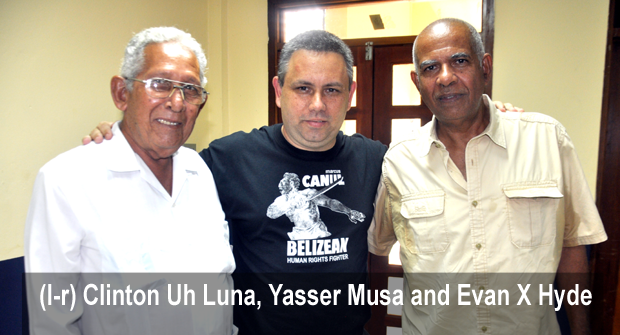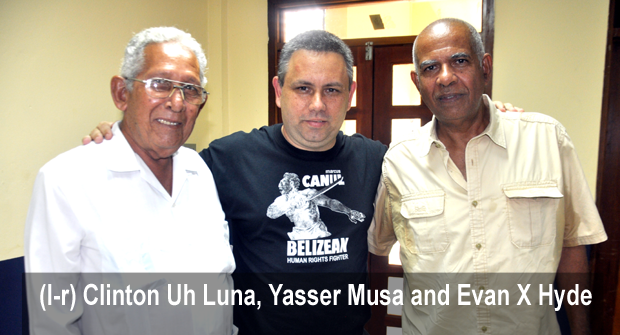 Young said history is a matter of perspective and noted that "learning African and Mayan history has been a life-changing experience" for him.
Yasser Musa, who heads the History Department, said that today marked the fourth year of the project.
Musa presented the school with a flash drive on which he said there were 1,145 books that he has collected over a 10-year period. He said that if the total value of the books was estimated based on Amazon prices, it is a gift worth over $30,000.
"We are people of the Yucatan Peninsula — what I like to call the hurricane zone. But our hurricanes are not just atmospheric; they are social, economical, political, and yet historical," Musa said.
Musa added, "… a great part of our narrative of this country argues against the truth of who we are. Our history teaching is still emotionally and psychologically suffocating, still segregated and superficial, still suffering with denial and disrespect…We are children of stone and cassava; children of land and sea, children of feelings and hope. Our education in the new era today of Trump and fake facts must seek to inoculate us from the constant barrage of electronic mental garbage being deposited into our minds like razor blades cutting us up into more pieces, pushing a growing fragmentation and celebration of the anti-society. Every time we ignore our intelligence, we create more sufferings, every time we turn our backs on self-determination, we allow our children to suffer. Education is not what we cover, but what we discover."
"The very first issue of the Amandala, on August 1, 1969 stated, that the new publication would publish extracts of African and Indian history, so that we can gain greater knowledge of self and kind. The RAM, Revolutionary Action Movement in issue number 11 of Amandala with Fire, dated December 11, 1969, [Musa pulled out a copy and held it up.] — presenting an 11-point program demand on the government, the PUP government; point number 11 demanded that our schools immediately include courses of African and Indian History and matters pertaining to indigenous culture," Musa stated.
Musa said that SJC published its first National Studies, a Journal of Social Research. This journal eventually morphed into Belizean Studies, and its first two editors were Jesuits, Richard Bulher and Richard Hadle. And since then, SJC has been one of Belize's vanguard institutions in the field of research and pedagogy, specifically in the area of Belizean studies. "So today is part of a continuum," he remarked.
"In June 2013, Evan X Hyde, writer and publisher of the Amandala, visited SJC. The story of the X and the Jesuits is for another moment. Let us just accept that June 2013 was a turning point and today we continue to forge a new engagement with the digital generation. And let us accept what the X has done for Belize is gigantic," he said.
"The Caste War Education Project is just a small piece of the new Belizean puzzle, an atom with ambition. It's about putting our creativity to work, the engine of our imagination. We are prepared to be wrong, so that we can come up with something original. This project is just one more example of how we fight against cynicism and academic fatigue. Our simple vision is to create an environment for curiosity, so that with one hand we can inspire the youth and with the other we reach out to the community," Musa further noted.
Musa said reform is a long experience which requires tenacity and grit. "We are in the fight for a new development. One way to fight is to develop a passion in our youth for ideas, and then, to live and develop those ideas. It is our duty and responsibility to teach each other, and to reach out to each other in a spirit of friendship and solidarity," he said.
He further went on to state, "Today I call out to all the misfits, the cultural activists to find new way to continue what our ancestors gifted us, a legacy of rebellion, resistance, creativity, and survival."
"The Caste War cost about 250,000 lives, with hundreds of towns destroyed. Yucatan Peninsula lost one-third to half of its population, killed or forced to flee from the violence. For the thousands who crossed the Rio Hondo in the 19th Century, including my great grandmother, Augustina from Santa Cruz…," he said.
Musa explained that the purpose of the Caste War project is to use knowledge to provoke and to debate, to think critically, to act, to believe in community and society.
"For modern Belize, the issue of land rights, human rights, culture and labor are very real in 2017 as they were in 1847 when the Caste War erupted. If you don't believe it, ask two questions: Why is Efrain Rios Montt still free and why is the American Sugar Refinery here?" Musa said, ending his presentation.
In an interview after Musa's presentation, one reporter asked him why is the Caste War important. Musa responded, "It is important for many reasons: (1) the entire north of our country was shaped by that war. Not just in terms of the people, which is very important — the Maya people, but important from a boundary standpoint. That's when the boundary between Mexico and Belize had to be negotiated, because both the imperialist powers, the British on one side and the New Mexican state, were in a panic – 'these Mayans are going in and out, let's hurry seal up the boundaries'. So that had to be defined.
"How can a war which lasted 54 years — 250,000 people dying — hundreds of towns destroyed. How can that be erased from our intellectual, social and psychological memory? So, we are not being subversive. The system is subversive. It's subverting the truth. We are trying to say that the things we are presenting now, we are not trying to say that is the truth; we are just trying to point out that the approach we've been taking in teaching history and social studies is a failure. Let us accept that. That's a part of our responsibility as people who are in the system. It has failed and we need to fix it and design it. But the bigger challenge now is to design it for the digital generation. So, while we are wasting our time with foolishness, the world is advancing in front of us and now we have a bigger problem in front of us. How do we teach kids that are into video games that are far more complex than the classroom system? So that's another problem."
Musa explained that the website is available to everyone. "Belizehistorysjc.com. Anybody can go there. Any teacher, any principal, any student can go there and download. For example, we just put up our Caste War section and that has over 40 books, eBooks, free. It has all the info-graphics, the images that are easy to understand and the designs. It has videos of the residents in the community that we've interviewed. These are things like modules that students can go and do. Students can go and search their own history. So this is just a model and I think that this is the best approach where it is open and it's there. It's no closed system," he said.
"Well, I presented 1,145 books that are on here. Now the challenge will be for people to go and open it up and read it and engage, because sometimes we get into this frenzy which I now call like a Trumpian modality, which is just say, sign it and let's go. The world has changed. But we have to do work. This requires a lot of work and I am just making it very easy for people to open a book. This is a just a gift as a symbolic gesture so that we can reach that bridge I was talking about to the digital generation," said Musa.
Related Articles
Share
About Author
(0) Readers Comments