BELIZE CITY, Mon. Oct. 2, 2017–The Premier League of Belize (PLB) 2017-2018 Opening Season has passed the regular season halfway mark, and the race to the Top 4 playoffs is slowly heating up. In Week 8 games over the weekend, three of the "Big 4" standings leaders posted victories, but BDF lost to Placencia Assassins, who are "knocking on the door," a mere 3 points behind BDF in the standings. (See standings below.)
On Saturday night at the San Pedro Stadium, Jesse Smith (45') gave home standing San Pedro Pirates the lead at half-time; but Belmopan Bandits SC rebounded with second half goals from Elroy Smith (72' PK) and Armando Gaitan (84'), to secure the 2-1 road victory. Meanwhile, at the M.A. Stadium in Independence, it was Placencia Assassins with the 3-1 win over visiting BDF FC. The Assassins got a goal apiece from Alexander "Pleck" Peters (20'), Luis "Baaka" Torres (38') and Alden Foreman (65'); while Vallan Symms (29') scored for BDF.
On Sunday afternoon at the Victor Sanchez Union Field in Punta Gorda, home standing Freedom Fighters FC enjoyed a first-half lead, courtesy of a penalty conversion by Leary Simon (32' PK); but Police United FC rebounded with goals from Amin "Tacos" August (54') and Daniel "Danny" Jimenez (88'), to give the lawmen the 2-1 win. Meanwhile, the net shook all of 7 times in a slug-fest at the Carl Ramos Stadium in Dangriga, as visiting Verdes FC outgunned the home squad, Wagiya, by a 4-3 margin. The game was tied, 3-3, until Jarret Davis got the game winner for Verdes. Shaking the net for Verdes were Alcides "Paco" Thomas (18' & 65'), Elroy "Bibbs" Kuylen (26') and Jarret Davis (73'); while Wagiya goals were by Krisean Lopez (3' & 45') and Davis Marshall (71').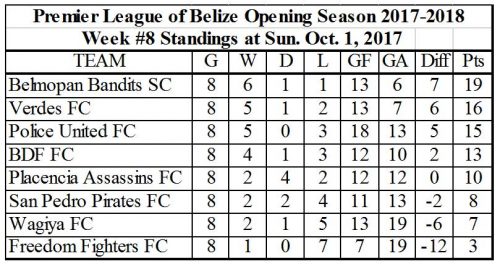 Week 9 schedule:
Saturday, October 7
4:00 p.m. – BDF FC vs San Pedro Pirates FC – MCC Grounds
7:30 p.m. – Belmopan Bandits SC vs Placencia Assassins FC – Isidoro Beaton Stadium
Sunday, October 8
4:00 p.m. – Verdes FC vs Freedom Fighters FC – Norman Broaster Stadium
5:00 p.m. – Police United FC vs Wagiya FC – Isidoro Beaton Stadium