BELIZE CITY, Mon. Apr. 4, 2016–With 3 back matches completed over the past few days, the Premier League of Belize (PLB) 2015-2016 Closing Season regular season is finished; and although the official results have not yet been released by the league, the number tally, according to game results from all our sources, shows Police United with a 1 point advantage over Belmopan Bandits in the combined regular season totals, thus securing the berth to CONCACAF Champions League even if they should fail to win the Closing Season championship.
In last Thursday night's back match at the Michael Ashcroft Stadium, it was visiting Police United, 2-1, over Wagiya; and on Saturday night, again at the Michael Ashcroft, Police United again visited and secured a 1-1 draw against Placencia Assassins, to put them at the top of the regular season standings, as well as first in the combined totals. (See our unofficial standings below.)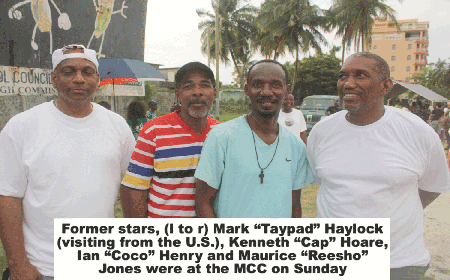 And yesterday at the MCC Grounds in Belize City, Verdes gambled on a defensive start, with Jarret Davis sweeping and a still not 100% Deon McCaulay on the bench. Deon entered the game at the 62nd minute, but it "wasn't happening" for the Green Machine, and it was BDF who got on the score card around the 81st minute, after Osmar Duran's hard free kick from thirty-five yards out bounced off the chest of a diving Elroy "Zabble" Rowley in goal for Verdes, and Paul Nunez was there to tap in what proved the game winner, 1-nil, for BDF.
The playoffs are expected to start this weekend, as we await the final word from the PLB secretariat. It should be #1 seed versus #4 seed, and #2 seed vs #3 seed in best-of-2 games series; which would be Police United vs Placencia Assassins, and BDF vs Belmopan Bandits.
But we await the official details from the PLB.