BELIZE CITY, Mon. July 18, 2016–A police officer and another man, believed to be his friend, were remanded to the Belize Central Prison after they were arraigned on a charge that they attempted to murder a man in the Lake Independence area on Thursday, July 14.
This morning, after more than three nights in police custody, PC Wallace Meighan, 19, a resident of 1B Mahogany Street Extension, and Travaun Chee, 21, a self-employed construction worker, were charged jointly in the Belize City Magistrate's Court with four charges — one count of attempted murder, one count of dangerous harm and one count of use of deadly means of harm with a firearm upon Nigel Castillo, 29. The two were also charged with one count of aggravated assault with a firearm upon Gilbert Arana.
Meighan and Chee appeared before Senior Magistrate Sharon Fraser, who read the charges to them.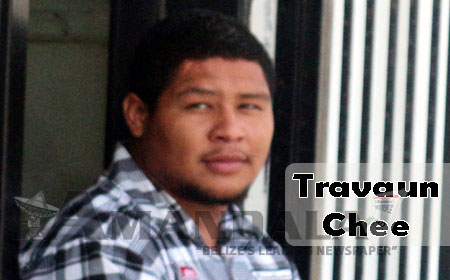 Due to the nature of the offenses, bail was denied. Magistrate Fraser explained to the two accused men that they do have the right to apply for bail at the Supreme Court through an attorney, but that they must take into consideration that if the Supreme Court denies them bail, then even at the end of their 90-day remand period, she cannot grant them bail, either.
Both Meighan and Chee are due back in court on September 7.
Police reported that Castillo was shot in the vicinity of LaCroix Boulevard, a short distance from where a police checkpoint is located.
Around 9:00 p.m. on Thursday, according to Castillo, he was at the basketball court, located behind the Charles Bartlett Hyde Building, when he was shot once in the abdomen.
When police went to the scene of the shooting, they found Castillo bleeding from his injury and immediately they rushed him to the KHMH for treatment, and he was admitted in a stable condition.
A police investigation later led to the recovery of a pair of firearms and the arrest of Meighan and Chee.
According to Assistant Commissioner of Police Chester Williams, the shooting is not believed to be gang-related, but was triggered by an altercation which took place on the basketball court earlier that same evening.