The PUP Belize City Council campaign has jolted what many thought would be another hum drum election. The UDP has won every election since 2006 and just a month or so ago, most of the pundits were posting that they should fairly easily win this one too. That speculation was fuelled by the late launch of the PUP slate, more than two months after the incumbents had held a wild convention in September to select their candidates.
The candidates are for the most part media unknowns, but in the various neighbourhoods that make up Belize City's social and political economy they are familiar faces to many in the electorate because they have watched most of them grow up literally before their very eyes.
Aisha Gentle is 28. She was born in Port Loyola and was raised by her mother, Delvorine Lewis, and stepfather, Charles Lewis, a three-time Cross Country cycling champion, and still lives at the same house along Central America Boulevard, literally from before it was paved. She went to Sunshine Pre-school, Sister Clara Muhammad School, Canaan SDA High School and the University of Belize.
Aisha has worked at the Belize Red Cross and part-time at the Karl Heusner Memorial Hospital and is a well-known auxiliary nurse, who also provides quality home healthcare in the Port Loyola community. Aisha has a missionary bent and zeal, and is also passionate about giving back to her community. She has done missionary work with Beautiful Beginning Church and is a member of the Saviour Marching Band. She has served as president of the Port Loyola Women's Group and is an active executive member. She presently works as a community organizer for the Port Loyola division. Every few months she helps to organize and spearhead a bake sale to raise funds for their version of a pantry program for those residents she knows are in need. She will walk the London Bridges to deliver her care packages.
She entered politics because of her passion to bring positive change to her community and to improve the living conditions of the most disadvantaged residents of Belize City. "I love being active", she tells me, "we single mothers cannot be failing our society because mothers are the ones on the frontline."  She finds her first campaign as a candidate a unique and exciting experience. The French proverb says, 'if youth but knew, if age could but go'. For this vibrant young woman, being proud of her community is a given. She does not understand the disdain so many have for her community. "We have lawyers, doctors and other professionals here," she declares.
Home is not only where her heart is, but where she is putting her efforts and energy, where her mouth is too.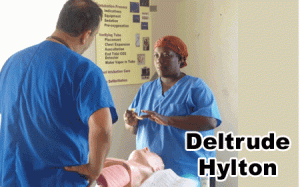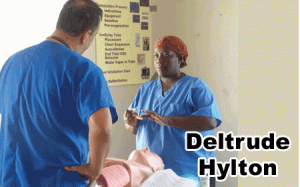 My memory, or prevailing memory, of Deltrude Hylton is a photo engrained in my memory of her sweating in the bright afternoon sun along the then Northern Highway, giving comfort and care to a driver trapped in his mangled vehicle some 12 years or so ago. Patiently and with both courage and compassion, Detrude helped to get him out alive and to get him the necessary treatment to restore mangled limbs and to live a productive life.
An EMS responder for 16 years, Deltrude has been witness to some of the worst of our humanity in the City without pity but has never lost her engaging smile. She was born and raised in Belize City, and has lived her life along Kelly Street and Freetown Road, where she is now raising her four children. A student of Ebenezer Primary who later got her diploma from the St. John's Extension she continues to balance a busy home life and a demanding career, even as she works to achieve her Associate Degree in Primary Education.
The propaganda blurbs say: "Deltrude has worked as a trained paramedic at the Belize Emergency Response Team (BERT) for over sixteen years and has seen more than her share of the tragic results of the violence which is plaguing the streets of the city. She is determined to play a critical role in bringing positive change into these communities and feels that it is a chronic neglect and abandonment of our residents which is contributing to the frustration, hopelessness and violence in the city's poorest areas of the Southside.
"She is a Guider for the Belize Girl Guides and has volunteered at Helpage for years while also assisting residents as a dedicated Justice of the Peace. She is a proud member of the PUP Caribbean Shores Executive Committee and is determined to be a part of the team which will bring new life to the City."
It glosses over what has been a meaningful and impactful life, though. Deltrude has seen the streets and the stress, and has been working hard to make positive change over the last two decades.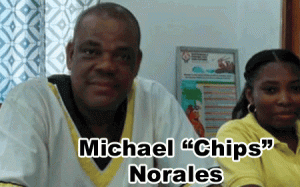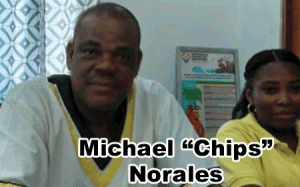 I know Michael "Chips" Norales since his time as an officer in the Belize National Basketball Association and as part of our successful effort to create the Belize Basketball Federation. Chips also refereed semi-pro basketball games.
In the decades I have known him, he has always been a sports enthusiast and organizer, and a social and culture warrior with an abiding good nature.
He was born in Dangriga and graduated a year after I did from Stann Creek Ecumenical in 1977, before attending Wesley College for one year from 1977 – 1978. He entered the Government of Belize's public service in December of 1978, attended the West Indies School of Public Health from 1981 – 1983 and trained in basic public health inspection and environmental health.
He took up teaching at Toledo Community College from 1986-1991 and then became the Fisheries Officer in PG from 1991 – 1993. He taught at Independence High School from 1993 to 1995 and returned to Belize City in 1996, where he has been living ever since.
Chips retired from the public service in 2015 and is now pursuing his passion for politics. A man of great good humour, he cares greatly and deeply.
"I have found the campaign trail more positive than negative", he unsurprisingly tells me. Many with whom he has spoken so far are disenchanted with the system and he is distressed by the dilapidated conditions of much of the housing he has encountered. It has not wiped away his ever-present smile and optimistic outlook, though; he remains determined to make a difference, a positive difference.
You can be forgiven for mistaking Oscar Arnold for a banker. He is often buttoned up and wearing a tie. I know from my experience of observing him over the years that his banker persona masks a fierce and determined competitor.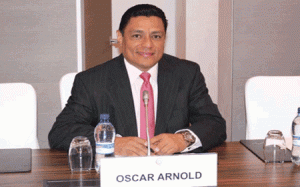 He was born on Southside Belize City, on the corner of Vernon and Alexandra Streets to be exact, and attended Holy Redeemer Primary School before attending and graduating from SJC's high school and junior college.
He is a passionate sportsman in whom community service has been inculcated. He has excelled in both academics and athletics, participating on varsity teams for track and field, basketball, softball and volleyball.
In his post-scholastic career, he became a banker and has over nineteen years' experience in the banking and financial sector. He has served as the branch manager of the Scotiabank San Pedro, Ambergis Caye branch.
He is also a very active member of the Belize Volleyball Association and has served on the Belize Volleyball Association (BVA) Executive Committee for the past twenty-four years. He has represented Belize as an athlete, coach, referee and president of the BVA at regional and international tournaments and congresses. He has coached both youth and senior national teams and recently was certified as one of only two coaches in Belize internationally certified under the ICECP program.
His campaign bio claims: "He is still very active in the community, coaching and training athletes in football and volleyball as well as running a volleyball club for athletes. He is a father of two children and a dedicated Belize City resident".
I can attest to that. A political novice but a skilled and dedicated financial manager, and a man whose love of sports and his Belize City community is deep and wide.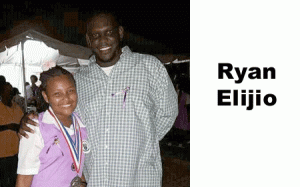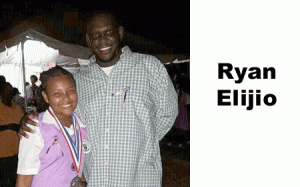 Ryan Elijio is a father and a teacher. You will hear he is a proud lifelong resident of Southside Belize City but more importantly, he was raised right by a single mother in Lake Independence on Southside Belize City.
After attending St. Ignatius Primary School, Ryan fought his way through attending St. John's College Extension and Evening Division to obtain an Associate Degree in Business.
It is a measure of his determination that he then obtained a Certificate in Education and a Bachelor's degree.
He is a father of three daughters and a son, but a mentor and a teacher to many. He is passionate about developing our Belizean youth and has devoted his life's effort to doing exactly that. His campaign for the Belize City Council seems a logical extension of his passion on life and career.
In these times, when so many of our young people, particularly our young men, are being slaughtered by our collective lack of concern, his caring is a bright and naked beacon of hope for many of them.
Campaigns come, and campaigns go and each touches on and changes our understanding of our communities. The PUP Belize City Council campaign is aspirational and may yet prove to be a seminal event in the annals of our socio-politico endeavours. For most of these candidates this is their first foray into politics as candidates and their ambitions are bathed in the light of their passion to serve. It signals a changing of the generational guard and a rebirth for the grand old party.
(To be continued in next Tuesday's edition of Amandala)