Highlights
— 23 December 2017
— by Rowland A. Parks
BELIZE CITY, Wed. Dec. 20, 2017-For two nights in a row, Foreign Minister Wilfred "Sedi" Elrington (UDP) and Senator Eamon Courtenay (PUP), were seen on the evening news hurling blame and insults at each other over who is on the right side of history and who is on the wrong side, when it comes to the Maritime Areas Act (MAA), the law that allowed Belize to de-limit its territorial sea to 3 miles instead of the 12 miles to which it is entitled under international law.
The Maritime Areas Act (MAA), a piece of legislation Belize was urged to pass in its parliament in 1992 as a goodwill gesture in negotiations with Guatemala over its territorial claim, has remained on Belize's law books through successive UDP and PUP administrations, despite calls from knowledgeable Belizeans that it has outlived its diplomatic usefulness. Recently, the Opposition PUP introduced a motion in the Senate to amend a section of the MAA, but that was met with resistance and voted down by the government with its majority of senators, who were joined by the Church Senator, Ashley Rocke.
For some time now, Belize has been ignoring advice to amend the MAA and reclaim its 12 miles of territorial sea. The question has taken on more importance since leaders of both Belize and Guatemala signed a special agreement, in 2008, to have their territorial differendum adjudicated at the International Court of Justice if the people of both countries agree. The spill-off from the discussion about who is right and who is wrong when it comes to the MAA has triggered a war of words between Courtenay and Elrington.
Elrington told reporters on Tuesday, when he returned from the SICA Summit in Panama, "In my view, any damage done to the Belize claim, if any damage has been done to the Belize claim in consequence of the Maritime Areas Act, that damage has already been done."
Today, apart from castigating Elrington, Courtenay insisted that the MAA needs to be amended.
Courtenay stated, "I repeat, the Maritime Areas Act needs to be amended. I have brought here my file…I won't disclose to you who are the international lawyers who have advised the government over the years. But, I will have you all read paragraph 21 of this opinion. What I will give you, and what you can refer to is one that I personally paid for, with my money, because unlike Wilfred Elrington, I take the matter seriously. And I will just read you the beginning."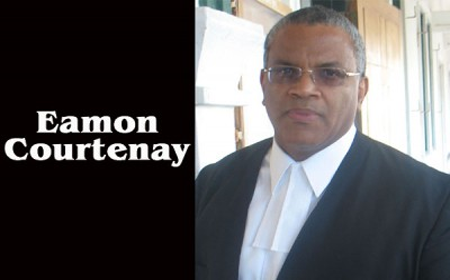 He then proceeded to read the following, "This legal advice addresses the following question: would Belize's position in an ICJ claim be strengthened or not, if it were to make a declaration claiming as its territorial sea the area from the mouth of the Sarstoon to Ranguana Caye, before the dispute is submitted to the ICJ—which is the area that the Maritime Areas [Act] does not claim what we are entitled to.
"The short answer to the question is that a legislative amendment, supported by a declaration or exchange of notes, would strengthen Belize's position in an ICJ case. It would prove that there is no tacit agreement between Belize and Guatemala to a 3-nautical-mile limit in the area from the mouth of the Sarstoon to Ranguana Caye, and it would rebut any argument regarding estoppel or a unilateral undertaking."
Courtenay then went on to say, "This advice was given to me. It coincides with all the advice that we have gotten. I have 3 opinions here from different legal experts that have said that Belize must do this. This advice — I will give you the CVs so that you can show the Belizean people, so that they can go and check for themselves, was provided by Dr. Philipa Webb and Amal Clooney, George Clooney's wife, high-standing international lawyers, okay. I say, Belize's interest continues to be prejudiced every day that we don't do what is right."
Courtenay continued, saying, "the prejudice being done now is failing to follow the legal advicethat says, once negotiations have failed, amend the law, because if you go to the ICJ you
want to be claiming the maximum that you are entitled to claim."
For his part, Elrington said, "That prospect of a settlement failed from 1993-1994. You had all that time between then and now—how many years, 20 years, 30 years?"
Courtenay responded to those remarks by Elrington by saying: "Whether Mr. Elrington likes it or not, whether Mr. Elrington is prepared to accept it or not, facts are stubborn, and facts are what they are. We would be acting in bad faith if we had left the law there for the purposes of negotiations. We're in the middle of negotiations, and we amend the law and move that off the table. That was to be done immediately after December 2008, when we signed the Special Agreement. Those are the facts, and he can say what he wants. He can call me what he wants. Those are the facts. Facts are stubborn. Mr. Elrington, you are a liar."
Elrington accused Courtenay of "classic style misinformation". "That is classic style misinformation and disinformation for which Mr. Courtenay is famous. Most people don't know. Most people don't understand him," Elrington said.
Courtenay said he and the PUP will not allow Elrington to rewrite history. "Wilfred Elrington is the Foreign Minister of Belize. He's not a fool. He seeks to re-write history," he said.
Elrington said the PUP could have dealt with the MAA from as far back as 2007, when taking the claim to the ICJ was first proposed. "But the truth is that that could have been dealt with immediately after the Guatemalans persisted in their claims. That is right after 1993-1994. So, it's no truth that it was not until 2007—you know it was in 2007 that the proposal was made to have this matter dealt with at the ICJ—2007. They were still in office," remarked Elrington.
"When the court looks at the Belize case, they will look at all the details and the evidence, and they will look and say that well, in 1993 you were prepared to limit your claim to 3 miles, when you were entitled to take 12…you shouldn't complain because in 1993 you agreed to limit your claim to 3 miles. That should never have been done," Elrington said.
Courtenay accused Elrington of being incompetent. "The man is an unmitigated disaster," he said.
Courtenay advised Elrington to do some research on the subject. "Once again, I would urge Mr. Elrington to read the legal opinions that are in the files of the Ministry of Foreign Affairs. We have received legal opinions prior to the Maritime Areas Act—listen carefully—prior to the Maritime Areas Act— (legal opinions) which provided the specific language that was to be used along with the appropriate declarations that were to be made, along with the appropriate filings in international organizations, in order to ensure that our position was preserved," Courtenay said.
In their exchange of hostilities, Elrington said Courtenay was seeking to get his, Elrington's, job as Foreign Minister, but Courtenay shot right back, saying that anyone could do a better job than Elrington. As to wanting his job, Courtenay said, "I've been there, done that."
Related Articles
Share
About Author
(0) Readers Comments