Publisher
— 23 February 2016
— by Evan X Hyde
"Malcolm X and Muhammad Ali were like very close brothers," Mr. Ali's fight doctor, Ferdie Pacheco, later recalled. "It was almost as if they were in love with each other." But their love affair ended abruptly, and tragically. When Malcolm X and his own mentor, Elijah Muhammad, the soft-spoken but ruthless founder of the Nation of Islam, went to war in early 1964, Mr. Ali, who'd just won the heavyweight crown, had to take sides, and for him it proved a disconcertingly easy choice. To call their friendship "fatal" is publishing hype. But while Mr. Ali pulled no triggers, he helped make Malcolm's murder even more inevitable.
– from pg. C9, The Wall Street Journal of Saturday/Sunday, February 13-14, 2016, a book review by David Margolick of Blood Brothers, by Randy Roberts and Johnny Smith, Basic, 362 pages.
I'm writing the words below in the pre-dawn of Sunday, February 21, 2016. Today is the 51st. anniversary of the assassination of Malcolm X at the Audubon Ballroom in Manhattan. Malcolm's autobiography, which I read in the winter of 1967 while at Dartmouth College, essentially changed my life, in that Malcolm made me understand the neighborhood where I had grown up in Belize City around Bolton Bridge.
When British Honduras became a self-governing colony in January of 1964, one of the most important aspects of that constitutional adjustment was that the United States of America at that point began to consider Belize eligible for American foreign aid. Because of Belize's becoming self-governing, yours truly became the recipient of the American State Department scholarship, between late 1964 and early 1965, which saw me flying to Dartmouth in late August of 1965.
On November 22, 1963, United States President John Fitzgerald Kennedy had been assassinated by rifle fire in Dallas, Texas, whereupon his Vice-President, Lyndon Baines Johnson, was sworn in as president. A few days after Kennedy's assassination, Malcolm X, the highest profile Minister in the Hon. Elijah Muhammad's Nation of Islam, told a group of American reporters that Kennedy's assassination was a case of "chickens coming home to roost." Because of this ill-timed comment, Hon. Elijah, the Messenger of Allah, suspended Malcolm from speaking publicly for 90 days. High ranking Ministers in the Nation of Islam welcomed Malcolm's suspension, because they were jealous of Malcolm, felt he was becoming too popular and too prominent, and feared he had put himself in line to become the Messenger's successor.
Malcolm had been spending a lot of time with the young Cassius Clay, the heavyweight gold medalist at the 1960 Olympics, who was scheduled to fight the fearsome Sonny Liston for the world heavyweight championship in Miami on February 25, 1964. Malcolm, the Minister of the Nation of Islam's Mosque No. 7 in Harlem, was still on his 90-day suspension when Cassius, a 7-1 underdog, was wrapping up training for the Liston fight in south Florida. Malcolm and Cassius were very close, and the two men, to repeat, spent a lot of time together.
Cassius Clay shocked the world by defeating Sonny Liston, and shortly after that he announced his religious conversion to the Nation of Islam, whereupon the Hon. Elijah Muhammad gave him the Muslim name of Muhammad Ali. But this was happening around the same time Malcolm X's status in the Nation was becoming even more confusing and threatened. The new Muhammad Ali was forced to choose between Elijah and Malcolm: he chose Elijah.
Malcolm X then visited Africa, and made the pilgrimage to the Muslim holy city of Mecca. When he returned to the United States he announced that he had changed his faith from Elijah's separatist Nation of Islam to orthodox Islam, which does not differentiate among races.
In late 1964, U.S. President Johnson had gotten some major civil rights legislation passed, and this continued into 1965. Black Americans were breaking down the barriers of racial segregation and increasing their political power through voting rights legislation. But 1965 was also the year when the United States began to escalate its military involvement in South Vietnam, and the Vietnam War would spark unprecedented social instability in the United States because the war was so unpopular amongst young Americans.
In July of 1965, the charismatic new heavyweight champion of the world, Muhammad Ali, made a sensational visit to Belize, British Honduras. He stayed at the Fort George Hotel, and gave boxing exhibitions at the Palace Theater on Albert Street. Off the top of my head, I would say that Muhammad Ali was the most famous person ever to visit little Belize. The MCC cricket club from England had visited the colony to open the MCC Grounds in 1960. They were, of course, white: Muhammad Ali was black, and militant.
Remember now, Malcolm had been murdered in February of that year, and it was widely felt that the Nation of Islam was responsible. In Belize when Muhammad Ali visited, there was a Belizean named Charles X Eagan, popularly known as "Justice," living in the village of More Tomorrow off the Cayo road. Charles X Eagan had introduced the teachings of the Nation of Islam to Belize after he was deported to British Honduras in chains from Atlanta State Penitentiary by the American federal government.
I'm not sure if Justice was deported before or after Hurricane Hattie in October of 1961, but for sure he had become active preaching at the Courthouse Wharf by the year 1962. The Government of British Honduras responded by locking Justice up in the Seaview Mental Hospital for a week. They got away with this because Justice was a primary school dropout without academic credentials. Malcolm X, by contrast, had educated himself while in prison. One reason Malcolm became so famous was because he debated professors and students in such prestigious universities as Harvard and the London School of Economics. Malcolm X stood toe to toe in intellectual discourse with the best of the white world.
With Muhammad Ali's July 1965 visit, Charles X Eagan came out of the More Tomorrow "bush" and put on a three- piece suit in Belize City. But the fact that Justice's beliefs were being vindicated, so to speak, by the visit of the world heavyweight champion, went under the colony's radar. The street buzz around Ali's visit instead had to do with the flirtation between the champ and a beautiful young lady from the respectable middle class in Belize. There was no television in British Honduras in 1965, the only radio station was a government monopoly, and the two newspapers were both political – the ruling People's United Party's (PUP) Belize Times and the Opposition National Independence Party's (NIP) Belize Billboard.
An interesting sidelight of the Muhammad Ali/Charles X Eagan dynamic in Belize in 1965 was the fact that a Cabinet Minister of the ruling PUP, Hon. C. L. B. Rogers, had been one of Justice's companions when they ran together as young men in border towns in Honduras and Mexico, and "stowed away" on banana boats to gain entry into the United States. In the republic towns, Justice in his pre-Muslim youth had fought in the boxing ring under the name "Bocas del Toro," and Lindy Rogers had been his manager. Soon, C. L. B. Rogers would become the Deputy Premier of Belize.
(By the way, this week I remembered Justice and his first convert, Ismail Omar Shabazz, when I saw a story on television where a Christian church had become active in More Tomorrow. Justice and Shabazz were original officers of the United Black Association for Development (UBAD), founded on February 9, 1969. A few weeks after UBAD was formed, I became the President when the first President, Lionel Clarke, left Belize permanently for the United States. I was only 21. Justice was more than twice my age and more than twice the warrior I was. By February of 1970, when Shabazz and I were arrested for seditious conspiracy, UBAD had entered a militant stage where Charles X Eagan was our de facto leader for months. I remained a Malcolm disciple, while Justice and Shabazz were devout followers of the Hon. Elijah Muhammad. The differences between the two, Malcolm and Elijah, did not affect us in UBAD.)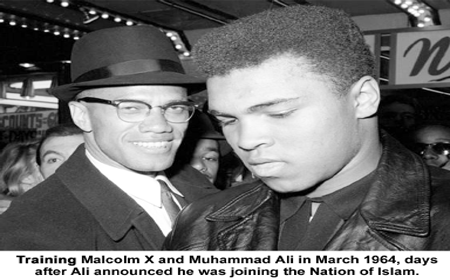 In September of 1965, less than two months after watching Ali spar with his sparring partner, Cody Jones, in Palace Theater, I'd been in the Audubon Ballroom, the same hall where Malcolm had been gunned down seven months before, to hear the NIP Leader, Hon. Philip Goldson, address New York Belizeans. At that point, I'd never heard of Malcolm X. Mr. Goldson introduced me to Samuel Haynes at this September 1965 town hall meeting. Mr. Haynes lived in New Jersey. I knew very little of him apart from his having written the lyrics to the "proposed" national anthem. Bert Tucker would do a great service to Belize decades later when he researched the sterling career of the great Mr. Haynes.
Malcolm X's autobiography, written by Alex Haley and published after Malcolm's murder, would influence millions of young black people in the United States and the Caribbean. Malcolm's militancy was in dramatic contrast to the Christian non-violence of Dr. Martin Luther King, Jr. and the mainstream civil rights movement. During the spring of 1966, Malcolm's influence contributed to the rise of Stokely Carmichael's "black power" campaign in Mississippi and led to the birth of the Black Panther Party, featuring Huey P. Newton and Bobby Seale, in October of 1966 in Oakland, California.
This may seem like a long time ago, but black people who responded heroically to Malcolm's challenge back then are still being held as political prisoners in American penitentiaries. This week a member of the "Angola 3," Albert Woodfox, was released from a jail in the West Feliciana parish of Louisiana where he had been held in solitary confinement for 43 years! Can you believe that? The story appeared in the Saturday, February 20 edition of The Huffington Post online newspaper. (You can also check a story by Campbell Robertson in the Sunday, February 21 edition of The New York Times: FOR 45 YEARS IN PRISON, LOUISIANA MAN KEPT CALM AND HELD FAST TO HOPE.) Albert Woodfox was one of Malcolm's children, as we would say. So was Sekou Odinga, the 1969 Panther 21 member who freed Assata Shakur in 1979 and ended up spending almost 34 years in jail, more than half of that time in solitary confinement! Odinga's story is written by Asha Bandele and published in the Sunday, February 21 edition of The Huffington Post.
In Belize today, the faces of many of those in Cabinet power look black, but so do the faces of the vast, vast majority of the young men in the Kolbe prison on the Hattieville-Burrell Boom road. Black History Month in Belize is now a time of academic reflection, no longer a call to street militancy. The white supremacist power structure which rules our lives in the Western Hemisphere has done an effective job of disguising some cruel realities. The power structure has emphasized the differences between our educated class and our working class. In Belize today, we have multimillionaire black attorneys and politicians, but the desperation amongst our black youth is a violent desperation which chases us to Chetumal (Savannah, Georgia?) for rest and recreation. I rest my case.
Power to the people. Remember Danny. Fight for Belize.
Related Articles
Share
About Author
(0) Readers Comments