Since the change of government from People's United Party (PUP) to United Democratic Party (UDP) in February of 2008, I've been careful, sparing, in analysis and criticism of the Opposition PUP. One of the reasons for my relative caution was my experience in the period between late 2003 and early 2004. The then Opposition UDP was quite weak at the time, and I remember offering some analysis/criticism, it being the case that our political system benefits from a strong Opposition. A ranking UDP area representative, now Cabinet Minister since 2008, wrote in the UDP newspaper in scathing rebuke of my comments, essentially saying their party didn't need any advice from me and did not appreciate any offered.
That UDP leader was right. Belize's two major political parties are each much more powerful than the country's leading newspaper in every respect you can think of, except that of credibility. We Belizeans cherish our constitutional democracy, flawed as it is, and the two major political parties, national and organized, are the two most important structural elements of that democracy. The free press/media adds a valuable icing to the cake of constitutional democracy, but the electoral politicians and the two major parties are bigger players in the game.
With that said, I will go on to say that I hope you will understand my frustration at the circumstances of Wil Maheia's expedition to the Sarstoon River on Saturday morning. Wil has been Deputy Leader of the Belize Progressive Party (BPP) since last year, but he travelled to the Sarstoon on Saturday morning, it seems to me, in his capacity as the founder and leader of the Belize Territorial Volunteers (BTV). The BPP had a disappointing, traumatic even, performance in the November 4 general elections, and the party is only now in the process of getting up off the ground.
Strictly speaking, I suppose I should be an active supporter of the BPP, because my thinking is closer to theirs than it is to the thinking of the UDP and PUP leaderships. What younger generations of Belizeans should understand, however, is that between 1971 and 1977 I ran in three different elections. The first was as a Belize City Council candidate for a coalition slate offered by the National Independence Party (NIP) and the UBAD Party. This was December of 1971, the NIP, Her Majesty's Loyal Opposition at the time, offering six candidates and the UBAD Party three. In October of 1974 I ran as the only UBAD Party candidate (for the Collet constituency) in general elections. Then, in December of 1977, I ran as a Belize City Council candidate on a slate for the then ruling PUP. I never considered myself a politician, and never came close to winning any of these elections. My reasons for participation were not political as such, especially in the case of the 1974 and 1977 elections to which I referred. But the cumulative effect of these unsuccessful electoral runs and the personal humiliations to which they exposed I, convinced me to look at electoral politics differently from my perspective between 1971 and 1977. Since 1977, I no longer involve myself, as it were, in any kind of politics without the intention of winning. The BPP in 2015 was running to make a point. The BPP could not win. Punto final.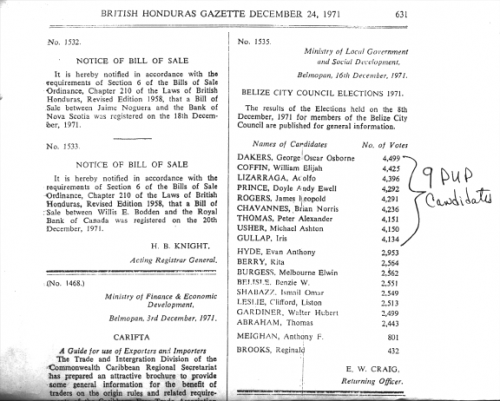 So then, back to Wil and his Saturday morning Sarstoon expedition. Clearly, from the standpoint of Belize's functional democracy, this was a minority move. Only 14 Belizeans made the trip. On previous such expeditions, Wil has, on separate occasions, been accompanied by high ranking PUP dignitaries. He has been accompanied by Dickie Bradley, a former PUP Senator and Cabinet Minister; by Carolyn Trench-Sandiford, a PUP Deputy Leader at the time; and by Lisa Shoman, now a PUP Senator and a former PUP Cabinet Minister. (The PUP area representative in Toledo East since 2012, Hon. Mike Espat, has been openly hostile to Wil for a long time. This is politically understandable, because Wil has been offering himself for election to Mr. Espat's seat.)
Under the leadership of Hon. Francis Fonseca (late 2011 to late 2015), the position of the Opposition PUP with respect to Wil Maheia's expeditions has not been completely clear cut. No organized support on the PUP's part has ever been in evidence. And now we are talking about the last full calendar year, a period during which the military climate at the Sarstoon has risen to an absolutely dangerous level.
It appears to me that Wil Maheia, in the first instance, is an environmentalist. He is appalled by the wanton abuse of Belize's maritime resources which is being carried on by civilian Guatemalan invaders with the protection of the Guatemalan military. In the second instance, he is a Belizean nationalist who cannot understand why elected Belizean officials would not want to have the border clarified where Toledo meets Guatemala in the south and west of the Belize nation. He cannot understand why Belize's military would not assist patriotic Belizean civilians in clearing the border and highlighting the boundary markers.
I want to say to Wil today that he achieved something historic and heroic on Saturday morning: he proved that there has been a de facto change of Belize's 1859 borders at the Sarstoon River where the operations of the Guatemalan military are concerned. I am writing this early on Sunday morning. Tomorrow morning, Monday, I will have to listen to UDP government spokesmen telling me what a "crazy man" Wil Maheia is. These UDP government spokesmen will be speaking as they have been instructed to do by Belize's government leaders, leaders whom Belizeans re-elected to national office on Wednesday, November 4, 2015.
Even if their sole motivation were cynical politics, the PUP should have been marching in our streets to denounce UDP betrayal of Belize's territorial sovereignty. In fact, the PUP should have been marching practically the whole of last year to denounce same.
For me, if Wil Maheia has never made a single point, he made one on Saturday morning, and it is a telling one: Guatemala has changed the 1859 borders. If the ruling UDP are prepared to abide by the new terms of reference, then, by God, the Opposition PUP should not be! The PUP are paid by Belizean taxpayers to oppose, and sometimes it seems as if they oppose when there is no need for any opposition. Why is it, then, that in this most crucial, existential matter, the PUP are not opposing full metal jacket? The PUP leave us with no choice but to extol Wil Maheia to high heaven. And, in the matter of democracy, Dr. Leroy Taegar always taught us this Japanese proverb: the man who knows he is right constitutes a majority of one. All Belizeans hail, Wil Maheia – majority of one.
Power to the people. Remember Danny. Big up, Wil.