Rodney has said in an interview in Montreal that what he said to the middle class audiences is the same that he said to the meetings in the gullies. He spoke mainly about Africa's past, the qualities of her civilization, who were the personalities. But the difference was that when he speaking out in the open, he was speaking to fertile ground – people who from their conditions in Jamaica had already arrived at the conception that Africa has a history and they only required the illustration of that belief. People who believe that exist all over the island. Rodney did not organize them. They existed there before. More today, it is true, and that is because of what Walter Rodney taught and what was done to him.
— pg. 11, THE GROUNDINGS WITH MY BROTHERS, Walter Rodney, from the INTRODUCTION by Richard Small, March 1969, The Bogle-L'Ouverture Publications, London
The UBAD Educational Foundation (UEF) and Belize prepare to welcome Dr. Patricia Rodney next week for Belize's fourth annual celebration of Emancipation Day, Emancipation Day being the August 1 day in 1838 when all slaves in the settlement of Belize (and other British possessions) were legally freed.
Whereas there has been a major annual celebration in British Caribbean possessions ever since then, it was a quirk of Belize's history that the event merited no public recognition until the UEF initiative began in 2014. In British Honduras, it was always all about the Battle of St. George's Caye in 1798.
Securing Dr. Rodney as their guest speaker next week is a notable coup for the UEF, and congratulations are in order for Ya Ya Marin Coleman and her team. I didn't know anything about Dr. Rodney apart from the fact that she had been the great Dr. Walter Rodney's wife before and when he was murdered in Guyana on June 13, 1980. I therefore had to "Google" Dr. Patricia before I wrote this on Sunday morning, and her basic credentials are Ph. D. MPH, RN, and Adjunct Professor at the Morehouse School of Medicine in Atlanta, Georgia. Wow. Maximum respect.
In Belize, we "conscious" people frequently talk about Malcolm X. That is partly because Nuri Muhammad and I, the two leading remaining black activists in Belize from the last four and a half decades and more, both had our university experiences in the United States of America during the latter part of the 1960s, after Malcolm was sensationally assassinated in New York City in February of 1965.
Over the decades it has been a bit disturbing to me that Belize's University of the West Indies (UWI) graduates do not talk, at least publicly, about Dr. Walter Rodney. In the Caribbean region, he was as great, in his own way, as Malcolm was in America, and both these revolutionary black icons had major international reputations.
Those of you who read this column should bring pressure on those Belizeans you know who went to UWI "back in the day" to tell you about Walter. In this column today, I will only tell you how his career coincided and intersected with our United Black Association for Development (UBAD) experiences, and the impact Dr. Rodney had on UBAD.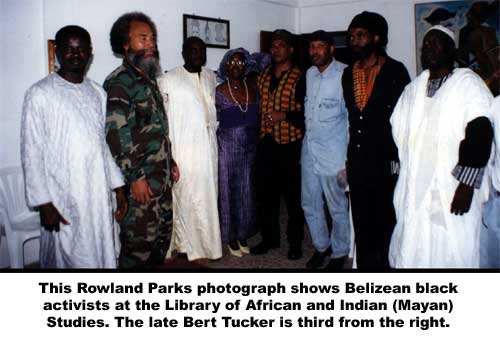 I returned home from Dartmouth around June of 1968, and began teaching at the Belize Technical College in September that year. In October of 1968, there was a big uprising, probably the largest ever in UWI's history, at the UWI's Mona campus in Kingston, Jamaica. (Remember now, around this same time Mexico is in historic turmoil because of Mexico City student demonstrations surrounding the 1968 Summer Olympics.) Dr. Walter Rodney was a lecturer at UWI, and the Hugh Shearer government in Jamaica was refusing to allow him back into the country to resume his teaching. (There, from January, 1968, he taught in the History Department and at the beginning of the academic year 1968-69, he launched a new course in African history. On October 15, 1968, he was banned from re-entering Jamaica after attending the Congress of Black Writers in Montreal.)
The reason Walter Rodney was considered persona non grata by the Shearer government was because he had made a link between the progressive academic element in Jamaica and the Rastafarian brethren and sistren who had been considered social rejects and "untouchables" from the time they began to emerge in the Jamaica hills in the 1930s.
Education in British colonial territories had always been considered as something to elevate one, to separate one, and to segregate one from pyramid base elements like the Rastafarians. Now a university professor was "grounding" with the Rastafarians. Walter Rodney was revolutionary and dangerous in the eyes of the Shearer people, and no doubt likewise in the eyes of British security elements representing Her Britannic Majesty, Queen Elizabeth II.
Remember again, Emperor Haile Selassie I had actually visited Kingston around April of 1966, and before that no one had known how many Rastafarians there were in Jamaica and how zealous they were in their special religious reliefs. The Selassie visit was truly a revelation.
I can't swear that the Belizean, Robert Livingston, was in Kingston for the Selassie visit. A carpenter employed by Holy Redeemer School, he had been badly injured in a truck accident, and he had been making trips to Jamaica for treatment. Livingston became attracted to the Rastafarians on these trips, and in UBAD we have always considered him to be Belize's first Rastafarian.
Livingston was also the General Secretary of the remnant organization of the Belize branch of the Universal Negro Improvement Association (UNIA), which had once been a really big deal here during the time of Marcus Garvey and Isaiah Morter in the 1920s. I can't say when Livingston became involved with the UNIA, which was led at the time by President Percy Innis, a shoemaker, but I can definitely say that when the Ad Hoc Committee led by Assad Shoman and Said Musa began anti-Vietnam War demonstrations in Belize City the night of January 1, 1969, Livingston came up to me while I was demonstrating and recruited me to begin lecturing at Liberty Hall, which the UNIA controlled. (A photograph of Livingston and me in conversation appeared on the front page of The Reporter that week.)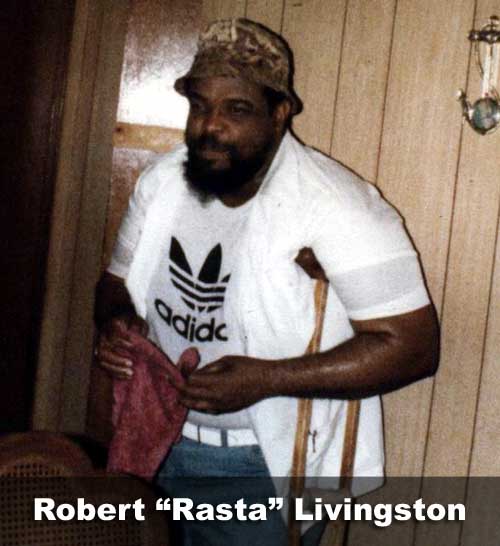 UBAD was formed five weeks later, and Livingston, whom we called "Rasta," was a founding officer. Whether it was coincidental or an attempt to get him off the local scene, the United States Consulate around June or July gave Rasta a visa to visit the U.S. for medical treatment. Rasta spent the rest of his life in New York City, and he became a significant influence on Norman Fairweather, and no doubt encouraged him to return home and join the UBAD leadership in early 1971. (Incidentally and interestingly, Norman had attended high school in Jamaica for a couple years after Hurricane Hattie in 1961.)
So then, this column about Dr. Walter Rodney became a column about Rasta Livingston. It is, of course, a pity that Bert Tucker has passed, because he was Belize's undisputed authority on things and people of a black revolutionary nature in the Caribbean and Southern Africa. Bert Tucker, may Allah rest him in peace, would have been the perfect person to enlighten us now about the very special Dr. Walter.
Well, as I end this column, I can always get off the hook by urging you younger, computer ones to research Walter's name on the web. Amidst all his historic activism, Walter Rodney wrote a book which will be a magnificent tome forever – How Europe Underdeveloped Africa.
Walter Rodney became a political threat in Guyana to Forbes Burnham, an attorney who had thuggish instincts, I would say. The analysts say that Burnham was a socialist, but Guyana, like Trinidad, has an ethnic composition wherein Africans and East Indians have equal population numbers and are, unfortunately, divided along political party lines based on ethnicity. Rodney, who was a true socialist, tried to lift Guyana above this ethnic divide. He became a danger to Burnham because Burnham's was an ethnic black political base.
I'm just giving you a snapshot of Guyanese politics during the 1970s. I'm surely biased in this matter, because I loved Walter Rodney as a contemporary soul brother. Walter Rodney gave his life for his beliefs, and his beliefs were all righteous. For this, he must be considered a glorious martyr in death, after he had given so much to our people during his life.
Power to the people.