DEAN BARROW LEAVES LINDO (pg. 1 headline story in AMANDALA No. 1043, Wed. Sept. 20, 1989)
BELIZE CITY, Wed. Sept. 20 (1989)
If one wishes to be unkind, one would, of course, have said "deserts," but, no matter, the news which broke last weekend that Dean Barrow, who won his Queen's Square constituency by 500 votes, was leaving the law chambers of his uncle Dean Lindo, who lost his Fort George constituency by 500 votes, has to be set in print of a large size. It is epoch making news; it marks the end of an era.
During the five years Barrow and Lindo were in the UDP Cabinet (1984-1989) together, their law business was run by a young lawyer, Rodwell Williams, Jr. A couple months before the September 4 elections, the word about was that Williams was leaving to set up his own practice. It was only a week after the UDP lost power that nephew Dean informed uncle Dean that he was joining Rodwell on Albert Street West corner. Erstwhile Lindo/Barrow secretary, Mrs. Griffith, had already joined Rodwell.
Our sources say many choice accounts have also changed address, but that is none of our business.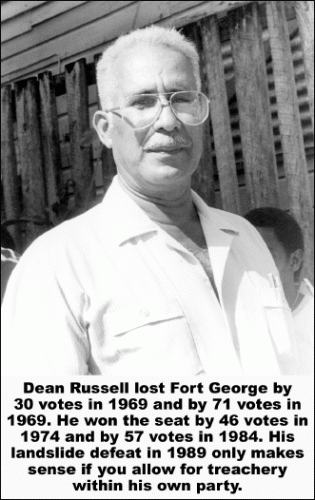 Visiting my parents on Saturday afternoon, I was telling my father about the recent dramas involving Dean Russell Lindo, his law firm, and his business estate. My father and I agreed that there was no Belizean in public life whom we ever knew who was smarter than Dean Lindo, an economist, attorney, and politician who, incidentally, is my mother's first cousin. For the record, and with respect, it should also be pointed out that, in his prime, Dean Lindo was an excellent sportsman, an accomplished performer in football and cricket, besides being one of the most prominent Belizeans where the financing/equipping of racing sloops and dories was concerned.
A week or so ago, I wrote about what I thought were the two most significant game-changing alliances in Belize's modern political history. The second of these alliances took place in 1973 and involved Dean Lindo in a very big way. In the early months of 1973, Opposition power brokers, organized by the late Rev. Gerald Fairweather, a Belizean who was an Anglican priest who had established residence in Brooklyn , New York, were bringing the pieces together which would form the United Democratic Party (UDP) in September of 1973.
Before I proceed, let me say that these events occurred many years ago, and I will make minor mistakes in discussing such affairs in these pages from time to time. In some cases, the mistakes are corrected internally by our proofreaders and editors, not to mention our outstanding translator. As I age, the mistakes become more frequent. So that, I welcome contributions from knowledgeable readers who would correct inaccuracies, or even dispute my theses.
Both game-changing alliances involved the two major religions in Belize. In the late 1950s, the attorney W. H. Courtenay, moved his family, arguably the most prestigious and influential in the Anglican Church of Belize at the time, into an alliance with the ruling People's United Party (PUP), whose leaders were largely Roman Catholic. The 1973 coalition which produced the UDP introduced a so-called Liberal Party, which was a private boardroom entity which had no street credentials. Four of the Liberal Party's five public faces were dyed-in-the-wool Roman Catholics representing Belize's then mostly Mestizo, merchant community. The mass core of the UDP, the National Independence Party (NIP) which was Her Majesty's Loyal Opposition in 1973 (because the NIP Leader, Hon. Philip Goldson, owned the only Opposition seat (Albert) in the House of Representatives at the time), would have been considered Anglican and Methodist, despite the fact that Mr. Goldson himself had converted to Roman Catholicism in 1954.
From where I was as president of the UBAD Party in early 1973, Rev. Fairweather's attempt to re-organize the Opposition was, substantially, one more attempt to replace Mr. Goldson as Opposition Leader. (In May of 1969, the said Dean Lindo had challenged Mr. Goldson for NIP leadership from within the party itself, and had lost.) Rev. Fairweather invited representatives of the NIP (Simeon Hassock and Ulric Fuller), Dean Lindo's People's Development Movement (PDM), the Liberal Party, and the UBAD Party to consult under his chairmanship in the so-called Unity Congress. The ensuing proposals split the UBAD Party executive right down the middle, half of the party's ten officers voting to go with the Unity Congress, and the rest, led by myself, refusing.
The thing is, you see, that Mr. Goldson was in London studying law when all this "Unity Congress" was going on. Mr. Goldson was the official, and highly popular, Opposition Leader. How could all this be taking place in his absence? My personal thinking was, even if the big boys behind the Opposition were supporting this initiative to undermine Mr. Goldson, his popular support in the streets would not countenance it. I was badly mistaken in my analysis, because where the formation of the UDP was concerned, surely money trumped the people. It was clear to Belize's political observers, when the UDP was officially established in late September of 1973, that its Leader was Dean Lindo. But the conspirators could not announce this to the Opposition supporters, the vast majority of whom were NIP, and loyal to Mr. Goldson.
The fact that Dean Lindo was the UDP Leader was not made public and official until after the general election of October 1974. There was never a leadership convention held to decide between Mr. Lindo and Mr. Goldson. Behind closed doors, the UDP officials made Mr. Goldson, who had returned from London in the summer months of 1974, the so-called "Party Whip."
Beginning with the aforementioned general election of October 1974, the new UDP performed very well indeed in various elections. The UDP's performances in municipal elections between 1974 and 1978 were such that the party was widely expected to win the 1979 general election, which would have delayed Belize's independence indefinitely. Something happened inside the UDP's leadership in early 1979, however, and that something, I submit, contributed immensely to the UDP's shocking defeat in late 1979. There were people inside the UDP leadership who were disenchanted, angry even, with the bad publicity surrounding Mr. Lindo's drinking, and with his seemingly absolute control of campaign funds. I have reason to believe Liberal Party originals were prominent in the disenchantment and muttering.
PUP propaganda attacks on Lindo early in 1979 which focused on his supposed links with the religious fanatic, Jim Jones, prompted the UDP leadership dissidents to begin suggesting that Kenneth Tillett or Paul Rodriguez could replace Lindo as Leader. The leadership dissidents were positive that the UDP would win the 1979 general election, regardless to what. Dean Lindo, of course, reacted negatively to all this, and the UDP entered the 1979 general election a divided party.
If you disagree with that analysis, and the treachery of the Liberal Party originals which I presume, fast forward to 1989, and essentially the same personalities tried to remove Lindo as the UDP's Fort George candidate before the September 1989 general election. When Lindo withstood a Deanna Nisbet challenge, the evidence suggests that these elements conspired against Lindo in the general election, which he lost by the massive total of 449 votes to Said Musa. Dean Lindo had been running in Fort George from 1969. He had won the division twice, in 1974 and 1984, and lost twice, in 1969 and 1979. All of these races were very close. Suddenly, in September of 1989, Lindo lost by a landslide. It did not make sense.
Soon after, Dean Oliver Barrow, Lindo's nephew, and Rodwell Williams abandoned Lindo's law firm to set up their own business. The 1989 defeat was evidently crushing for The Slide. He never ran in politics again. My personal feeling is that the Liberal Party, for which he had sacrificed half of his UBAD Party support in 1973, ended up being the ones to stab him in the back, if not in 1979, then for sure in 1989.