Features
— 30 June 2015
— by Adele Ramos
BELIZE CITY, Mon. June 29, 2015–For the first time today, 5 Belizean fishers were publicly recognized for their outstanding contributions to fisheries in Belize on the occasion of Fisherman's Day: Vonetta Dawson of Dangriga, Toribio Parchue of Punta Gorda, Joel Casimiro of Punta Gorda, Carlton Young of Placencia and Anna Ramirez of Punta Gorda.
Mrs. Ramirez was presented with the Punta Fuego Fisher of the Year award while Mr. Young was presented with the Lifetime Achievement Award. Both Ramirez, 63, and Young, 74, have been fishing for over 50 years, and they are still actively engaged in the industry. Young, born in Punta Gorda but raised in Monkey River, told us that he is planning to venture out to the seas on Wednesday.
All awardees, 4 of whom are connected with Punta Gorda, were recognized at official ceremonies held at the Coastal Zone Training Room in Belize City, to commemorate Fisherman's Day – a collaborative effort of the Belize Fisheries Department, the Wildlife Conservation Society (WCS), the Caribbean Regional Fisheries Mechanism (CRFM), the Caribbean Network of Fisherfolk Organizations (CNFO) and the Nature Conservancy, with awards organized in collaboration with Punta Fuego, a Love FM radio drama after which the awards are named.
In recognition of her outstanding work towards sustainable fishing, Ramirez received a cash award from Milton Haughton, executive director of the CRFM.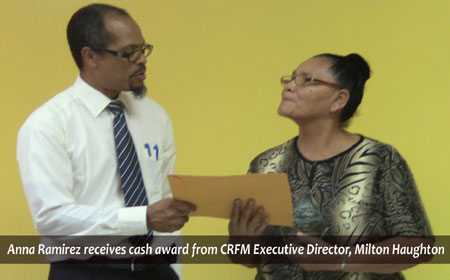 In his formal remarks, Haughton said that the day's celebration presents an "opportunity to focus the attention of the region on the crucial role that the Caribbean Community Common Fisheries Policy can play in eradicating hunger and poverty …"
He added that, "The development and sustainable use of our fisheries resources is a powerful weapon we have as we seek to eradicate poverty, and promote peace and prosperity, and human and economic development in the Caribbean region and in Belize."
Beverly Wade, Fisheries Administrator, pointed out that the contribution of the fisheries sector to Belize —said to be only 3-5% of the gross domestic product (GDP)—is vastly underestimated.
"Nobody takes into account how much is contributed to tourism, Belize's #1 foreign exchange earner," Wade said.
She noted that the industry is not only managed for local and export consumption, but also to meet the high demand placed on the sector by tourists, as many of those visitors who flock to our shores come to also enjoy Belize's seafood cuisine.
The contribution to Belize's workforce is also underestimated, she said, noting the many spin-off benefits that come to those who are employed on the trade end as suppliers, as well as the informally employed youth.
Leavan Aldana, representative of the Belize Federation of Fishers and chairman of the Belize City Central Fishermen's Association, had raised two of these points: the fact that foreigners also enjoy the fruits of their labor and the fact that fishers are very influential in training young drop-outs, thus providing them with a respectable means of earning a living even when they do not complete their formal education.
"They go [to] …sea to learn the trade instead of getting involved in crime," Aldana noted.
Training a new generation of fishers is also the mission of fisher lady, Anna Ramirez, who herself began to fish off the coast of Toledo—at places such as Punta Ycacos, Punta Negra and Wilson Caye, the family's traditional fishing grounds—at the tender age of 7. As the mother of 9 children, she committed herself to bringing up a new generation of fishers, and 5 of them, including her daughter, also named Anna, are active fishers today.
The matriarch Anna Ramirez also talks frequently to the young people of her community, encouraging them to take up the mantle of sustainable fishing, and she shows them that it is a good way to be independent as well.
Anna Ramirez believes that gender doesn't matter, and she describes those who shy away from the challenges of being on the seas as "soft."
"The same way a man could fish, you can. The same way they drive an engine, you could do it too. The same way they could throw a net, you could throw a net!" Anna says.
A conservationist at heart, Anna Ramirez played an instrumental role in the establishment of the Port Honduras Marine Reserve Area in 2000. She believes that the recent introduction of the managed access program at that reserve, one of two pilot sites preceding the national roll-out of the program, has helped to reduce illegal fishing, which she believes is the greatest threat to the industry, and also lands them more fruitful catches.
Ramirez said that her greatest accomplishment is teaching her children: Carlos, George, Roy, Armando and Anna, to continue the fishing tradition.
Her grandson, Joash Ramirez, 13, is taking up that mantle and learning to fish with his uncles and mom, Anna, who like the elder Anna has been fishing since they were very young. The young teenager is getting to learn all about the challenges and triumphs of life on the sea.
Some of those challenges are featured in the new documentary: Fishing: A Belizean Way of Life, produced for the Wildlife Conservation Society (WCS) by their communications coordinator, Jose Sanchez, and launched at today's Fisherman's Day ceremony.
Ralna Lewis, WCS Project Coordinator, said that the 30-minute video, which is available on their YouTube page, features fisheries managers and conservation partners, as well as fishers from various Belizean communities, who gave their candid views on the effectiveness of fisheries management and the improvements they would like to see.
Lewis expressed the hope that the documentary will help them to gain more appreciation and respect for those involved in fisheries, as well as the many perils they face—tragic realities such as fishers going missing at sea or facing violent attacks on the waters. The documentary also speaks of the economic challenges they face today.
Sadly, one of the awardees, Vonetta Dawson, could not make it to today's ceremony because a relative of hers, Mark Swaso, a tour guide who had gone on a kayak to do some recreational fishing, was lost at sea. Tragically, we received news today that he had been found dead, and an investigation is ongoing into the cause of his death.
The unexpected tragedy underscores a little known fact – that fishers, who carry a hidden badge of bravery, often risk their lives in doing what they do.
As Mrs. Ramirez says, her most challenging moments have involved braving the rough seas, even under the threat of hurricanes: "It's not easy. You have to be brave and willing to take chances – big chances too!" she said.
Related Articles
Share
About Author
(0) Readers Comments