"We have a 1.2 billion-dollar budget. You could find the money if you want to,"  Hon. Hyde said of the UDP administration
SAN ANTONIO, Toledo District, Sun. Apr. 22, 2018– The Opposition People's United Party (PUP), bolstered by its gains in last month's municipal elections and the narrowing of the margins in some key constituencies, has begun mobilizing its supporters for constituency conventions across the country.
Today, Sunday, hundreds of supporters from the Toledo East and Toledo West were bused into San Antonio for an endorsement convention for their two sitting area representatives, Hon. Mike Espat and Hon. Oscar Requeña; and yesterday, Saturday, hundreds of the party's Stann Creek West constituency supporters gathered in Hopkins Village for the endorsement of their sitting area representative, Hon. Rodwell Ferguson, for the next general elections, scheduled to be held in 2020.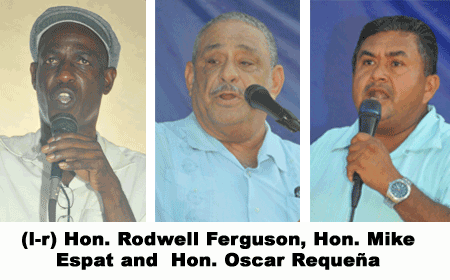 At the conventions, PUP chairman Henry Charles Usher administered the oath of office to the newly endorsed standard bearers.
In addition to providing light entertainment and featuring addresses from the standard bearers, the party also focused on making policy statements. Addresses were also made by PUP parliamentarians, which included party leader Hon. John Briceno, area representative for Orange Walk Central; the party's national deputy leader, Hon. Cordel Hyde, area representative for Lake Independence; Hon. Florencio Marin, Jr., area representative for Corozal South East; and Hon. Jose Abelardo Mai, area representative for Orange Walk South.
Hon. Hyde, who served as Minister of Education in the Said Musa-led PUP administration of 1998-2008, remarked yesterday, Saturday at the Stann Creek West endorsement convention in Hopkins and again today in San Antonio, for the Toledo East and West constituencies, that the PUP will introduce free education when it is elected to office.
After the convention today in San Antonio, Toledo, Amandala asked Hon. Hyde to comment on the PUP's free education policy on which he had remarked.
"It is a serious commitment of ours, because there are just too many children who are dropping out of school, because they cannot afford to pay," Hon. Hyde said.
He added, "The Ministry of Education statistics says that almost two thousand kids are dropping out between primary and secondary schools. A lot of those kids are dropping out between standard 5 and standard 6, first form and second form, meaning your 12 to 14-year-olds. Only 80 percent of our kids who are 12 years old are in school. That means almost two out of every ten 12-year-olds are not in school."
"In the case of 14-year-olds, only 68 percent are in schools. So that means that 3 out of every 10 fourteen-year-olds are not in school. That is an age when you should be in school," he said.
These stats are substantiated by a sociological study done by Dr. Herbert Gayle that revealed that there are 30,000 school-age children who are not in school in this country.
"Then we wonder why the crime situation keeps getting worse even as the government spends more and more on the police. If you are dropping out of school, you do not have the necessary skills to function in this modern economy, because you can't get a job, and if you get a job you can't earn enough to live on.
"So then, the option becomes limited, because you can't stop living because you dropped out of school. This country is too small, we have too many resources for so many people to be left behind," Hon. Hyde explained.
He said he always draws a comparison to Barbados, because that is a country that we can relate to.
"The PUP will implement a free education policy from what level to what level of school?" we asked Hon. Hyde.
"We have to implement a free education policy, at the very least, from up to the end of high school, and if possible, up to sixth form. We have so many kids who are not finishing high school, and high school is the bare minimum. Back in the old days, you could have gotten by on a primary school education, but those days are far behind us," said Hon. Hyde.
He explained, "It is just a question of priority. If you have 2,000 kids dropping out of school every year, if you average out and say each of these kids owe $500 that is a million dollars. We spend 3 million dollars every year on the purchase of new vehicles for the government. We spend 20 million dollars every year on contract officers we don't need. We spend 15 to 20 million dollars every year on fancy apartments for ambassadors all over this world. We are foregoing 30 million dollars a year with our boledo franchise. Don't tell us that we don't have the money; [don't] say it's not a priority. We have a 1.2 billion-dollar budget. You could find the money if you want to."
We asked Hon. Hyde if the PUP is thinking about taking back the boledo franchise from the Brad's establishment.
"How can you make an argument for forgoing 30 million dollars profit? They have had that franchise for eight years, that's 240 million dollars. Alright, let's say it's not 30 million dollars a year let's say its 20 million dollars a year, that's 160 million dollars. And you tell me we can't provide free education; you tell me we can't build houses for ordinary people in this country; you tell me we can't create employment.
"So who is Brad's? You can't prioritize a handful of people at the expense of the majority of the people. That's where your policies are wrong. You can provide free education, if you prioritize, because there is nothing more important than kids can go to school, because that's their passport out of poverty. You are very rarely going to come out of poverty if you don't have the skills necessary to function in the modern economy," Hon. Hyde expressed.
We asked him, what were his impression of the two conventions?
"Wonderful! These guys have won the right to be given another opportunity to represent these constituencies. They've won in the hard times, when nobody was really giving the PUP a look. Mike Espat has quietly won 4 out of the last 5 general elections; Rodwell Ferguson has won 3 out of the last 4; Oscar Requena has won convincingly out of the last 2 elections. They represented their people in the darkest days. I think people can give them the support again so they can add up to those numbers we need to form the next government," Hon. Hyde said.
Related Articles
Share
About Author
(0) Readers Comments