BELIZE CITY, Mon. Aug. 29, 2016–The Opposition People's United Party (PUP) called a press conference this afternoon at their Independence Hall headquarters, where Party Leader, Hon. John Briceño, briefed the media on the party's plan following last Friday's spectacle at the House of Representatives meeting, when all PUP parliamentarians walked out in solidarity with the Cayo South area representative, Hon. Julius Espat, who was named and suspended by House Speaker Michael Peyrefitte.
Briceño said that the Opposition has lost confidence in the Speaker and demanded that he be removed, "because he has disgraced the office of the Speaker and brought the House into disrepute."
Apart from calling for the removal of the Speaker of the House of Representatives, Briceño also made several other demands of the Barrow government, among them that the government should call new elections.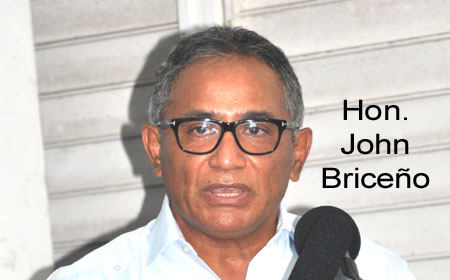 The PUP Leader also called for the party's supporters to begin a series of demonstrations in the streets, beginning next week Wednesday.
The Opposition had harsh words for the Barrow government, which had, according to the Auditor General's report, issued some 55,000 passports in what Briceño described as a "bucket sale" of passports and had wantonly and illegally engaged in the trafficking of visas.
Prime Minister Barrow, Briceño said, lacks the moral authority to discipline any of his ministers.
Briceño called for the cancellation of all visas and passports that were fraudulently issued.
The PUP will call on its Senators to seek an inquiry into the audit report and said that Senator Godwin Hulse must recuse himself from any such debate.
The Opposition called on the government to sign the United Nations Convention on Corruption and demanded that a fully functional Integrity Commission be installed.
Government should also conduct a re-registration exercise before the next municipal elections, Briceño demanded.
Under the Barrow-led United Democratic Party government, $325 million of PetroCaribe funds has been squandered, and the government is responsible for increasing the country's debt by 1.1 billion dollars, Briceño said, and he urged the government to appeal the Chief Justice's ruling on Section 53 of the Criminal Code for and on behalf of the people of Belize.
The Caribbean Shores area representative, Hon. Kareem Musa, explained that the PUP will take a constitutional motion to the Supreme Court on the Speaker's suspension of Hon. Espat.
Hon. Espat told the press conference that if there is a House of Representatives meeting, he will attend, "because I am not suspended."
The PUP series of street demonstrations "to save Belize" is scheduled to kick off next week Wednesday, September 7, in Belize City.