Headline
— 05 January 2016
— by Rowland A. Parks
BELIZE CITY, Thurs. Dec. 31, 2015–Two Belize City men were remanded to prison today, after they were arraigned on drug trafficking charges before Senior Magistrate Sharon Fraser in connection with a major drug bust which yielded over 11 kilos of heroin, with a potential street value of over US$1 million.
The two men, Richard McDonald, 39, a tour operator and resident of Hattieville, and Giovanni Requeña, 25, a fisherman and resident of T- Street, were charged separately for the same offense.
They were each charged with one count of supplying a controlled drug, 5 grams of methamphetamine or heroine to Ervin Teck, contrary to The Misuse of Drugs Act. They were also separately charged with one count of possession of a controlled drug with intent to supply 11,155 grams of a controlled drug, being morphine or heroine, on Tuesday, December 29, 2015.
Both men pleaded not guilty to the charges.
Requeña was not represented by an attorney. McDonald was represented by attorney Herbert Panton, who submitted that, "What I find most unfortunate and distressing in this instance is that both are charged for the same thing, but they are not charged jointly."
Panton also submitted that, based on the facts to which he has been privy, the charges are convoluted.
He questioned why—if his client, McDonald, was supplying drugs to another person when he was detained and his vehicle taken away by police—was the vehicle handed over to his wife, if it was alleged to have been used in supplying drugs.
"Where is Elvin Teck, and who is Elvin Teck? Why was he not charged and brought to court?" Panton further questioned in court.
"Why did the police allow two American men to arrest his client and what happened to the Chinese man who was also detained in connection with the drug bust?" Panton asked.
Panton said that what is disturbing is that his client's name is now being tarnished in the news, because his name was already broadcast in the news on Channel 5 and Channel 7 last night.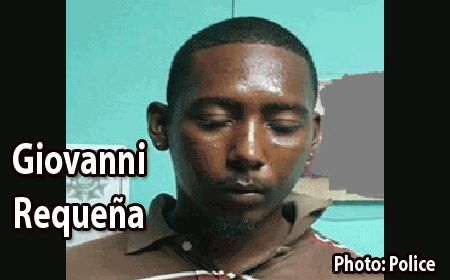 "They [the police] better make sure that the substance is heroine, as they are claiming, because it will be a hot day in the barn when I am done," Panton told the court.
Magistrate Fraser told the men that she could not grant bail due to the new amendment to the Crimes Control and Criminal Justice Act, as it relates to certain drugs, excluding marijuana.
Court records revealed that Giovanni Requeña owes the court $10,000 for a drug trafficking conviction dating back to July 2014, and so a warrant was issued for him to begin serving his 3-year sentence for default on the fine. Requeña was supposed to have paid his $10,000 fine by August 2014.
Police officers from the Anti-Drug Unit, who were reportedly acting on intelligence, busted the suspected heroine in a vehicle search on BelChina Bridge on Tuesday night, December 29, 2015.
The two are due to return to court on March 2, 2016.
After the hearing Panton told 7News and Amandala, that the offense is an offense for which the Magistrate's Court cannot offer bail.
"So my client is remanded. What is really unfortunate about that is that there is absolutely no evidence, and I am sure you've heard this from every defense attorney out there, but the circumstances are ridiculous." he remarked.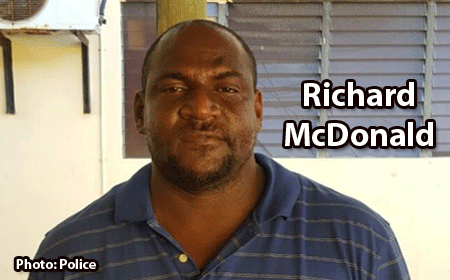 "The police, by their own actions, put out in the media … that a vehicle was intercepted on BelChina Bridge. My client was detained at Riverside Tavern. How under God's good sun could my client, who was picking up food at Riverside Tavern, have anything to do with drugs found on BelChina Bridge?" Panton asked.
"Furthermore," Panton added, "the police also detained a Chinese national who has a similar case for drug trafficking in Corozal that is still pending. That Chinese national was interviewed and released."
"My client now has to go through the indignity of having his name dragged through the media, being deprived of time with his family and children, obvious losses to his business and the police go about their merry-way. But I will put them on notice: When this case is concluded, they are going to be facing one hell of a large lawsuit on their hands, because it is injustice at the highest level and injustice of the eighth degree." Panton commented.
"Why is it that my client is purported to have supplied this drug to a third party? Why is that third party not before the court? Why is that? It is ridiculous! But we shall see how the case proceeds," Panton stated.
Related Articles
Share
About Author
(0) Readers Comments