SAN PEDRO, Ambergris Caye, Belize Dostrict, Wed. June 21, 2017–We are in the middle of Police Week, a time when the police highlight their good deeds and do a lot of public relations work to garner public support for their efforts to combat crime, but this did not deter a few rogues in their ranks from going on a rampage in San Pedro (La Isla Bonita).
Reports from La Isla Bonita indicate that two cops extorted money from a tourist, Timothy Braun, on the island on Thursday night, after putting a gun to his head. Fearing for his life, the tourist gave them $500 USD.
ASP Henry Jemmott was understandably ashamed when he got the report. The very disappointed Commander of San Pedro police led an intense investigation into the extortion, which led to the arrest of two policemen: PC Denfield Ramos, who was charged with theft, extortion and aggravated assault with a firearm; and Special Constable Orlando Mendez, who was charged with theft and extortion. A third policeman who was held was exonerated from all charges.
Yesterday, the two policemen were taken to the San Pedro Magistrate's Court, where they were arraigned and offered bail of $5,000 each and two sureties.
Ramos pleaded not guilty and reportedly will seek bail from the Supreme Court. He was remanded to prison for the charge of aggravated assault with a firearm. Mendez also pleaded not guilty.
The officers were ordered to return to court on Thursday, August 17.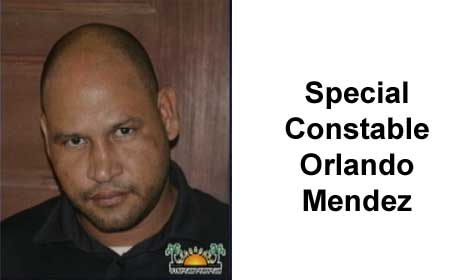 Braun, in the company of the editor of the San Pedro Sun newspaper, who took him to the police station, told San Pedro police that on Thursday night he was in front of a bar and restaurant with a friend. He was smoking tobacco, when three policemen came on a golf cart and accused him of smoking marijuana, to which he strongly objected. He said he told them that he was smoking tobacco.
They handcuffed him and put him in the cart, but they did not take him to the station. They took him to an area along the Boca del Rio River, near the Sir Barry Bowen Bridge. They took him to the water's edge, where, Braun told police, one of the cops put a gun to his head and demanded money.
Fearing for his life, he said, he told the policemen that the money was in his room.
The tourist told police that when he told them that his money was in the hotel, they told him that if anyone should ask, he was to say they were taking him back to his hotel room because he had been drinking, and police were escorting him to ensure that he was safe.
Braun reported that when they arrived in his room, the policemen began to ransack his room and search his things.
After he gave the officers $500 USD, they told him that if he reported what had transpired, they would come back.
Braun reportedly told the San Pedro Sun editor that the reason he contacted the newspaper was that he wanted to expose the criminals, and because he wanted to help prevent corruption of this nature in the future.
The San Pedro Sun reported that they have collaborated with the San Pedro Town Council and have relocated Braun and have given him money to continue his vacation.
The two policemen will be placed on interdiction, and will face additional charges from the Police Department for bringing the department into disrepute. They will be tried by a police tribunal, which has the authority to discharge them with disgrace from the department, and take away any money or award they would receive from the department for their services. It is likely that they will be tried by the tribunal before they face the Magistrate's Court.