BELIZE CITY, Thurs. June 30, 2016–The US State Department released its 2016 Trafficking in Persons (TIP) report on Wednesday, June 29, on 188 countries and territories—and Belize was ranked for the second consecutive year on tier 3, the bottommost tier. The report points to child sex tourism, facilitated by Belizean relatives, as well as cross-border trafficking for prostitution between Belize and Guatemala and exploitation by even some law enforcement officers.
"The UN Special Rapporteur on Trafficking in Persons reported family members facilitate the sex trafficking of Belizean women and girls. In tourist regions, foreign child sex tourists, primarily from the United States, exploit child sex trafficking victims," the report said.
The report also points to a case where a Guatemalan girl was trafficked from her home country to Belize, where she was exploited for sex by persons who include a law enforcement officer.
It said that sex trafficking and forced labor of Belizean and foreign women and girls, primarily from Central America, occur in bars, nightclubs, brothels, and, in the case of domestic service, in private residences.
Migrants also unwittingly get caught in the illicit sex trafficking trade. According to the report, "Some migrants are subjected to forced labor in restaurants, shops, agriculture, and fishing or to sex trafficking. Trafficking-related complicity by government officials, including those at high levels, remains a problem."
Incidentally, on the same day that the US State Department released its report, Belize police announced a major bust of what they say was a human smuggling operation involving 18 persons, three of them minors, migrating from El Salvador through Belize, supposedly headed to the US via what Belizeans customarily call "the backdoor": Mexico.
The US TIP report says that, "Belize is a source, transit, and destination country for men, women, and children subjected to sex trafficking and forced labor."
It also claims that Guatemalan women, girls, and boys are exploited in sex trafficking within the country and in Mexico, the United States, Belize, and other foreign countries. Salvadoran men, women, and children are subjected to sex trafficking and forced labor in Guatemala, Mexico, Belize, and the United States, the report also said.
It cited a case in which a minor, 13, was taken from Guatemala on the false promise of a well-paying babysitting job in Belize but the woman coerced the minor to work at a village bar, where she was prostituted but never paid. Instead, she was threatened with detention for having entered the country illegally, the report said.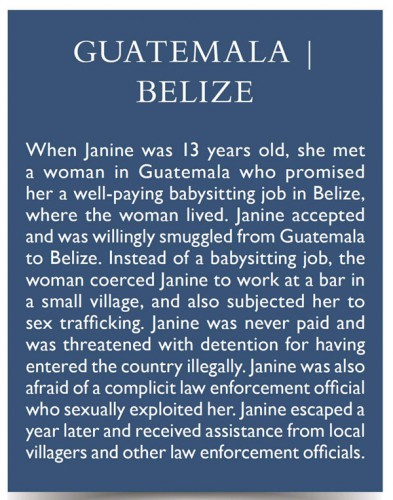 The report added that the minor "was also afraid of a complicit law enforcement official who sexually exploited her." and that she "escaped a year later and received assistance from local villagers and other law enforcement officials."
We reported on a similar case this February, when Honduran national, Estela Gonzalez, 64, became the first in Belize to be convicted of human trafficking.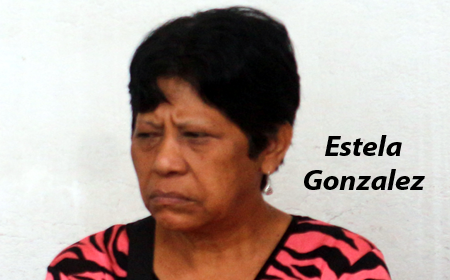 We reported that Gonzalez was convicted after a Honduran woman filed a report against her. The woman told authorities that she was trafficked to Belize in 2013, at the age of 15. The woman alleged that Gonzalez took her to Temptation Bar, located at Mile 10 on the George Price Highway, where she was prostituted. The men paid Gonzalez $150; the bar received $50 and the girl was given $25 for each of three encounters with different men. Gonzalez had denied the allegations.
The US TIP report said that the Government of Belize does not fully meet the minimum standards for the elimination of trafficking and is not making significant efforts to do so.
It said that Belize authorities had initiated investigations into seven cases involving six suspects and continued one prosecution initiated in a previous year, but did not begin any new prosecutions.
It also noted the conviction of Gonzalez earlier this year, adding, though, that a fine was imposed in lieu of jail time.
On February 23, 2016, Supreme Court Justice Adolph Lucas ordered Gonzalez to pay over $70,000 in fines forthwith.
The US ranks itself on tier 1 and Guatemala on tier 2. Over the years, Belize's ranking has fluctuated between tier 2 and tier 3.
Belize is a state party to the UN Protocol to Prevent, Suppress and Punish Trafficking in Persons, Especially Women and Children, supplementing the United Nations Convention against Transnational Organized Crime.
(Please see last year's news report: http://amandala.com.bz/news/belize-hits-rock-bottom-trafficking-persons-scale/)