BELIZE CITY, Thurs. June 30, 2016–It was a day of many possibilities on Saturday, June 25, at the MCC Grounds where the final day of the 2016 Smart 13 & Under Mundialito regular season would decide from among 4 contending teams, which one would get the fourth and final spot in playoffs.
City Boys (23 pts), Brown Bombers (19 pts) and Hattieville Riverside Boys (17 pts) were already sure of their playoff berths. Meanwhile, Young Warriors (11 pts), Ladyville Rising Stars (13 pts), Collet Strikers (13 pts) and Carlston FC (14 pts) were all in the hunt for the final spot in the top-4 playoffs.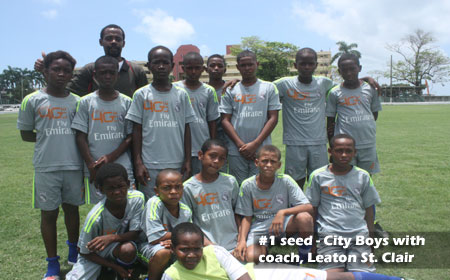 To keep their playoff hopes alive, Young Warriors opened the action with a 3-0 victory over Heights FC, with a goal each from Kaylen McFoy, Anthony Usher and Jeffrey Young. The win gave Warriors a total of 14 points, with a +4 goal difference.
Game 2 was between two teams already in the playoffs, and it was standings leader City Boys getting the 2-1 win over Hattieville Riverside Boys. Arkel Moguel and Ken Galvez rocked the net for City Boys, while Ruben Darius hit the target for Hattieville.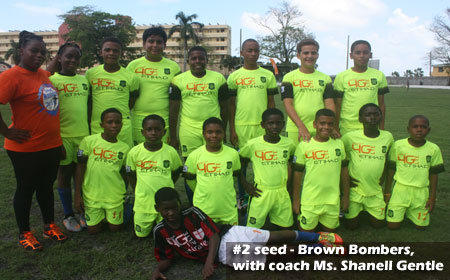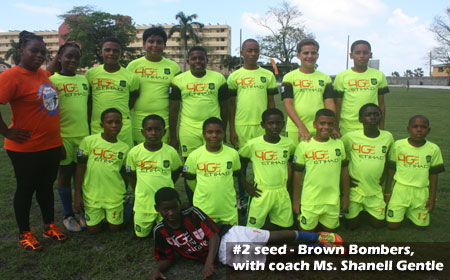 Game 3 saw two strong contenders for the fourth playoff spot, Ladyville Rising Stars and Collet Strikers, each coming into the game with a total of 13 points. A draw would eliminate them both, due to Warriors having a bigger goal difference. After a scoreless first half, Rising Stars got the game winner mid-way through second half from Levie Davis, putting his team at 16 points, ahead of Warriors (14 pts), Collet (13 pts) and Carlston FC(14 pts). But Carlston still had a game to play, and could make 17 pts with a victory.
In game 4, playoff bound Brown Bombers exploded for 3 goals in second half to shut out Face of Belize, 3-0, with Eldon "Tuncy" Byrd netting 2, and Jonathan Casimiro getting the other goal for the Bombers.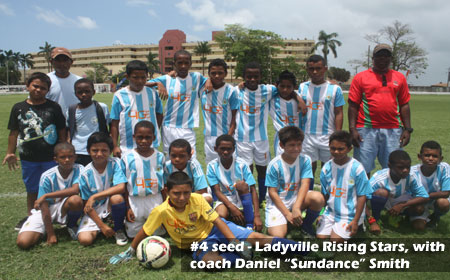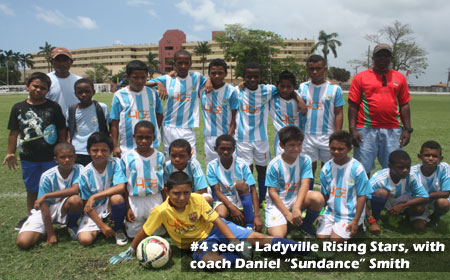 Game 5, the last game of the day and of regular season, had all the drama and anticipation of a championship match, as it featured playoff contender Carlston Strikers, coached by Shawn Flores, who entered the game with 14 points. A victory over Ladyville Jaguars, coached by Michael "Wataplat" Flowers, would secure a playoff spot for Carlston with 17 points, 1 point ahead of Ladyville Rising Stars. There was no playoff hope in the game for the Jaguars, who at 9 points were out of the race. For the Jaguars, it was for the game and about pride, and also a chance to possibly help their Ladyville counterparts, Rising Stars, who had done them a similar favor in the previous tournament. A victory for the Jaguars would "send home" Carlston, and secure the playoff spot for Rising Stars.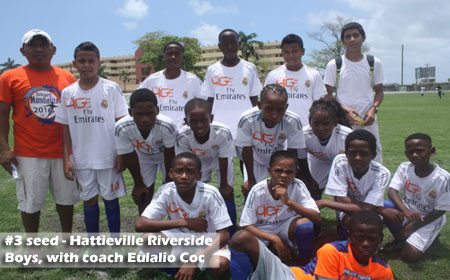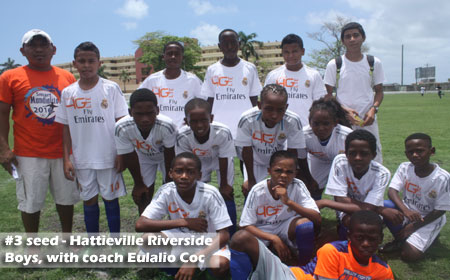 Carlston FC, a much improved team from last year, kept up the pressure for most of the game, but couldn't find the back of the Jaguars' net. Jaguars depended on their top striker D'Jon Canelo, and he came through mid-way through second half on a break-away counter attack, beating two defenders before out-placing the goalkeeper, to get what would be the game winning goal for his team; 1-0, Ladyville Jaguars over Carlston Strikers. And thus, Ladyville Rising Stars are in the 4-team knockout semifinal playoffs, which take place this weekend.
(See final regular season standings and semifinals schedule below.)
Playoff knockout semifinals:
Saturday, July 2, MCC
1:00 p.m. – #1 City Boys vs #4 Ladyville Rising Stars
2:00 p.m. – #2 Brown Bombers vs #3 Hattieville Riverside Boys