BELIZE CITY, Sun. July 1, 2018– The Smart Mundialito 2018 Opening Season finals were held on Saturday, June 30, at the MCC Grounds, where Ladyville Rising Stars dethroned 2017 champions, City Boys, to become the 2018 Smart Mundialito Opening Season Champions in Belize City.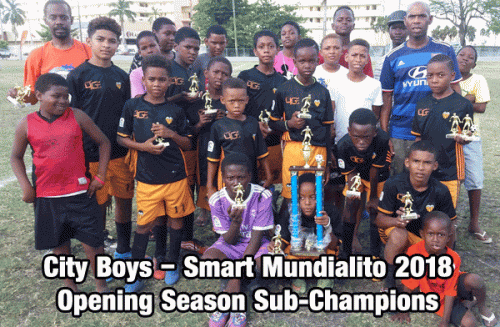 In the 3rd place game, Reality Youths came out with a 1-nil victory in overtime, after going scoreless in regulation against Hattieville Riverside Boys. Scorian Stuart got the winning goal for Reality Youths.
And in the championship game, Ladyville Rising Stars and City Boys were tied 1-1 in regulation time, with Alex Craft shaking the net for Rising Stars, while Tom Moguel scored for City Boys. Ladyville then got the winning goal in overtime from Steven Rivera, to become the 2018 Smart Mundialito Champions.
Smart representative Anthony Mahler was on hand to distribute team trophies and individual awards after the championship match.
Individual awards were:  Best Goalkeeper – Tariq Campbell (Ladyville Rising Stars); Best Defender – Albert Thurton, Jr. (City Boys); Best Midfielder – Scorian Stuart (Reality Youths); Best Forward – Tom Moguel (City Boys); Most Goals/Golden Boot – Keyden Shay (Brown Bombers); Best Coach – Richard Nunez (Reality Youths); Fair Play – Corinthians; Regular Season MVP – Kendrick Gordon (Ladyville Rising Stars); Playoff MVP – Steven Rivera (Ladyville Rising Stars).
Photos courtesy William Ysaguirre