BELIZE CITY, Mon. Jan. 8, 2018– In 2017, the administration of Prime Minister Dean Barrow paid out a jaw-dropping total of $5.3 million to the Barrow and Company law firm owned by none other than his brother, Denys Barrow.
Leaked information from the government's Smart Stream system revealed that there were 23 transactions from the government coffers to Barrow and Company for legal fees.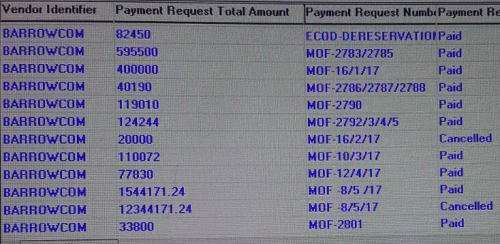 However, two of those transactions were made in 2016 and another two of those transactions, one for $20,000 on February 16, 2017 and another on May 8, 2017 for $12,344,171.24, were cancelled.
And so, the remaining 19 transactions, when calculated, amounted to $5.3 million.
Amandala notes that the bulk of the payout to Denys Barrow's law firm came from the Ministry of Finance, a Ministry led by his brother.
The largest payment made by the Ministry of Finance to Barrow and Company was $1,544,171.24 on May 8, 2017. There were six other 6-figure payments made from this Ministry, and three 5-figure payments made, with the least being $33,800.
We note that the other legal fees were described as payment for land acquisitions for the Ministry of Natural Resources.
On May 24, 2017 Denys Barrow walked away with $138,834.30. One month later, on June 22, 2017, he collected this same amount.
On October 25, 2017 Denys Barrow received a huge payment of $316,397.26. On that same day he scooped up an additional $26,250.
At the end of 2017, Denys Barrow smiled all the way to the bank, as on November 13, 2017, he cashed $252,030.14. Weeks later, on December 5, 2017, he banked another $251,446.57
Payments made to Denys Barrow's firm only represent a fraction of legal fees spent by the Barrow administration in a year when it suffered major losses in international courts.
We hope to get a comment from the Attorney General and the Financial Secretary in our subsequent edition of the newspaper.
Related Articles
Share
About Author
(0) Readers Comments