General
— 23 December 2017
— by Albert J. Ciego
BELIZE CITY, Wed. Dec. 20, 2017–Two sanitation workers got into a tussle that has left one of them hospitalized, and the other in police custody. While in the City Council's sanitation bus, Dennis Winston Bodden, 54, pulled a machete and chopped Michael Tesecum, 40.
Tesecum received three wounds in his head and he is now in the Intensive Care Unit of the Karl Heusner Memorial Hospital, in a condition described as critical. Bodden is in police custody, pending further investigation of the crime.
Today, police announced that Bodden has been arrested and charged with attempted murder, dangerous harm, and use of deadly means of harm.
The incident occurred at about midday Monday, while the bus was parked on the corner of Cairo Street and Euphrates Avenue. It happened in front of many workers who were eating lunch in the bus at the time.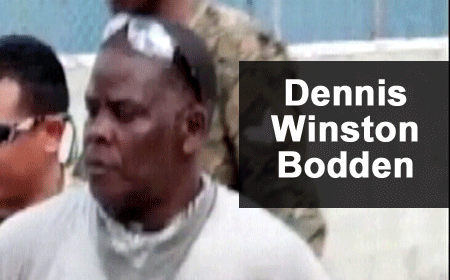 A witness said that Tesecum was sitting on a seat drinking a pouch of water, when Bodden, who was walking past him, reportedly swiped the water out of Tesecum's hands, causing it to spill. An argument erupted between them and that was when Bodden got his machete and chopped Tesecum in the head. Tesecum fell, and Bodden reportedly chopped him in the head again.
There was panic and confusion in the bus as workers scrambled to get out of harm's way, when Bodden went berserk with the machete. A police mobile that was passing by at the time was immediately alerted. The police officers arrested Bodden, and took his victim to the Karl Heusner Memorial Hospital.
Many of the workers suggest that there was an ongoing rivalry between the two workers.
We were reliably informed today that Tesecum is now blind in his right eye, due to the injuries caused by the vicious attack.
Related Articles
Share
About Author
(0) Readers Comments