BELIZE CITY, Wed. Oct. 4, 2017–Official data published by the Belize Crime Observatory (BCO) indicates that there have been more than 100 murders in Belize so far this year. The count up to September 27, 2017 was 101, according to the BCO, and since then, at least 3 murders have been reported, bringing the count to 104. (We have yet to get an official tally.)
Although the murder count is slightly down, 2017 is almost on par with 2015. For the year 2016, the second highest murder count on record in Belize was reported at 138, up from 119 the year before.
The year 2017 got off to a very bad start, with murders outpacing the 2016 count for the period January to March, largely due to a spike in March. That month has seen the most murders so far this year, with a tally of 19.

At least 31 of the murders are deemed to have been gang-related. Notably, though, there was a spike in gang-related murders and shootings in August, with 8 murders and 6 shootings linked to gang activities that month. There were, by contrast, no gang-related murders but 2 gang-related shootings documented by the BCO for the previous month.
Chief Executive Officer in the Ministry of Home Affairs, Ret'd Col. George Lovell, told Amandala that there are times when there is a flare-up in gang rivalry, as in the case of San Pedro, where a gang-related murder was reported just yesterday.
As for what drove the gang-related crimes up in August, Lovell told us that he could not immediately say, but an assessment is usually done of the situation. He went on to say, however, that Belizeans need to address the root causes of crime.
"Gang-related shootings cause the entire community to get concerned," he said.
A decade ago, 100 murders a year was unheard of for Belize; however, it has been a consistent battle to keep the rate below that level after 2008, when Belize recorded 103 murders, exceeding 100 for the first time in its history.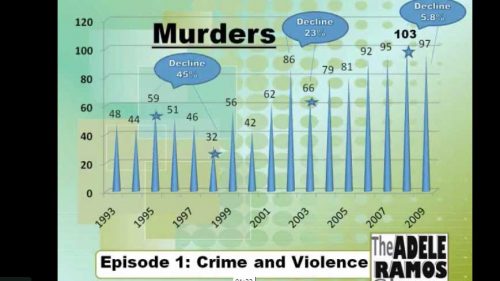 According to the Belize 2017 Crime & Safety Report, published by the United States Overseas Security Advisory Council (OSAC), "Due to the small population and high murder rate per capita, Belize consistently ranks among the top 10 cities in the world for homicides, according to the United Nations Office on Drugs and Crime. The average runs just under 40 homicides per 100,000 residents. The murder rate in 2016, the second highest ever recorded, surpassed that of 2015 from 119 to 138. The increase from 119 murders in 2016 is likely due to an increase in shootings and burglaries and potentially from the displacement of crime from the central hub of local gang activity in south Belize City."