Tanya Carter said that 6 years ago, BSCAP paid her a pittance — $20
BELIZE CITY, Thurs. Aug. 17, 2017–Seven days ago, Music Ambassador and political aspirant, Shyne Barrow, son of Prime Minister Dean Barrow, dropped a bombshell with his sudden resignation from his post as Chief Executive Officer (CEO) of the Belize Society of Composers, Authors, Publishers (BSCAP).
Barrow claimed that his departure was triggered by the actions of his predecessor, Heather Cunningham, who, he alleges, claimed that BSCAP owed her over $600,000 to cover her salary (and expenses) for the period 2010-2013.
In his resignation letter, Barrow explained that amidst Cunningham's claims for compensation, there was, "absolutely nothing to show as far as generating revenues [for BSCAP] or getting the nation to be copyright compliant."
When Cunningham spoke to the media on Tuesday, she claimed that Shyne's figures were "absolutely preposterous and incorrect." She said that she did not know how he arrived at those figures, and that she had not been paid a penny since she offered her services to BSCAP. She said that the accusations made against her stirred her emotions, as there were no funds available for her to even be accused of mismanagement.
Amandala has obtained a copy of the BSCAP financials. It reveals that in 2010, Cunningham's salary stood at $50,000, while her expenses stood at $82,524; in 2011, her salary was increased to $60,000, while her expenses totaled $115,306; in 2012, her salary rose by an additional $10,000, while her expenses fell to $85,000; and in 2013, her salary amounted to $80,000, while her expenses rose to $105,912.42.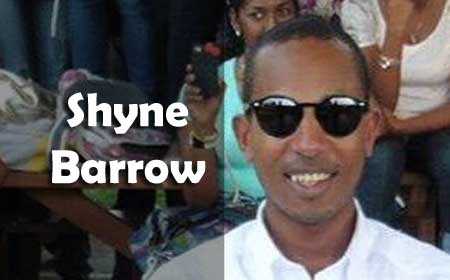 When confronted on Tuesday with these figures — total salaries and expenses of almost $650,000, Cunningham, an attorney living in the US, told the media that her salary was pretty much justified. She said that her salary was approved by BSCAP's board of directors in light of her credentials, and what she brought to the table. Cunningham told the media that she was not claiming the monies owed to her at this time.
In his resignation letter to BSCAP last Thursday, Barrow said that he found it "egregious" that Cunningham was claiming over half a million dollars in salaries and expenses while the members of BSCAP were to split a meagre income of $2,500 at the BSCAP Annual General Meeting (AGM) scheduled for October.
According to Cunningham when she spoke to the media on Tuesday, the income to be divided among the 116 members was based on the total licensing fees collected by BSCAP for the period 2014-2016. She explained that if businesses were paying the required licensing fees, the membership would have been able to split more than $2,500.
Cunningham further revealed that it was not she who approved royalty distribution to BSCAP's membership, but the BSCAP board of directors, to whom she reported while serving as CEO.
On Tuesday, a cadre of prominent Belizean artists, including international recording sensation Tanya Carter, joined Barrow in an interview with 7News to express their discontent with BSCAP.
Carter revealed that almost 6 years ago, she received a cheque for $20 from BSCAP.
"I'm one of the members of BSCAP and I've been a member for quite some time," she said. "And, to be honest with you, about maybe 5 or 6 years ago we received a cheque for $20, and I didn't cash it, because I think it was a pittance. I left it right there, and from since then, with that CEO and the team that they had, there was no work being done, and BSCAP was not 'cool,'" Carter said.
Since Barrow's sudden departure, several artists have followed suit.