BELIZE CITY, Mon. Feb. 17, 2020– In a low scoring weekend of football in Week 6 of the Premier League of Belize (PLB) 2019-2020 Closing Season, Altitude FC of Independence Village emerged as co-standings leader, tied at 10 points with Bandits Sport, 1 point ahead of defending champion, Verdes FC. (See standings below.) Despite only scoring 6 goals in 6 games played so far, Altitude is still undefeated, having drawn 4 times and racked up its second victory yesterday against fellow Mid-South team, Placencia Assassins FC.
All three Week 6 games this past weekend were played yesterday afternoon, Sunday.
After a scoreless first half at the Placencia Football Field, the only goal of the game came from Eduardo Andrade (78'), to give visiting Altitude FC the 1-nil victory over Placencia Assassins FC.
Meanwhile, out west at the Norman Broaster Stadium, where the current and former champions tangled, it ended 0-0 between Verdes FC and Bandits Sport. And here at the MCC Grounds in Belize City, the playoff picture looks more bleak for city fans, as the visiting San Pedro Pirates FC struck twice, through Jose Javasi (41') and Jose Tinoco (57'), before home standing BDF FC cut the lead in half with a goal from Camilo Sanchez (78'). The 2-1 victory was the Pirates' first win of the season, while winless BDF suffered their fourth defeat, their only point coming from a 1-1 draw with Altitude FC last week in Independence.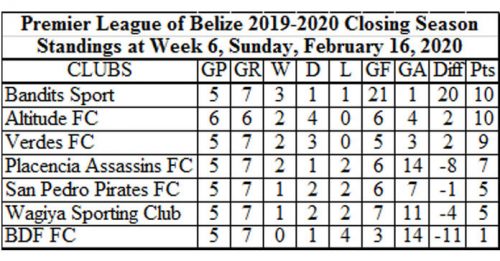 CONCACAF League berth
There is a "race within a race" going on for the single berth in the Concacaf League tournament later this year, which will be enjoyed by the PLB champion that has the most combined regular season points between the Opening and Closing Seasons of this 2019-2020 PLB tournament. Verdes FC is the Opening Season champion. If a different club wins the Closing Season, then their combined Opening and Closing regular season points will be compared; and the champion with the most combined regular season points gets the berth to Concacaf League.
Only Verdes FC and Bandits Sport are considered realistically in the running, because both were far ahead of third place in last Opening Season, where Verdes finished with 33 pts, 5 pts ahead of Bandits with 28 pts; next was San Pedro Pirates with 23 pts. So, in this current PLB Closing Season, the first task for the Bandits is to end this current regular season with at least a 5-pt margin over Verdes; and then win the Closing Season championship. Winning the Closing Season championship is one thing; but it won't take the Bandits to Concacaf unless they also win regular season by 5 pts or more over Verdes; thus the "race withing a race" going on. Bandits had a chance yesterday to close the gap, and Verdes had a chance to separate themselves further from the Bandits; but their draw game kept them separated by 1 point only right now.
Upcoming Week 7 to end 1st Round:
Saturday, February 22
7:30 p.m. – San Pedro Pirates FC vs Bandits Sport – Ambergris Stadium
Sunday, February 23
4:00 p.m. – Wagiya SC vs Placencia Assassins FC – Carl Ramos Stadium
4:00 p.m. – Verdes FC vs BDF FC – Norman Broaster Stadium
Looking ahead to start of 2nd Round with Week 8 schedule:
Sunday, March 1
3:30 p.m. – Placencia Assassins FC vs Bandits Sport – Placencia Football Field
4:00 p.m. – Verdes FC vs Altitude FC – Norman Broaster Stadium
4:00 p.m. – San Pedro Pirates FC vs Wagiya SC – Ambergris Stadium