BELIZE CITY, Mon. Jan. 13, 2020– Headlines for Amandala's October 1 issue:
• Mysterious jet crash-lands on Blue Creek road. The suspected drug trade executive jet is reportedly valued at US $6million. The impact of the crash landing broke the plane in two, but by the time police arrived on the scene, there was no one there and no drugs were found.
• Jebran "Sucu" Wagner, 21, murdered on Coney Drive. Wagner, a member of the Caesar Ridge Road Football Club, was at a party when he was shot and killed.
• Jahnon Trapp, 28, remanded for the murder of Mirana Young, 58. Young was shot in the chest when a gunman fired shots into her house, located in Esperanza Village, Cayo District. Young was inside the house with her two grandchildren when she was shot in the chest.
Headlines for October 4 issue:
• Cocaine that landed in Belize found by Mexican Army. The 960 kilos of cocaine found in Quintana Roo jungle is believed to have been from a plane that crash-landed in Belize, near the Mexican border; the cocaine is valued at US $30 million.
• Aaron Munnings, 22, charged with attacking man, 90, after he left credit union. The robbery victim, Lewis Tillett, had just exited St. John's Credit Union on Basra Street when he was pushed off his bicycle and robbed.
• Former City Administrator Candice Miller vs Belize City Council; a lawsuit filed by Miller against the Council got underway this week before Supreme Court Justice Courtenay Abel.
Headlines for October 8 issue:
• PSU will battle in court over Hilltop headquarters. The Belmopan City Council, under the leadership of United Democratic Party mayor Khalid Belisle, secretly sold the Public Service Union headquarters to a Chinese businessman from Corozal who owns a construction company, Simplex Design Company Ltd.
• Jamal Elijio, 24, dies after Thursday night shooting on Santa Barbara. Elijio was walking on Santa Barbara Street when he became the victim of a drive-by shooting. He was shot in the neck.
• Despite public outcry, UDP passes Joshua Perdomo's $40,000 write-off.
Headlines for October 11 issue:
• Hon. Wilfred "Sedi" Elrington hit with $300,000-plus judgment. The Foreign Minister has been locked in a legal fight with Progresso Heights, a real estate company in which he was a shareholder and business partner. The Court of Appeal, in its ruling, found that Elrington had no authority to have put a caution on the lands of the company, preventing the company from selling the lands.
• Senate kicks out Joshua Perdomo's $40,000 write-off; even the UDP's "friend," Pastor Ashley Rocke, voted against the write-off.
• IMF mission notes Belize's slowed growth and massive public debt.
• Stony Coral Tissue Loss Disease hits Belize.
Headlines for October 18 issue:
• Citrus industry fights to survive tough times. The biggest story in citrus, however, is still a deadly disease that has reduced production on the over forty thousand acres of citrus in Belize by more than two-thirds.
• Accused murderer took refuge in Belize. Christopher Prestipino is accused of killing an actress and dumping her body in a concrete box in the desert.
• PUP threatens Barrow with lawsuit. "To write-off $40,474.88 owed by Joshua Perdomo as a loan to the Government of Belize is legally indefensible and morally bankrupt," Leader of the Opposition said to the Prime Minister.
• Tragic murder on Raccoon Street. A cold-hearted gunman shot Troy Polonio, 20, who had his baby in his arms.
Headlines for October 22 issue:
• Son and friend remanded for father's murder. Paul Castillo, 66, was chopped to death in his house. The Corozal Town 5th Street resident was socializing in his house when his son and his son's friend from Belize City went to visit him. Following an argument with the two men, Castillo was savagely beaten and chopped.
• DPP loses Calaney Flowers' appeal. The Court of Appeal ruled that it had no jurisdiction to hear the appeal, thus bringing an end to the legal troubles of Flowers, who was acquitted in the Supreme Court of the August 2012 murder of her baby's father, Lyndon Morrison.
• Another drug plane lands. A jet plane suspected to have been carrying drugs landed in the Blue Creek area of the Orange Walk District, but by the time authorities found out about it, there was no one in the area and nothing was found on the plane, which had landed intact.
Headlines for October 25 issue:
• Darren Gentle, 26, executed in Orange Walk; Gentle, who works as an office assistant in the Ministry of Works, in Orange Walk, was shot in the head by an unknown gunman.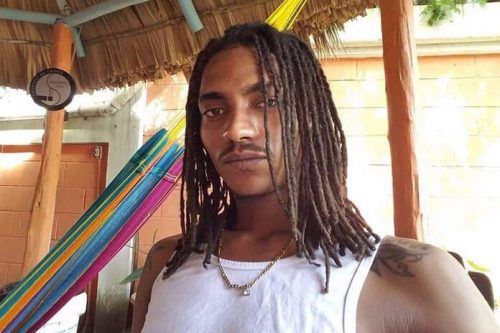 Darren Gentle
• Tracy vs Hugo! Tracy Taegar-Panton has become the first woman in modern day Belize politics to offer her candidacy for Deputy Leader of the United Democratic Party.
• William "Danny" Mason beheading murder trial moves into closing arguments. Attorneys representing Mason and his four other co-accused will attempt to convince Supreme Court Justice Antoinette Moore that their clients are innocent of one of the most shocking modern day murder in recent times.
Headlines for October 29 issue:
• Another beheading: A Roaring Creek man, Michael Gladden, was beheaded after leaving a nightclub. This is the 3rd beheading in the area since that of Pastor Llewelyn Lucas in July, 2016.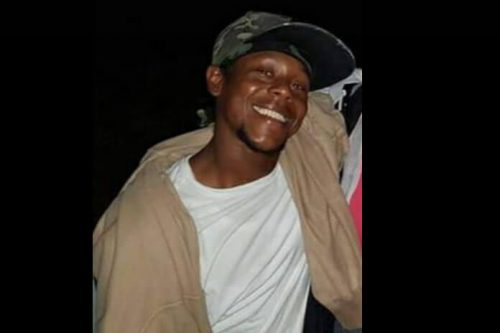 Michael Gladden
• Dario's Meat Pies' former deliveryman remanded. Joseph Bryant Richards, Jr. was charged with aggravated burglary for the robbery of Dario's Meat Pies.
• Inmar Welch, 28, executed in Gales Point. Welch, a fisherman, was riding his bicycle in the village when a gunman shot him and then escaped.
• Belize beat Guatemala on the way to UNCAF U-18 finals.
Headlines for November 1 issue:
• UDP bows to public pressure: The Perdomo family repaid $40,000 of son's $40,474.88 student bond. The news of the payment was trumpeted in a government press release, complete with a copy of the government payment receipt.
• U.S. State Department sends senior official to Belize. Julie Chung, the State Department's Principal Deputy Secretary of State for Western Hemisphere Affairs, held meetings with Prime Minister Dean Barrow and the Leader of the Opposition, Hon. John Briceño.
• Riverside Tavern's accountant allegedly "under-deposits" almost $50,000; he is charged with 10 counts of theft. Armando Olivera, a resident of Orange Walk Town, pleaded not guilty to the charges.
Headline for November 5 issue:
• Murder in Burrell Boom: 2 men shot in Burrell Boom 3 hours apart; one dead, one hospitalized.
• UDP's Alfonso Noble pleads guilty: Noble was charged with manslaughter by negligence, but pleaded guilty to the lesser charge of causing death by careless conduct. He was fined $3,000.
• Belizean hero, Compton Fairweather, passes at 88.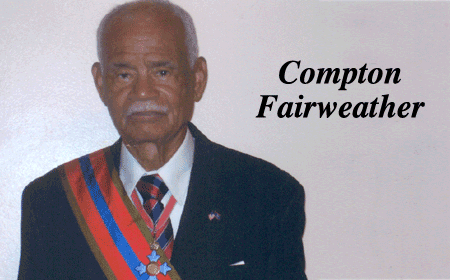 • Deveene Martinez is Ms. Garifuna Belize 2019-2020.
Headlines for November 8 issue:
• Politicians are corrupt because people are corrupt…So said Education Minister Patrick Faber at University of West Indies 2019 country conference.
• Kasheif Bevans pleads guilty to manslaughter, sentenced to 21 years. Bevans, 25, was initially charged with the May 2015 murder of Derrick Romero, 19, who was shot and killed in his yard. The murder occurred in Orange Walk Town.
• Dream City robbed: Robbers escaped with $2,500 in cash and valuables. Four robbers, two of whom were armed with handguns, walked into the night club, located on the Philip Goldson Highway, and held up 8 customers.
• Jashawn Brooks, 18, missing: Brooks, a construction worker, left his home in the Lake Independence area to go to a nearby shop and has not been seen or heard from since.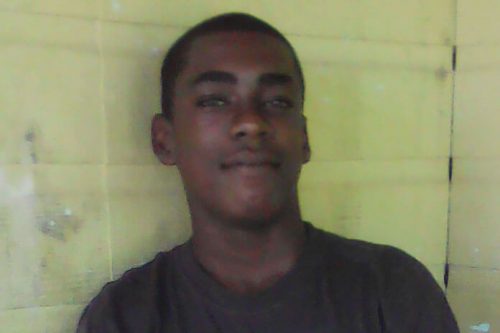 Jaswant Brooks
Headlines for November 12 issue:
• Candice Miller attacks CitCo with crowfoot order. The Council says it will file a stay of execution forthwith. Miller did not wait for the 21-day period, during which time the City Council could file an appeal of the Judge's decision, before she and her attorney began taking steps to enforce the undisclosed judgment award.
• Evo Morales accepts asylum in Mexico. Bolivia's president Morales was forced from power after he was declared winner in an election of which the result was highly suspect, and which resulted in widespread protests in the South American country.
• GSU storms house in Burrell Boom; shoots caretaker. Dean Tillett was shot with rubber bullets in his abdomen and back. He was released without being charged for any offense.
Dean Cain displaying his bloody shirt after his injuries
• Jashawn Brooks, 18, murdered for nothing: Brooks' decomposing body was found four days after he was reported missing; he is his father's second son to have been murdered.
Headlines for November 15 issue:
• Guatemala farmers invade Belize. The farmers are squatting on Belize private land near the Benque Viejo border. The lands on which the Guatemalans are squatting is owned by businessman Jorge Emilio Espat.
• Jiovanni Lennan, 30, shot dead tonight on Welch Street. Lennan, a fireman with Belize National Fire Service, was targeted as he was making his way home from work, at the Fire Station on Dolphin Street.
• Ronald Haynes, a son of Samuel Haynes, Sr., visits Belize. Samuel Haynes is the author of the poem "Land of the Gods", which was turned into "Land of the Free", Belize's National Anthem. Ronald Haynes is a retired teacher living in New Jersey.
• The CXC-CAPE exam results are in! Three Edward P. Yorke High School students excelled in CXC; they are Alexis Guy, Dayana Marroquin and Angie Matute.
Headlines for November 22 issue:
• GOB spent $1.3 billion without parliamentary approval. In a lawsuit filed at the Supreme Court and which was argued before Chief Justice Kenneth Benjamin, the PUP is attempting to put an end to government's unauthorized spending of taxpayers' dollars.
• Justin Teck, 24, shot on New Road. This is the second time that Teck, a resident of Kelly Street, has been shot.
• Jahvis Wagner, 22, shot dead in Dangriga. The Dangriga resident was standing in front of his house on Commerce Street when he was targeted. Some drummers had just finished playing and had just left, when two men walked up to Wagner and one of them shot him at point-blank range.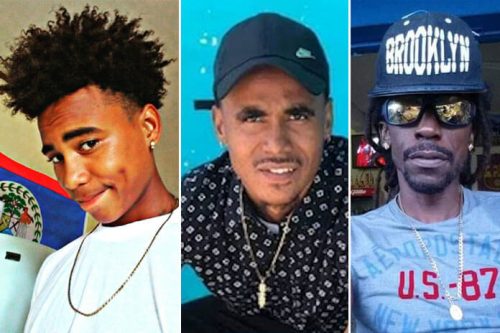 Jahvis Wagner Jebran Wagner Edwin Felix Nasario
Headlines for November 26 issue: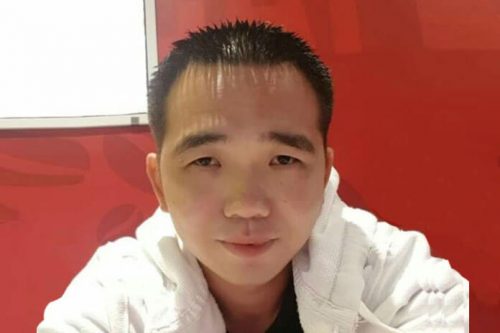 Zheng Liu, deceased
• Chinese businessman executed on George Price Highway. A young, popular Chinese man was lured to his death when he went to check on a vehicle a friend was returning to him. Zheng Liu, 28, was shot multiple times in the vicinity of Old Belize, near Mile 5.
• Three fishermen missing at sea —Sheldon Gibson. Elijah Usher and Kevin Roches. The families of the missing men fear that they may have been murdered.
• Colin Francis, 29, remanded for the murder of Nestor Vasquez, 60. Francis allegedly killed Vasquez in the police holding cell at the Queen Street Police Station.
• Infant injured in Antelope Street Extension shooting. A 23-year-old man and a 16-year-old also sustained gunshot injuries.
Headlines for November 29 issue:
• Bloodbath at Mile 18. 7 die in horrible highway accident. A small SUV and a passenger van that was loaded with tourists collided head-on. The driver of the van, Errol Belisle, lost his life, as well as the driver of the SUV, Lourdes Wade Hall, and her father Eduardo Wade, a retired police officer. Four tourists traveling in the van died also.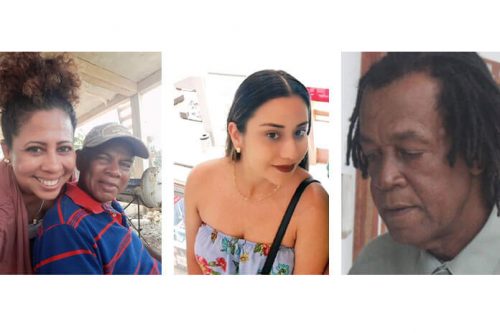 (L-R) Lourdes Wade-Hall, Eduardo Wade, Mayra Alcoser and Errol Belisle, deceased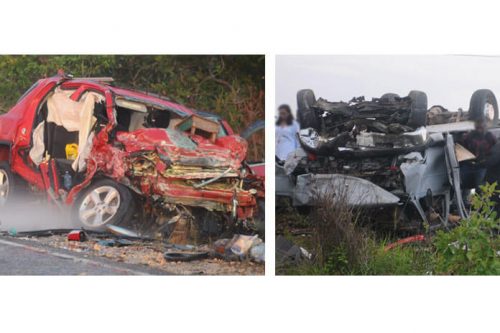 The remains of the mangled Chevy Trax (a midsized SUV) and a white Dodge Ram van
• Highway accident carnage count goes to 9, as another accident, this time in the Orange Walk District, claimed the life of another tourist. A man, Esteban Arana, 53, was also knocked down and killed by a hit-and-run driver in Ranchito Village, Corozal District.
Headlines for December 3 issue:
• American nurse's body found in trash; police have detained her common-law husband for questioning. Wendy Jane Dradano, 50, was living in Hopkins Village, Stann Creek District. She was fatally stabbed in the chest and her body was dumped.
Wendi Jane Dardano
• House of Representatives meeting on Wednesday; among the other matters, the Minister of Natural Resources will seek to extend the Land Tax Amnesty.
• Anthony Crawford gets 4 years for shooting teenage girl. The incident occurred in November 2016. Crawford reportedly fired about a dozen shots at the girl, who was only 13 years old at the time. One of the bullets grazed her on the cheek.
Headlines for December 6 issue:
• Guilty as charged! In the William "Danny" Mason trial, Justice Antoinette Moore returned guilty verdicts against Mason and his four co-accused. DPP Cheryl Vidal, with a mountain of evidence, was able to convince the court that all of the accused acted together in a joint enterprise in the beheading murder of Pastor Llewellyn Lucas. There was a mountain of reliable and credible evidence, said Justice Moore. Mason, along with Ashton Vanegas, Ernest Castillo, Keiron Fernandez and Terrence Fernandez, will be sentenced at a date to be fixed by Justice Moore.
William Danny Mason, Ashton Vanegas, Ernest Castillo, Keiron Fernandez and Terrence Fernandez
• Inmate raped in prison sued for damages. The 20-year-old claimant was raped twice in the month of November 2016. Justice Shona Griffith will issue her ruling in January.
• Gerald Lamb, 28, critical in KHMH. Lamb, a handyman from Biscayne Village, Belize District, was a passenger on a motorcycle when he was shot between Miles 25 and 26 on the Philip Goldson Highway. Lamb was shot by someone traveling from the opposite direction in a vehicle.
Headlines for December 10 issue:
• GOB response to cheaper butane shocks LPG importers. If importers break the law, the fine could be "12 months in jail or a fine not exceeding $25,000."
• Jasmine Garcia, 36, found floating in the sea. Garcia, a domestic of Wagierale, Dangriga Town, had wounds on the head and neck and was found about 200 yards from the Dangriga Town Pier.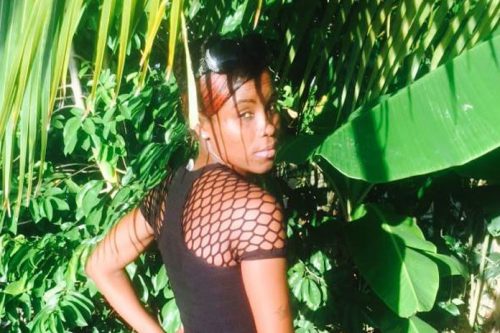 Jasmine Garcia
• Glenford Hinds, Jr., killed in his yard; the gunman's target ran into Hinds' yard and the shooter continued firing, hitting both men.
• Dominican Prime Minister wins unprecedented fifth term. Despite widespread protests in the weeks leading up to the elections, Prime Minister Roosevelt Skerrit was able to secure victory.
Headlines for December 13 issue:
• Cops, villagers fight Guat bandits' thievery. Guatemalan thieves enter Belizean border villages and steal the villagers' possessions and vehicles at gunpoint.
• Alvin Chi, 35, jacked at home; pickup stolen by Guat bandits.
• "Valentine Baptist, you are guilty of murder," Justice Colin Williams tells prisoner. The court has set February 13 as sentencing date for Baptist. Baptist was found guilty of the July 2016 murder of Devin Parham. Parham was shot on Cemetery Road and died on the spot. Minutes after the murder, police apprehended Baptist, who was in possession of a gun that ballistics tests confirmed was the weapon which killed Parham.
• Hipolito Bautista, a true Belizean for all seasons, dead at 69. Bautista, a former Chief Broadcasting Officer for the Government of Belize, is also credited with the creation of the Corozal Free Zone.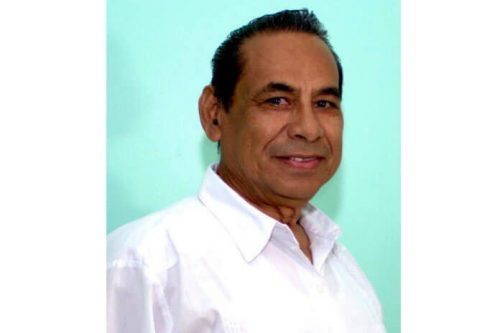 Hipolito Bautista, deceased
Headlines for December 20 issue:
• Kenzel Hulse, 29, arraigned on a charge of harm. The son of Agriculture Minister Godwin Hulse was released on bail of $4,000; the charge of harm is in relation to charges made by his ex-girlfriend.
• President Donald Trump impeached. He will now face a trial in the Republican-controlled Senate, where, reports say he's likely to be acquitted.
• Belize National Cricket Team, a giant in Costa Rica!
Headlines for December 31 issue: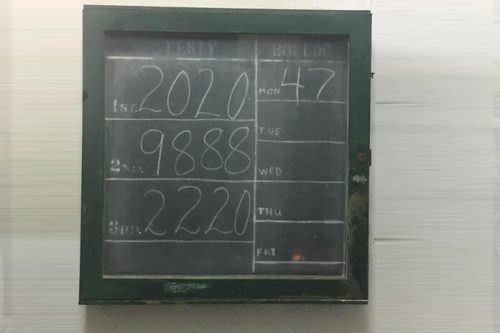 • 2020 Lottery buyers hit the full jackpot.
• Who will win the 2020 Krem Cycling Classic?
• Belize Court of Appeal affirms LGBT freedom of expression.