BELIZE CITY, Mon. Feb. 10, 2020– On the scoresheet totals of goals scored for and against, it looks like Belmopan's Bandits Sport are in a class by themselves, with a whopping 21 goals scored versus only 1 given up, for a goal difference of +20, in 4 games played so far in the Premier League of Belize (PLB) 2019-2020 Closing Season. But they enjoy only a 1-point lead in the standings over their closest rival, defending champions, Verdes FC, who have only scored 5 goals so far and given up 3, for a mere +2 goal difference. (See standings below.) Third place Altitude FC have only a +1 goal difference from 5 goals scored and 4 allowed in 5 games played; but 3 of their 7 points garnered so far are from a 1-nil victory against the powerhouse Bandits, an improbable feat considering the awesome numbers put up by the Bandits. Some analysis of this situation is in order, but due to space limitations we will only offer the opinion here that the Bandits organization, aside from possessing a star studded line-up, has benefited from the most exposure to international football strategy and tactics, both from the players' standpoint and in terms of their coaching staff.
All 3 PLB Week-5 games this past weekend were played on Saturday night.
At the Isidoro Beaton Stadium, in a game shown live on TNC-10, visiting Wagiya SC had the upper hand in the early going against Bandits Sport, and it seemed Wagiya was poised to repeat the feat accomplished the previous week by Altitude FC, who won a shocking 1-nil victory over the Bandits. But two defensive blunders midway through first half, capitalized by the Bandits' Argentinian striker, Facundo Garnier (27' & 34'), and it was Bandits up, 2-0, at the half. Wagiya seemed to be having success in midfield, but had problems at both ends of the field, where they experienced some costly confusion in defense, and were anything but clinical in their attempts against veteran Bandits goalie, Shane Moody Orio, who was only seriously tested once, and proved up to the task. Top Bandits striker, Georgie Welcome, who sat out the first half, took the field in second half, and the Bandits further exploited the apparent holes in the Wagiya defense, to the tune of 3 more goals, 1 more from Garnier (56') and 2 from Georgie Welcome (50' & 69') for the 5-nil final score.
Meanwhile, down south at the M.A. Stadium in Independence, visiting BDF FC gained their first point of this season (They had lost 3 points in a protested game by Placencia Assassins that BDF had won 3-2, due to an unregistered player.) when they pulled out a 1-1 draw against home standing Altitude FC. After a scoreless first half, BDF took a 1-nil lead through an own goal by Altitude's sweeper Aldin Foreman (57' OG); but Altitude got the equalizer from Myron Cadle (75').
And at the Ambergris Stadium, home team San Pedro Pirates FC suffered a surprising 2-1 loss to Placencia Assassins FC, who have reportedly added a few foreign reinforcements since suffering a season-opening 11-0 bludgeoning from the Bandits. The Assassins got a goal each from Jhon Valencia (41') and Alexander "Pleck" Peters (84'), while the Pirates' only goal was by Dixon Paguada (66').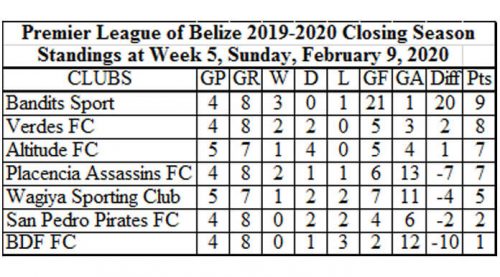 Both Bandits imports, Honduran Georgie Welcome and Argentinian Facundo Garnier are currently the PLB's leading goal scorers with 6 goals each.
Upcoming Week 6 schedule:
Sunday, February 16
3:30 p.m. – Placencia Assassins FC vs Altitude FC – Placencia Football Field
4:00 p.m. – BDF FC vs San Pedro Pirates FC – MCC Grounds
4:00 p.m. – Verdes FC vs Bandits Sport – Norman Broaster Stadium
Looking ahead to Week 7:
Saturday, February 22
7:30 p.m. – San Pedro Pirates FC vs Bandits Sport – Ambergris Stadium
Sunday, February 23
4:00 p.m. – Wagiya SC vs Placencia Assassins FC – Carl Ramos Stadium
4:00 p.m. – Verdes FC vs BDF FC – Norman Broaster Stadium