BELIZE CITY, Mon. Feb. 25, 2019– The first round is completed, and at Week 7 of the Premier League of Belize (PLB) 2018-2019 Closing Season, defending champion Bandits Sport has suffered its first loss, and the team that delivered that blow, San Pedro Pirates FC have taken over the standings lead. (See standings below.)
It was a low scoring and fiercely competitive weekend in PLB action, with identical 2-1 and 1-nil scores on Saturday and Sunday.
On Saturday night at Ambergris Stadium, after a scoreless first half, San Pedro Pirates took the 1-nil lead through Facundo Garnier (63'), but visiting Bandits Sport quickly knotted the score, 1-1, through Kevin Vicente (69'). The tie-breaker securing the 2-1 victory for the Pirates came from the penalty spot by Anderson Cordoba (83' PK).  Meanwhile, at the M.A. Stadium in Independence, the only goal came in the second half from Leary Simon (73'), to give visiting Freedom Fighters FC from Punta Gorda the 1-nil win over Assassins Altitude FC.
Then on Sunday, here at the MCC Grounds, visiting Police United FC got a quick strike from Harrison "Cafu" Roches (3') for the 1-nil lead over home standing BDF FC. BDF equalized from the penalty spot early in second half through Camilo Sanchez (56' PK); but a late own goal by BDF defender Leon "Chow" Cadle (85' OG) provided the 2-1 game winner for Police United. Meanwhile, down at the Carl Ramos Stadium in Dangriga, the only goal of the game again came in second half, as the visitors, Verdes FC dropped Wagiya SC, 1-nil, on a penalty conversion by Elroy Smith (66' PK).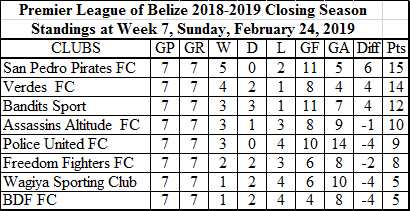 Upcoming Week 8 schedule:
Saturday, March 2
7:30 p.m. – Assassins Altitude FC vs BDF FC  –  M.A. Stadium
Sunday, March 3
3:00 p.m. – San Pedro Pirates FC vs Verdes FC  –  Ambergris Stadium
4:00 p.m. – Wagiya Sporting Club vs Bandits Sport  –  Carl Ramos Stadium
4:00 p.m. – Police United FC vs Freedom Fighters FC  –  Isidoro Beaton Stadium