BELIZE CITY, Mon. Aug. 6, 2018– The Belize Volleyball Association is presently hosting the 20th Central American Women's Volleyball Championship at the spanking new Belize Civic Center, and as we go to press tonight, latest reports are that Belize just defeated Nicaragua by 3 sets to 1 in the nightcap game.  The tournament tipped off on Saturday, August 4, and culminates on Wednesday of this week.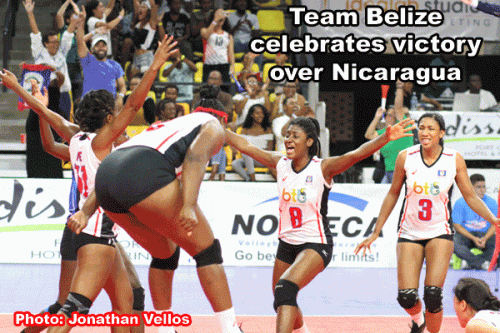 As opposed to the recently hosted male FIBA AmeriCup basketball qualifiers at the Civic, where only two other Central American teams participated – El Salvador and Costa Rica, this female Central American Volleyball Championship is seeing participation from all but one Central American country – Honduras, who withdrew a few days before the start. Delegations from Costa Rica, El Salvador, Guatemala and Nicaragua arrived in Belize on Thursday, and Panama came in on Friday, with all six teams poised to engage in five consecutive days of competition, beginning on Saturday. The 6-team tournament is following a simple round-robin format, with three games daily, so all teams stay busy, the host team, Belize, having the pleasure of playing the last game each day. In addition to ranking teams by their won-loss records, points are also allotted for each match according to the set score (5 points for a 3–0 victory; 4 pts for a 3-1 win; 3 pts for a 3-2 win; and a point for every set won by the losing team); thus, in case of a won-loss tie in records, the team with the most points gets the higher ranking at the end of the tournament on Wednesday.
In a BVA press conference on Wednesday last, it was remarked that our Belizean women volleyballers would try to avenge the basketball loss of our men's national team to Costa Rica in the recently completed FIBA AmeriCup qualifying triangular at the same Civic Center, which included Belize, Costa Rica and El Salvador. Our men's basketball team had defeated El Salvador, but lost to Costa Rica in the championship game, after Costa Rica had also beaten El Salvador. But, as things have turned out so far, it is the Salvadoran women who first avenged their men's basketball team's loss, as they pulled out a tough 3-2 win on Saturday against our  Belize Women Volleyball Team.
Two games were played on Saturday before the official opening ceremonies, followed by the last game of the night, featuring host team Belize against what fans were hoping would be our weakest opponents, and a likely first win of the tournament; but that was not to be. Costa Rica dropped Panama in 3 sets, 3-0 (25-19, 25-23, 25-15); Guatemala clipped Nicaragua in 5 tough sets, 3-2 (25-21, 25-21, 15-25, 22-25, 15-10); and then El Salvador edged Belize in an even more grueling 5-setter, 3-2 (19-25, 25-22, 26-24, 11-25, 17-15).
The games are scheduled daily to start at 3:00 p.m, 5:00 p.m., and 7:30 p.m.; but these times are flexible, depending on the actual length of matches.  (The 5-setters may last over two hours.)
Day 2 saw our Belize team racking up its first victory, a straight sets win over Panama.  Sunday evening started with Costa Rica defeating Nicaragua, 3-1 (20-25, 25-12, 25-22, 25-14); next was El Salvador also recording their second win, again in 5 sets, in a remarkable come from behind victory over Guatemala, 3-2 (31-33, 20-25, 25-16, 25-19, 15-11). In the nightcap, our Belizean girls cruised to a straight sets victory over Panama, 3-0 (25-16, 25-17, 25-14).
In results we just received at 10:00 p.m. tonight for Day 3 games: Costa Rica took 4 sets to dispose of Guatemala, 3-1 (19-25, 25-9, 25-12, 25-15); El Salvador also defeated Panama in 4 sets, 3-1 (25-21, 23-25, 25-14, 25-23); and Belize also had a 4-set victory against Nicaragua, 3-1 (25-23, 25-10, 22-25, 25-13).
Tomorrow, Tuesday: GUA vs PAN; NCA vs ESA; CRC vs BIZ.
And on Wednesday:  PAN vs NCA; ESA vs CRC; and GUA vs BIZ.
Of course, fans are expected to rock the Civic for the final game, Guatemala vs Belize at 7:30 p.m. on Wednesday night; to be followed by the tournament closing/award ceremonies.