BELIZE CITY, Wed. Jan. 27, 2016–External trade statistics just in, indicate that Belize's export sector experienced a depressed year in 2015, with total exports down to $535.33 million—the lowest since 2009. Meanwhile, the country's import bill hit a new record, at roughly $2.1 billion for 2015.
Belize experienced its fourth consecutive decline in annual export earnings since 2012, which correlates directly with a fall-off in earnings from crude oil sales, which hit its peak in 2010.
The Statistical Institute of Belize (SIB), in its latest trade bulletin, informed that "plunging world prices resulted in a 64 percent drop in the country's crude petroleum earnings from $102 million in 2014 to $36 million for the year 2015."
Export earnings have been falling every year since peaking at $680 million in 2011

In fact, there was no crude petroleum exported in December 2015, compared to almost $7 million in exports of that product in the same month of 2014.
On the import side, the impact of lower world market prices was positive, since consumers saved $72 million on fuel and related products. In December 2015 alone, the fuel bill was $3 million less than the same time last year.
Sugar was the year's strongest performer, netting $24 million more in 2015, for total sales of $134 million

Three of the country's major domestic exports, marine products, crude petroleum and bananas, all declined during the month of December 2015. Marine fisheries sales fell sharply from $11 million to $4 million, primarily due to an $8 million drop in shrimp export earnings, while banana sales dropped by almost $3 million in December.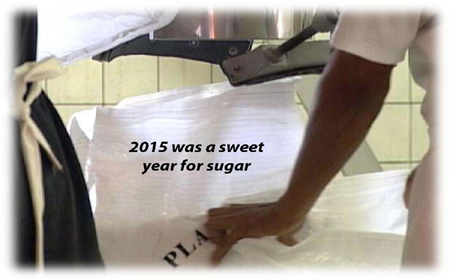 Domestic exports for the year 2015 totaled $535.3 million, down 12.9 percent or $79.1 million from the $614.4 million recorded for 2014. However, two of Belize's major export commodities did well: Sugar was the year's strongest performer among the major exports, rising by almost one fifth and recording earnings of $24 million more in earnings than it did for the year 2014 for total earnings of $134 million in 2015, the SIB noted. It added that, "Despite challenges in the earlier months of the year, orange concentrate sales experienced a boost in the latter months of 2015, recording total export earnings of $89 million, a mere $1 million shy of earnings for the year 2014."
December trade was impacted by higher demand in certain categories. This was reflected by a spike in turkey imports during the Christmas season, which led to a $2 million growth in the category of 'Food and Live Animals'.
Despite a drastic decline in the cost of fuel, though, Belize's import bill still increased—by 2.7% or $53.7 million over 2014.
Of note is that importation of vehicle parts and transportation equipment was substantially higher in 2015, costing consumers $79 million more than the previous year, eroding the savings made on fuel.
Also, the value of imports in the 'Manufactured Goods' category rose by $26 million, due to greater purchases of tires and steel within the year, the SIB said.
Amandala's review of the data since 2005 revealed that Belize's import bill, at roughly $2 billion, is more than four times its export earnings, which stood at roughly half-a-billion dollars at the close of the year. Belize's import bill hit a new record in 2015—up by almost 70% from over a decade ago. Meanwhile, export earnings are only 26% higher.