BELIZE CITY, Sun. Feb. 18, 2018– Chief's Saturday Race of February 17, 2018 – Leslie's thru Boom to Northern Hwy, back to Hattieville and back to Data Pro, for 50 miles.
At 7:30 a.m., 37 riders took off for this sojourn. The field consisted of 24 Elite riders, 9 Weekend Warriors and 4 Juniors. Belize's two top teams, Digicell and Smart came out to continue their battle. Who would have the best telephone service today, right?
Well, Digicell had their full complement of 9 riders, while Smart was short-handed with just 3, including their leader, Brandon Cattouse, Phillip Leslie and "Heno" Moreira. It was therefore obvious to the field that Digicell would have the edge; but like boledo, any number can play in's work today.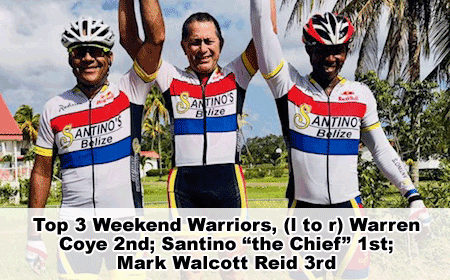 It seems, however, that most of the Elites' testosterone was on fire today, because the speeds to Hattieville were constantly in excess of 30 mph; and by the time we got there, the average was 28.5 mph, and the field had been vastly reduced. It is also very clear that, with just 6 weeks to Cross Country, many Elite riders are peaking and stamping their authority on the peloton. They are now destroying Weekend Warriors as well as those Elite riders who are not dedicated to their training.
By the time we turned around at the Northern Highway and headed back to Hattieville, riders were scattered all over the road, with only 3 Weekend Warriors remaining in the race, namely myself, Warren Coye and Mark Reid, all Santino's riders.
The 4 station prizes were at the prison, and were won by Brandon Cattouse on the first lap and Joselyn Chavarria on the 2nd lap in the Elite category; while my teammate Warren Coye won both in the Weekend Warrior category. Everyone else simply seemed incarcerated…
Coming to the finish, the front break had been narrowed down to 3 riders, exactly the podium positions. In the end, Digicell was indeed the stronger team today; although not by much. Joselyn Chavarría, Jr. of Team Digicell took 1st Place; while Herman "Hijo" Requena, riding for the new team, Furnished Apartments Limited, took 2nd; and ex-Weekend Warrior Kent Gabourel rounded out the top 3.
At this juncture, I would like to say that for a while I have been advocating that Kent Gabourel is way above the caliber of Weekend Warriors, where he has spent the past few years. This has been misinterpreted by others, while truthfully, I was giving Kent kudos, because personally, I believe Kent has been wasting his time in Weekend Warriors, beating older men, when this kid has a whole heap of talent. If he were my rider, I would have had him riding in the Elite category a long time ago. The proof is in the eating of the pudding, and today it was clear to be seen that Kent Gabourel is one of the top Elite riders in this country, period.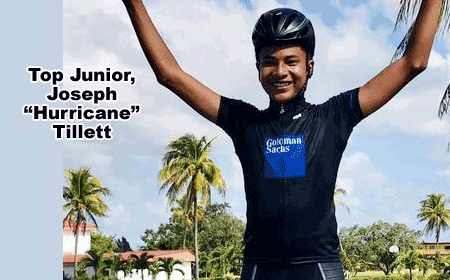 The first Junior today was the young kid we know as "Hurricane" Tillett; while in the Weekend Warriors division, Santino's swept the podium with me in 1st, Warren Coye 2nd and Mark Reid 3rd, as no other Warrior finished.
Today's race was indeed a hard and furious race, and necessitated a lot of gonads simply to finish. Congrats to all the winners, and thanks to all of those who participated today. See you next Thursday for our continued preparation for the Holy Day.