BELIZE CITY, Wed. Nov. 24, 2021 — Fugitive Brian Castillo, 28, who allegedly slashed to death his common-law-wife and her 12-year-old daughter on Sunday night in San Ignacio, was found in San Benito, Peten, Guatemala, late Tuesday evening. His son, whom he reportedly took with him when he went on the run and who police believed may have been in danger, is now in the custody of his mother, Irma Leticia Mendez, who lives in Melchor. The child was found in Melchor a short time before Castillo was located in Peten.
Belizean police had alerted their counterparts in Guatemala that Castillo might be headed to that country. Their suspicions were correct, and he was nabbed across the border. A statement from the Police Department said, "Kindly be informed that Brian Castillo was handed over to our local authority last evening from the Guatemalan authorities. Our office will continue to provide updates on this case as information becomes available to us."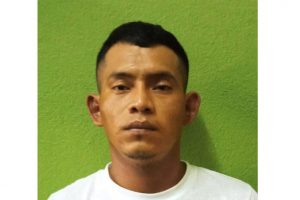 According to Guatemala media, Castillo admitted to killing his common-law wife, 33-year-old Jennifer Archila, and her 12-year-old daughter, Nitzia Catzim, whose throat was reportedly slashed. However, according to reports from Guatemala media, he is claiming that while he and Archila were drinking, she held a knife to his 7-year-old son's throat, and his attack on her was an effort to defend his son.
According to the landlord of the apartment building in which the couple resided, however, Castillo had appeared calm when a resident in the apartment building saw him leave the couple's home. "She said she heard something. She came out of the door and the man came out of his door, and she asked what happened. 'Nothing. Everything cool', the man say. She say after two minutes she heard the motorcycle start. I heard the motorcycle too," the landlord said.
He later fled with the 7-year-old boy, Darwin Castillo. He had just recently gotten partial custody of the child reports say.
Today, Wednesday, November 24, 2021, police formally arrested and charged Brian Jerry Castillo for the murder of Jennifer Mischell Archila and Nitzia Solange Catzim. He has since been arraigned in the Belmopan Supreme Court and remanded to the Belize Central Prison on two counts of murder until his case is called up on March 15, 2022.