ORANGE WALK TOWN, Wed. Dec. 25, 2019– A fire on Christmas night completely destroyed the 20' x 20' timber house of Daniel Novelo, 41, a laborer of Orange Walk Town. All the personal possessions and household furnishings of Novelo's family were lost, and three members of the family are now homeless.
Novelo told police that no one was at home at the time of the fire. He said they were all at the home of his in-laws at about 8:30 Christmas evening, enjoying a BBQ meal, when he was informed that his house was burning. When he rushed to his home he saw the back of the house in flames, which quickly engulfed the entire structure.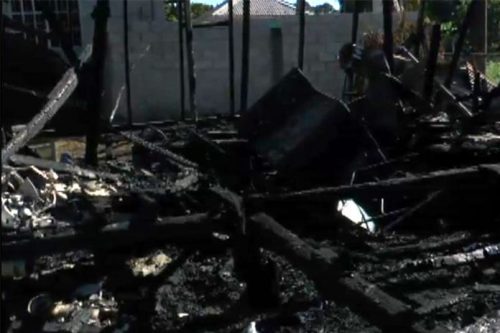 Burnt debris of Novelo's house
Police investigators have not yet determined the cause of the fire, but Novelo says he believes that arson was involved because he saw signs that intruders came into his yard from the back, and he saw a rag in the area from which he believes the arsonists came. Novelo says he has no known enemies, so he can't figure out why his house was burnt.
Novelo is seeking public assistance to get needed materials to rebuild his house, and for other necessities of his family. He has been living in the yard in which his house was located for over 6 years. They must now start over. Persons who wish to help the devastated family can contact them at 631-1227.
Feature photo: Daniel Novelo