Photo: Desi Alvarez, Charged
The father of 4-year-old Jahvin Alvarez, 43-year-old Desi Alvarez was charged with multiple offenses as a result of the death of his son in a road traffic accident while on their way home to Valley of Peace.
by Charles Gladden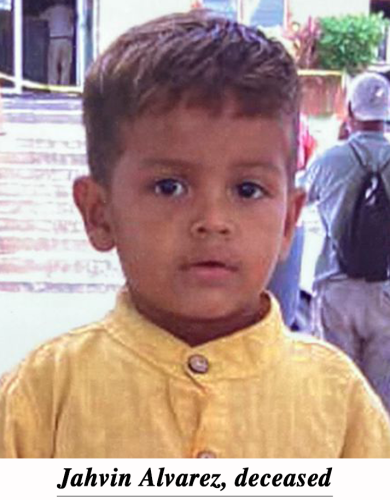 VALLEY OF PEACE, Cayo District, Tues. Jan. 24, 2023
Father 43-year-old, Desi Alvarez, a Belizean farmer of Valley of Peace, Cayo District, has been slapped with multiple offenses for the death of his son, 4-year-old, Jahvin Alvarez in a vehicle accident on the Valley of Peace Road. The toddler was along with his father who was driving his pickup truck on their way home on Monday night, January 23, when it overturned causing the child's death.
It was something that the 4-year-old reportedly loved to do: accompanying his father as he did various errands in his truck.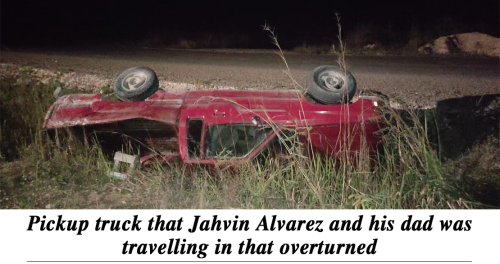 Reports have suggested that at around 7:45 p.m. on the night the accident occurred, Desi Alvarez had driven his red Toyota pickup truck, with little Jahvin in the passenger seat, to Weststar in the Roaring Creek area, where he dropped off an associate of his. When they were returning home, however, as the truck approached a bridge, the high beams that were flashed by a vehicle coming from the opposite direction caused Alvarez to temporarily lose his vision, and he lost control of the truck, which overturned on the right side of the road in a drain.
Alvarez did not sustain any injuries; however, his 4-year-old son, who was sitting on the side of the truck on which the vehicle landed after overturning, received severe head injuries. They were transported to the Western Regional Hospital, where the child passed away after 8:00 p.m. while undergoing treatment.
Freddy Marin, a relative of Jahvin, told local reporters, "From what I know, there was a truck coming from the bridge towards Weststar and they put on high beam, and he said that was when he got blind and he started to lose control of the vehicle; that's what I know. Then he came off the road. The sad part is that it overturned on the side where the baby was, and that's where he got injured and passed away."
Marin mentioned that little Jahvin always wanted to accompany his father wherever his father would go.
"Every time [his father] was going out to the farm to work, he was always crying to go with [his father] and stay with him. His father loved him. He was always with him, and he went with him, and that was his last day," Marin said.
The child had recently started preschool at the Saint Oscar Romero RC School.
"It's very sad because he was just starting to go to school; he just started preschool. He was so happy, [and] doing very well. Every day he was here with his mother showing her what he did every day at school. It's very hard for them. This is a big loss. It's a young little boy, 4 years old, having all his life to live, but it's very sad," Marin said.
Along with having to deal with the loss of his son, Desi Alvarez was officially arrested and charged on Thursday, January 26, with manslaughter by negligence, causing death by careless conduct, and driving a motor vehicle not covered by third-party risk insurance. He was additionally charged with assaulting a police officer, resisting arrest, one count of wounding, and two counts of harm.