SALT LAKE CITY, July 30, 2019 (The Salt Lake Tribune)– The owners of Washakie Renewable Energy pleaded guilty to charges Thursday in what the government has called a $511 million biofuel fraud, and the pleas could have repercussions for The Polygamous Sect to which they belong.
Jacob O. Kingston, the company's CEO, pleaded guilty Thursday to 41 charges including money laundering, fraud, conspiracy and witness tampering and obstruction of justice, according to a court docket. His brother, and the chief financial officer, Isaiah E. Kingston pleaded guilty to 17 counts.
Their mother, Rachel Ann Kingston, 64, also pleaded guilty to five counts. Jacob Kingston's legal wife, Sally, pleaded guilty to two counts.
The pleas came in a closed hearing Thursday in federal court in Salt Lake City. The four Kingstons and a co-defendant, Lev Aslan Dermen, were scheduled to go to trial July 29. There was no indication Dermen pleaded guilty, too.
Federal prosecutors, earlier in the week, filed intent to seize dozens of homes, businesses and other properties. Some of them, including Jacob Kingston's $4 million home in Cottonwood Heights and Washakie Renewable Energy assets, tie directly to the fraud.
Other properties have looser ties to the crimes and belong to rank-and-file members of the Davis County Cooperative Society, also known as the Kingston Group or The Order. One building the government wants to seize is the West Valley City home of gun-maker Desert Tech. Phone calls there went unanswered Friday.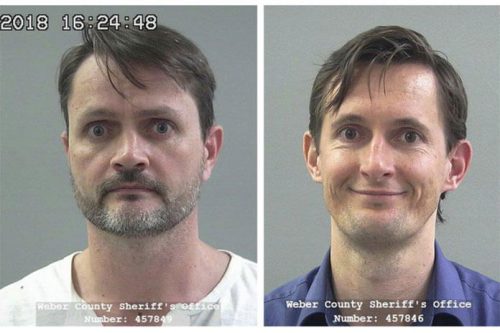 These undated file photos released by the Weber County Sheriff's Office show Jacob Kingston, left, and Isaiah Kingston. Two Salt Lake City biodiesel executives linked to a polygamous group will stay in jail after prosecutors argued they could flee to Turkey if released ahead of trial in an alleged $511 million tax credit scheme. The men have access to private jets, millions of dollars stashed abroad and an unidentified federal law-enforcement contact who apparently tipped them off ahead of a raid, special assistant U.S. Attorney Leslie Goemaat said at a hearing on Wednesday, Aug. 29, 2018. Kingston's attorney said the prosecutor's allegations are false hearsay. (Weber County Sheriff's Office via AP, File)
Some of the properties belong to the sect's incorporated church, the Latter-Day Church of Christ. The real estate in Salt Lake County alone totals $14.4 million, based on the market values listed on the assessor's website, and included 25 properties that have owners who are not defendants in the fraud.
Prosecutors believed the properties were financed with money from a fraud where Washakie Renewable Energy owners Jacob, 43, and Isaiah Kingston, 38, mislead federal agencies in order to receive tax credits for biofuel production. The government motion for what's called asset forfeiture strikes at one of the core beliefs and practices of the Kingston Group.
Proceeds from businesses, and often individual paychecks, are pooled in the Kingston version of the old Mormon practice known as a united order. Prosecutors believe money fraudulently obtained by Jacob and Isaiah Kingston went to lending companies that lent money to other members of the sect to purchase the properties.
Even though only four members of the Kingston Group have been charged with crimes, the government's motion seeks to take homes and businesses from a wider swath of followers.
Former sect members who reviewed the list of properties and their registered owners at the request of The Salt Lake Tribune said the homes include those belonging to wives of Paul E. Kingston, the leader of the group. There's also medical building in Millcreek, a manufacturing plant in West Valley City and agricultural property belonging to the church itself.
The federal government also wants to seize the office building in South Salt Lake that law enforcement raided in 2016 seeking evidence of fraud by Washakie and other businesses.
Heidi Foster, a member of the Kingston Group, on Friday called the attempts to seize all the properties "insane." She said the people living in the homes had no role in the fraud. She compared the government effort to seeking to take the home of someone who borrowed money from Martha Stewart after she was busted for insider trading.
"I can imagine the stress factor of these people worrying about losing their homes for something they had nothing to do with," Foster said.
Even a critic of the Kingston Group had concerns Friday. Melissa Ellis, who left the sect years ago, wanted to know more about the properties' ties to the fraud before deciding whether to support the seizures. She said some of the property owners probably had no idea what was happening at Washakie.
The women listed as homeowners are "all second, third or fourth wives or whatever down the line," Ellis said. "They're all paying their mortgages."
Jessica Christensen, a former member of the sect who now stars on the reality show "Escaping Polygamy" said Friday evening she was "super shocked" at the guilty pleas. She assumes the defendants coordinated with each other to avoid having discussion of the Kingston Group in public.
"They recognized," Christensen said, "[pleading guilty] was better for the group, The Order, than to have all the Order teachings and everything come out at the trial."
Andrea Brewer, another star of "Escaping Polygamy," had some concern about seizing the home, — she and Christensen thought about what it would be like if their mothers faced the loss of their residences, — but argued many members of the Kingston Group bore some culpability if only for not reporting what they knew about the frauds.
"It's not like some normal church where people who don't know each other come to church on Sunday," Brewer said. "It's not like that all. This is an organized operation."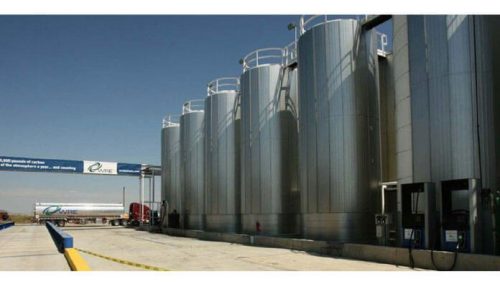 (Leah Hogsten | Tribune file photo) WRE or Washakie Renewable Energy employs 40 people. The largest biodiesel producer in Utah, Washakie Renewable Energy, held an open house in Plymouth on Thursday, September 1, 2011 to showcase its new production facility.
The property owners will have a chance to challenge the forfeitures in court. One argument would be they had no role in the crimes of which the defendants have been convicted.
Washakie Renewable Energy was supposed to be making biofuel from used cooking grease, agricultural products and other biological products at its plant in Plymouth, not far from the Utah-Idaho state line. The IRS paid the company 50 cents or $1 per gallon, depending on the quality of the fuel.
Prosecutors have alleged the company didn't manufacture much fuel and say instead the company was buying and selling biofuel and passing the commodities off as their own product. The federal government paid Washakie $511 million, according to court documents.
In court, prosecutors have accused Jacob Kingston of sending some of the money to his church and using other proceeds to buy homes, sports cars and sending $134 million to Turkey for properties and business ventures. Jacob Kingston also has been accused of using money to buy political influence in that country, and prosecutor resisted efforts to have him released pending trial for fear he would flee there.
Isaiah Kingston was the chief financial officer at Washakie and is accused of wiring funds from the fraud. Rachel and Sally Kingston, who were officers at the company, were accused of helping forge documents or launder money, too.
Before a 2016 federal raid on Washakie Renewable Energy offices and other businesses associated with the Kingston Group, the energy company was one of the highest-profile businesses in Utah. It advertised on television during Utah Jazz games, in movie theaters and gave engineering scholarships to University of Utah students.
(Rick Egan | The Salt Lake Tribune) Sally Kingston, the wife of Jacob Kingston, leaves the federal courthouse, after a hearing for Jacob and Isaiah Kingston Wednesday, Aug. 29, 2018.
Jacob and Sally Kingston, 42, also gave money to Utah politicians, including Utah Attorney General Sean Reyes. After that 2016 raid, his campaign put $50,985 from the company or people associated with it in escrow, pending the outcome of the federal investigation and any criminal charges.
The Washakie assets and those belonging to the individuals who pleaded guilty will be seized and could recoup much of the money the federal government says was lost. That includes the production facility in Plymouth as well as holdings in Texas, California, Turkey and Belize.
Prosecutors dropped only five of 46 counts against Jacob Kingston. He faces up to 30 years in prison, according to his plea agreement. His brother faces up to 20, and Rachel and Sally Kingston each face up to 15 years in prison. Sentencing has not yet been scheduled for any of the defendants. The brothers remain in jail. Prosecutors did not seek to detain Rachel and Sally Kingston and they remain free.
A trial threatened to air the inner workings of the Kingston Group. Prosecutors had not only business records to show a jury but also copies of the sect's teachings. Former sect members, some of whom worked for Jacob and Isaiah Kingston, were to be called as witnesses.
(Rick Egan | The Salt Lake Tribune) Rachel Ann Kingston, mother of Isaiah Kingston, leaves the federal court house after a hearing for defendants, Jacob and Isaiah Kingston Wednesday, Aug. 29, 2018.
Dermen, also known as Levon Termendzhyan, is not a member of the Kingston Group. He has been accused of leading a California criminal organization that had business dealings with Jacob and Isaiah Kingston. And he's been accused of assisting in moving money to Turkey and threatening witnesses.
Two of the written plea agreements added some intrigue.
Besides admitting to a variety of frauds, Jacob Kingston said he agreed to share proceeds with Dermen in exchange for protection from his "umbrella" of federal law enforcement contacts. Rachel Kingston, in her plea agreement, admitted to being tipped off about the 2016 raid.
"I was aware that P.K. at WRE," the agreement read, "received a phone call from an individual who used the pseudonym 'Mr. Green' and was told that [Washakie offices were] going to be 'raided' soon."
Jacob Kingston then decided to remove hard drives and documents from company offices.
"I knew that an individual, code-named 'Commissioner Gordon,' Rachel Kingston said in her plea agreement, "who I believed to be a high level DOJ official, was going to help [Washakie] with its legal troubles. I recall communicating with the person I thought was Commissioner Gordon through burner phones that Jacob Kingston directed me to buy and use."
There was no indication in the documents of the true identities of those with the pseudonyms.
Jacob Kingston also admitted to transferring some funds to businesses controlled by the sect in "cyclical financial transactions" that benefited his company and the others. The companies would create inflated invoices and other paperwork to launder the money. The companies included Standard Restaurant Supply, and A-Fab Engineering and multiple financial firms.
(Correction: An earlier version of this story incorrectly stated the day Jacob Kingston had pleaded guilty.)
Feature photo: (Francisco Kjolseth) The Salt Lake Tribune) Federal prosecutors have given notice they want to seize homes and businesses belonging to rank-and-file members of the polygamous Davis County Cooperative Society, also known as the Kingston Group. Prosecutors also have filed notice of intent to seize property from the sect's incorporated church, the Latter-Day Church of Christ. Included on the list is Jacob O. Kingston's house at 2072 E. Creek Rd, Cottonwood Heights, UT with a market value of $4 million.