BELIZE CITY, Mon. June 18, 2018– The Football Federation of Belize (FFB) Amateur Inter-District Club Tournament 2018 completed its semifinals over the weekend with 1st leg winners, FC Elite and Progresso FC, both prevailing by 3-1 scores in the 2nd leg of the semifinals.
Coasting on a 5-0 victory in their semifinal game 1 last week in Dangriga, Progresso FC was comfortable hosting game 2 yesterday at their Louisiana Field against B&B Landsharks FC.  Unfazed by Landsharks' first half lead on an early goal by Carlos Lino (8'), Progresso cruised to a 3-1 victory with second half goals from Andir Chi (53' & 61') and Nazim Aldana (82'), to complete the series with an aggregate 8-1 margin and a spot in the finals.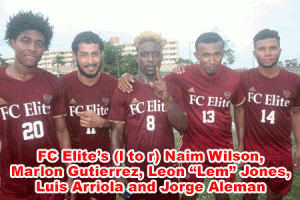 The situation was more uncertain before kickoff at the MCC Grounds in Belize City, where FC Elite had enjoyed only a 2-1 win over their Belize City counterpart, Kelly Street FC, in their semifinal first leg. But the uncertainty was short-lived, as FC Elite jumped to a 2-nil first half lead yesterday with a goal each from Marlon Gutierrez (15') and Jorge Aleman (31'); which they extended to 3-nil on an early second half blast from twenty-five yards out by Naim Wilson (46').  With veteran stalwarts Leon "Lem" Jones and Luis Ariolla anchoring the FC Elite defence, hopes for even a consolation goal were beginning to look dim at the 77th minute, when, with little warning, a spectacular long-range rocket surprised everyone including FC Elite's dimunitive goalkeeper, Alvin Mangandi, as Kelly Street's right midfielder Quince Briceno let loose a right foot drive from thirty-yards out that tightened the net in the top right corner beyond the reach of the diving keeper. It was a real treat for fans at the MCC, where good shots from distance are a scarce commodity nowadays. With the 3-1 final, FC Elite are aggregate 5-2 winners of their semifinal series, and will step up to the home-and-away championship finals against Orange Walk's Progresso FC.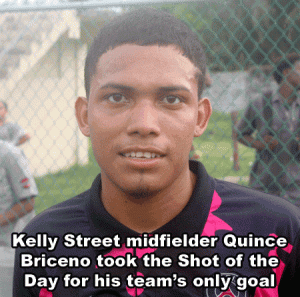 FFB Inter-District Finals:
Sunday, June 24, Finals Game 1
4:00 p.m. – FC Elite vs Progresso FC  –  MCC Grounds
Sunday, July 1, Finals Game 2
4:00 p.m. – Progresso FC vs FC Elite  –  Louisiana Field