BELIZE CITY, Mon. Oct. 20, 2014
Week 6, the final regular season week in the FFB Women President's Cup 2014 tournament came to an end yesterday with only one game played. DFC Gentle Touch of Cayo travelled north to Trial Farm Football Field where they were anything but gentle with home standing Sugar City Girls, shutting them out, 6-0, with goals from Abbe Halliday (1' & 53'), Cynthia Salazar (16'), Sheriann Tracy (24'), Shanell Gentle (30') and Kimberly Perez (80'). According to the FFB Secretariat, Triple B's won their game against Dangriga Pumas by default.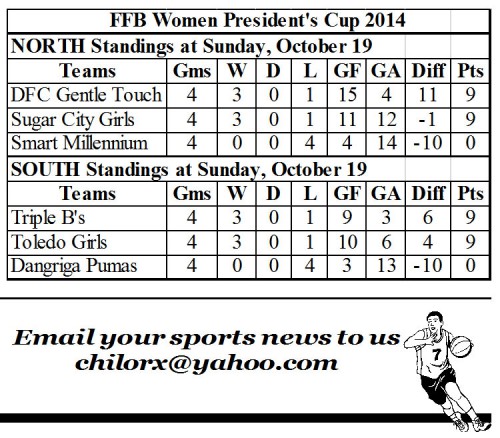 The stage is now set for the 4-team semifinal home-and-away playoffs which begin this weekend.
Semifinals Game 1 schedule:
Saturday, October 25
3:30 p.m. – (South #2) Toledo Strikers vs (North #1) DFC Gentle Touch – Toledo Union Field
Sunday, October 26
4:00 p.m. – (North #2) Sugar City Girls vs (South #1) Triple B's – Trial Farm Field