BELIZE CITY, Mon. Sept. 24, 2018– The first round in the double round-robin Premier League of Belize (PLB) 2018-2019 Opening Season was completed with Week 7 games this past weekend;  two streaks were broken, but Belmopan Bandits remain undefeated, while Verdes holds on to the top spot in the standings.  (See standings below.)
In the only Saturday encounter, Belmopan Bandits SC maintained their unbeaten record with a 4-0 win over visiting Altitude Assassins FC at the Isidoro Beaton Stadium. The Bandits got a goal each from Norman Anderson (29'), Morvin Budna (75'), Inri Gonzaga (79') and Georgie Welcome (90+'), who also maintains the top spot in the goal scoring column. Despite their undefeated status, the Bandits are 1 point behind standings leader Verdes FC, whose only loss was to the Bandits, because the Bandits also sustained two nil-nil draws, one with BDF FC and the other with San Pedro Pirates FC.
Further west at the Santa Elena Sporting Complex yesterday, Sunday, home standing Verdes FC kept their top spot in the standings with a 3-0 win over Police United FC, courtesy of a goal apiece from Nahjib Guerra (36'), Elroy Smith (47') and Roberto de Silva (75')
Also on Sunday, two streaks were broken. Down south at the Carl Ramos Stadium, where home standing Wagiya FC were perfect in 3 outings at home, that streak was broken by visiting San Pedro Pirates FC, who jumped to a 2-nil lead through Devin Burgess (45') and Pablo Mendizaba (65'), before Wagiya's Jonard Castillo (72') cut the lead in half; but it ended 2-1 in favor of San Pedro, and the first home loss for Wagiya this season. Meanwhile, at the MCC Grounds in Belize City, it was the visitors, Freedom Fighters FC from Punta Gorda, who saw their 6-game losing streak finally broken, as they came away with the 3-2 win over BDF FC.   Jaren Lambey (2') struck early for Freedom Fighters, but Justin Trapp (33') equalized for the 1-1 halftime score. After Evan Mariano (64') gave the visitors the lead once more, the score was tied again at 2-2 following an own goal by Freedom Fighters's Jaren Lambey (76' OG); but the tie was once more broken with what proved the game winner by Freedom Fighters' Alexander "Pleck" Peters (87'), who is having an outstanding season, presently tied for second place in the goal scoring race.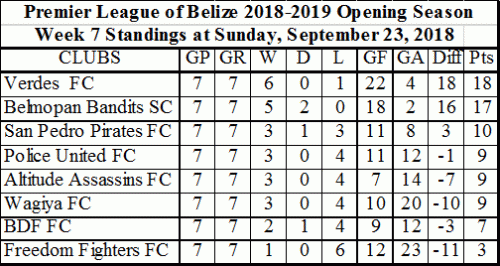 Upcoming Week 8 games:
Saturday, September 29
8:00 p.m. – Belmopan Bandits SC vs BDF FC – Isidoro Beaton Stadium
Sunday, September 30
4:00 p.m. – Freedom Fighters FC vs Altitude
Assassins FC  –  Victor Sanchez Union Field
4:00 p.m. – Wagiya FC vs Verdes FC – Carl Ramos Stadium
4:00 p.m. – Police United FC vs San Pedro Pirates FC – Isidoro Beaton Stadium