9 Biscayne homes pummeled by heavy rains and strong winds
BISCAYNE, Belize District, Mon. Apr. 24, 2017–The National Emergency Management Organization (NEMO) confirmed today that a freak storm had ripped through Biscayne Village in the Belize District on Saturday evening, devastating the homes of 9 families but thankfully not resulting in any loss of life or significant human injury.
"Three (3) homes were destroyed beyond repair and six (6) others were significantly damaged, most of the families losing their roofs and much of their belongings," the report said.
---
…this one tore off the whole back of my house and I felt the whole house shake!" says Shane Wade
---
Chief Meteorologist Catherine Cumberbatch of the National Meteorological Service told Amandala that a thunderstorm had been forecast for inland Belize for Saturday. "That is just what had happened," she added.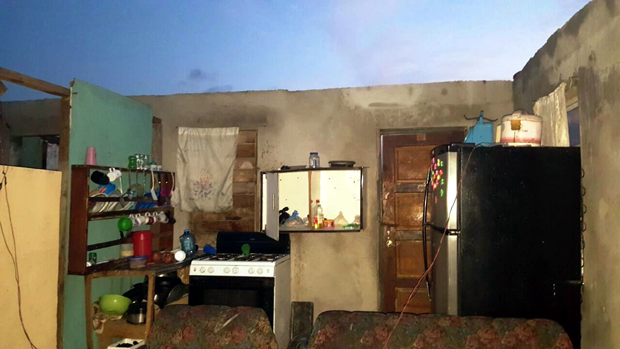 There was a chain of thunderstorms that came across from Mexico and it flared up due to the daytime heat and instability, causing severe weather conditions which affected the area.
"One [band] was very intense and produced gusty winds… It was not a tornado!" she told us, adding that, had it been a tornado, it would have appeared on the radar as a bright yellow spot with a hook or elbow.
Cumberbatch said that what took place in Biscayne is not an unusual occurrence, as in the past, thunderstorms have flared up in the same area causing similar damages.
"It happened before and it will happen again," she said.
According to NEMO, similar freak storms affected residents in Crooked Tree on August 20, 2011 and Maskall on October 8, 2014. Both villages are also located in Belize Rural North.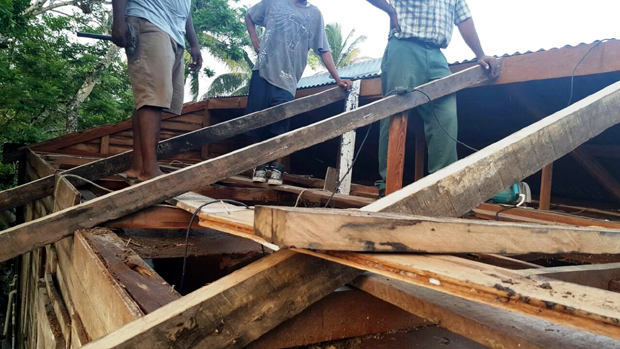 Shane Wade, 25, who felt that his home would have been ripped up by the storm, said he never experienced anything like this in his life.
He said that the storm felt "stronger than Hurricane Earl," which struck Belize last August, adding that "…this one tore off the whole back of my house and I felt the whole house shake!"
"I noticed that the weather started to change. After 4:00 p.m., it started to rain. The breeze suddenly picked up and tore off the back of my house and took it to the bush's edge," Wade elaborated.
"The storm pushed everything to the front door from the back—sofa, [a six-burner] stove, everything was piled up on top of one another at front door," Wade said, adding that his microwave had been blown down and then shattered.
He said that he ran about a half a mile from his home to his neighbor, where the rest of his household was. There was "hard, hard rain," he said, and the "water stung like it would bore [through] my skin."
Wade said that he knows of 5 other families in his community whose homes were damaged in the storm.
Wade's family has received disaster relief, including a mattress, to replace what was drenched by the storm.
Minister of National Emergency Management and area representative for Belize Rural North Hon. Edmond Castro has been leading relief efforts for the affected community, delivering immediate relief supplies to the families, including mattresses and food supplies. Assistance should also be provided for rebuilding and repairs.