BELIZE CITY, Fri. Jan. 22, 2016–An estimated 15,000 Belizeans depend on fishing for their livelihoods and the Belize economy earns US$10.7 million annually in revenue from seafood exports, according to information published by Fish Forever—an initiative which includes Belize among select countries for programs aimed at ensuring that our territorial waters continue to have healthy stocks of wild fish.
Today, the Belize Fisheries Department and its partners held graduation ceremonies for three persons who have been leading on-the-ground work as a part of the Pride Campaign, aimed at building the support of the fishing communities across Belize for a new fisheries regime, being implemented this year—essential because the new regime changes the way fishers have been used to doing business over the years.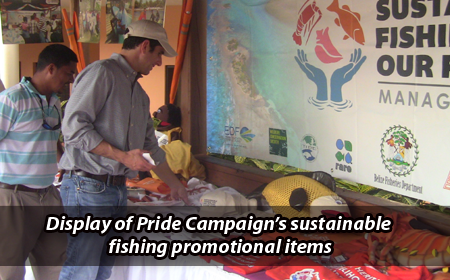 "It is about changing how we have approached fisheries traditionally, from the beginning of time—which is from an open access standpoint, to now actually having a more structured approach to how fishers access the resource," said Fisheries Administrator Beverly Wade.
Wade acknowledges that "it wasn't something that they would just latch on to automatically, because you're now changing their modus operandi, really. And so [the Pride campaign] was a critical part of us now being able to roll out the new regime for licensing in Belize."
This month, January, the Fisheries Department began what it calls the soft rollout of a managed access program—which means that licenses are being issued to commercial fishermen and fisherwomen that will permit them to fish in a particular area. The condition of that license is that fishers would keep logbooks to report the details of what they are extracting from the waters, so that better information would be available on the state of Belize's fish stocks.
"When you have a lot of gaps, that's when you're kind of feeling your way around blindly…" said Wade.
Cabinet had approved the full rollout of the managed access program in June 2016, but the Fisheries Department has gotten the greenlight to proceed with a soft rollout this month. As a first step, there are changes being made to licensing for commercial fishermen.
"Fishermen now have to identify areas that they want to fish and they are now required to keep 'catch log books,' which were not required in the past," Wade explained.
The data which the fishers will supply would give fisheries authorities better information to feed into other management interventions, she said, adding that failure to supply logbook data could eventually cause a fisherman to lose his license.
Wade said that under the new regime, fishers will have a greater sense of ownership, and they will be more active in helping to manage the resources, to ensure that the benefits they reap are maximized.
"Government alone cannot ensure the sustainability of the fisheries. At the end of the day, it requires the cooperation and the partnership of the fishers," Wade emphasized.
"I must say that the fishing community has embraced this added responsibility so far and we are looking forward to this newly formed partnership with them…" she added.
Any notion of restricting traditional access to fisheries would ordinarily be met with fierce opposition from fisherfolk, and the job of the three managed access coordinators: Andres Aldana, Nidia Chacon, and Olga Denise Garcia, has been a challenging one in securing the buy-in needed to implement what has proved to be a game changer.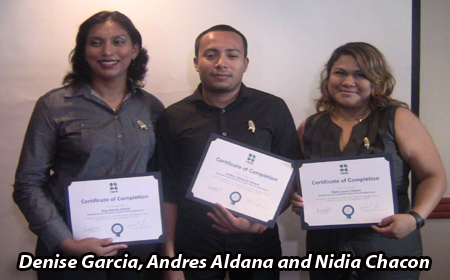 Garcia said that they had to apply social marketing strategies, such as those used by big companies like Coca-Cola, to reach fishers and their extended families, as well as to mobilize the entire community as a part of the campaign.
She said that they were "looking at getting everyone to buy into the program and at the same time getting that social impact…"
"It was really important for us to go into the communities and gather this information, because this is what fed into the strategies that we were to implement…" Chacon said.
Rare, the Environmental Defense Fund and Sustainable Fisheries Group of the University of California, partnered with the Belize Fisheries Department to implement the Fish Forever initiative, which is providing support for Belize's managed access program, which has been already launched at two pilot sites: the Port Honduras Marine Reserve and the Glovers Reef Marine Reserve.
Dr. Pablo Granados, Belize Pride Director of Rare, said that what Rare brought was the training in social marketing, techniques to boost community stewardship in fisheries management, and engagement of fishers in the management of their resources.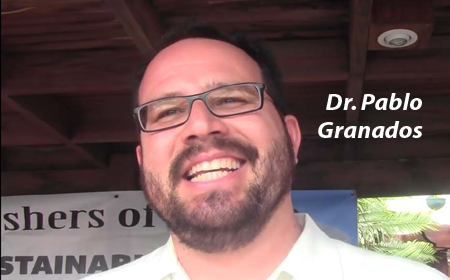 "Social marketing for managed access is using commercial marketing tools to actually communicate and engage communities to adopt managed access – which is an innovative fisheries management framework that Belize is adopting and rolling out," Granados said.
Rare will continue to be involved, and as a part of a cadre of over 300 Rare alumni, the three managed access coordinators will continue to support the managed access initiative moving forward and they will be supported by the wider Rare network, Granados said.
Aldana pointed to the long-term vision of the program—"…being able to have our fisheries resources be sustainable for all generations, for future generations to come."
Wade said that, "There are two objectives: to gain sustainability in terms of your wild stocks, but it's also to gain more benefits coming back to the very people who depend on it and at the end of the day, continue to contribute to our national economy significantly."
"Managed access is really about a rights-based approach… its success should be huge for us," said Wade.
Already, Belize's work has positioned it as a global leader in small-scale fisheries management.
"I think what is incredible is that this is the first country that has adopted a rights-based management plan for small-scale fisheries, and I think many countries are seeing that the successful roll-out in Belize is giving them hope and showing fishermen a path forward in a lot of other countries where we are working," said Nakul Saran, vice president of the Rare Fish Forever initiative.
According to Saran, two countries in particular, Indonesia and the Philippines, have been looking at how they can take the Belize model of managed access and apply it in their own communities.
"Think of it from the perspective of Belize now becoming almost a bright spot of small-scale fisheries management around the world," Saran said.
"We are hoping to bring communities and fishers and government officials from other countries to Belize, so that they can see in practice the kind of terrific impact this kind of model can have," Saran said.
Fish Forever aims to achieve the following in the first five years in Belize:
(1) Expand managed access, via Belize's secure access fisheries system, to include Belize's entire marine reserve network as well as its most important commercial fisheries. Such a nationwide program would be a first for a developing country.
(2) Train Belize's Fisheries Department staff to implement this nationwide managed access system.
(3) Give fishers the ability to determine who is eligible to fish through a system of locally managed committees.
(4) Support the Belize Fisheries Department's national marketing campaign and establish a "branded" managed access system across the country.