Usher's 4-day disappearance sparked massive media outpourings and demonstrations by his SJCJC schoolmates
BELIZE CITY, Thurs. Sept. 28, 2017–This morning, family members of Kelvin Usher were preparing to embark on another day of search for the missing 17-year-old, who disappeared in the bushes around Lucky Strike on Sunday after he fled when Gang Suppression Unit (GSU) police raided a marijuana plantation on which he and his father had been seen, when social media began buzzing with the good news that the St. John's College Junior College (SJCJC) economics major was found alive.
Shortly after 8:00 a.m., Usher's mother, Karima Williams, 40, began receiving calls on her cell phone from people wanting to know if it was true that Kelvin had been found somewhere in the vicinity of Mile 41, in Santa Martha Village on the Old Northern Highway.
A man on a motorcycle told Williams that he could head up to the area to see if Usher had indeed been found. Williams gave the man $20 to put gasoline in his motorcycle, and he rode off on his mission to confirm if indeed Usher was alive out there.
This morning, Williams did not board the bus on Partridge Street that was to take a party of searchers to continue the search for Kelvin. She was whisked away by one of her relatives to the SJCJC campus, where students, angry with the school for the way they handled the situation, had walked out of their classes.
Williams urged a large room full of students to return to their classes. "It is not worth missing your classes; my son believes in education and would not want you to miss out on your education. Think about the sacrifice that your parents made to have you in school," Williams told the students before she left the campus.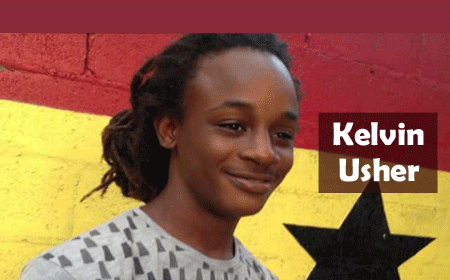 Two second-year students who spoke on condition of anonymity told Amandala, "Four days after, the school sent out an email last night that was irrational, and as a result, we, as the student body, have taken this stance to show our solidarity with the family of Usher. The least the school administration could have done was to send a press release to the media to state their position. The school has neglected us as students and that is why we boycotted classes today."
The students said that last night they organized the boycott of classes through a group chat on social media.
Yesterday, Wednesday, around 1:00 p.m., SJCJC students left their classes to protest in the streets of Belize City against the GSU, demanding that their missing schoolmate be found (the story appears on page 7 of this issue).
From the SJCJC campus, Williams intended to catch the bus to search for her son, but she changed her course because on the way there, she received the most beautiful words any parent of a missing child could ever hear — that her precious son was alive and well, and he was at his father's house at Sibun Street.
By the time she got there, a crowd had already gathered in front of the house because the thrilling news had spread like wildfire.
Usher's family asked the crowd to take no photographs of him, but that request fell on deaf ears when Kelvin emerged from his father's house in the company of ACP Williams, the head of the Police's Professional Standards Branch, who had gone there to debrief him. He was taken to the Racoon Street Police Station for the recording of a statement about his terrible ordeal.
ACP Williams is conducting an investigation into what transpired in Lucky Strike on Sunday, when Gang Suppression Unit police officers went to destroy a marijuana plantation and, according to them, fired their weapons in the air, causing Kelvin Usher to flee into the bushes.
The GSU police arrested and charged his father, Cameron Usher, with marijuana cultivation.
In an interview with Amandala, Karima Williams said that she was grateful to everyone in Belize who assisted her family in locating her son.
Williams said that her son was found by his father in the Santa Martha area. "I was going around 10:00 a.m., but his father went ahead of me and he found him somewhere around the Santa Martha area," she said.
We asked her if Kelvin told them how he survived during all the time he was lost. Williams said that he had hardly eaten, but managed to sustain himself by eating the leaves and the seeds in the pods from the moringa tree.
"He said that he heard us shouting yesterday, but he was unable to reach us. He tied his socks on a stick to try to get our attention, but we didn't see him," Williams explained.
She said Kelvin told them that on Sunday "he came under severe fire from the police and so he started running in the bush."
"According to him, he heard multiple gunshots and so he started running, and then he heard vehicles and he continued running." Williams said.
We asked her if she believed the government's helicopters would have helped them find Kelvin earlier.
Williams said that she had tried to get a helicopter from as early as Monday. "He would have been found earlier because he said he kept looking up in the skies," she said.
We asked her what Kelvin did when he needed to sleep.
"He said that he slept over the swamps, because the swamps have crocodiles and no animal would come near the crocodile," she told us. She further mentioned, "He said he saw some black cats, so he slept on trees."